The Spider-Verse collaboration has arrived in Fortnite with a set of new challenges that you can complete in Week 11 Quests. Miles Morales and Spider-Man 2099 outfits are now available in the Item Shop. One of these Quests requires you to purchase an item from Spider-Gwen, and you need to know where this NPC is located. Luckily, we found Spider-Gwen and bought all the items from this NPC. Here's where to find Spider-Gwen in Fortnite.
How to find Spider-Gwen NPC in Fortnite
Spider-Gwen is one of the new NPCs added in Fortnite Chapter 4 Season 2, and this character is located at the Slappy Shores POI. Visit Slappy Shores, walk to the northern side of the POI towards the Gas Station, and you will find Spider-Gwen standing on top of the opposite building. Check the map image above to see the exact location of this NPC. Interact with the NPC to get a free healing item. You can also purchase certain from Spider-Gwen in exchange for Gold Bars. Remember, other players will visit Slappy Shores as well to interact with Spider-Gwen, so we recommend finding weapons and shields first before visiting the POI.
Related: Best locations to swing 10 times using Spider-Verse Web Shooters in Fortnite
All items sold by Spider-Gwen in Fortnite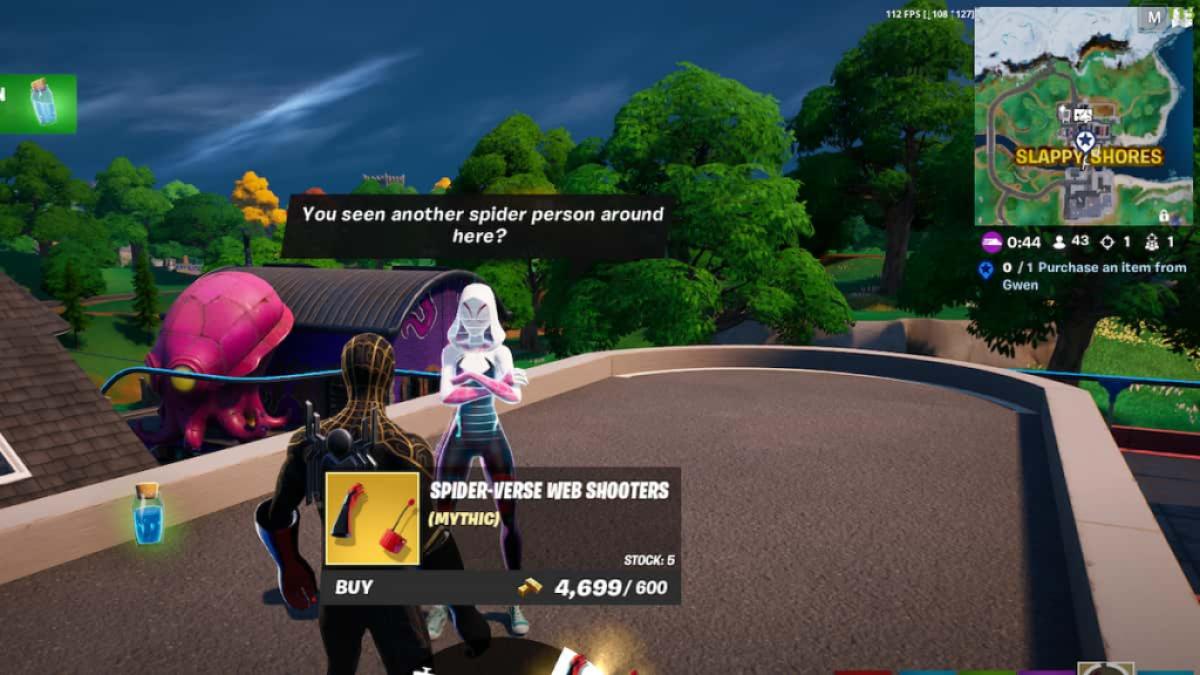 Spider-Gwen sells the Spider-Verse Web Shooters for 600 Gold Bars. If you want this item quickly, land at Slappy Shores and purchase it from the NPC. Spider-Gwen has six Web Shooters to sell, so you can come to this location with your squad, and purchase all of them from this NPC.
You can also purchase the Shield Keg from Spider-Gwen for 250 Gold Bars. Shield Kegs regenerates shields for the players in its vicinity and is one of the best healing items to use while playing in squads.
For more on Fortnite, come check out How to Fix Fortnite Web Battles Not Working on Pro Game Guides.