This challenge is the easiest of the Week 4 challenges. You might have thought collecting one Tomato Basket would be, be actually it's not, as that is heavily based on speed!
Where to Ignite and Dance at a Tomato Shrine near Pizza Pit or Pizza Food Truck in Fortnite
To Ignite and Dance at a Tomato Shrine in Fortnite is pretty simple, as there are two locations where a Tomato Shrine is located, Pizza Pit and Pizza Food Truck. Once you get there, all you need to do is interact with Tomato Shrine, then dance! It's as easy as that!
Everybody loves worshipping a Tomato God, well now you can by igniting a Shrine then dancing! The two locations are pretty far from each other, but you only have to this quest at one of them, not both. You can easily do this challenge at the same time as Collecting a Tomato Basket, as the locations to find them is north of Pizza Pit! Though if you are going to the Pizza Food Truck instead, then we would collect a Tomato Basket separately.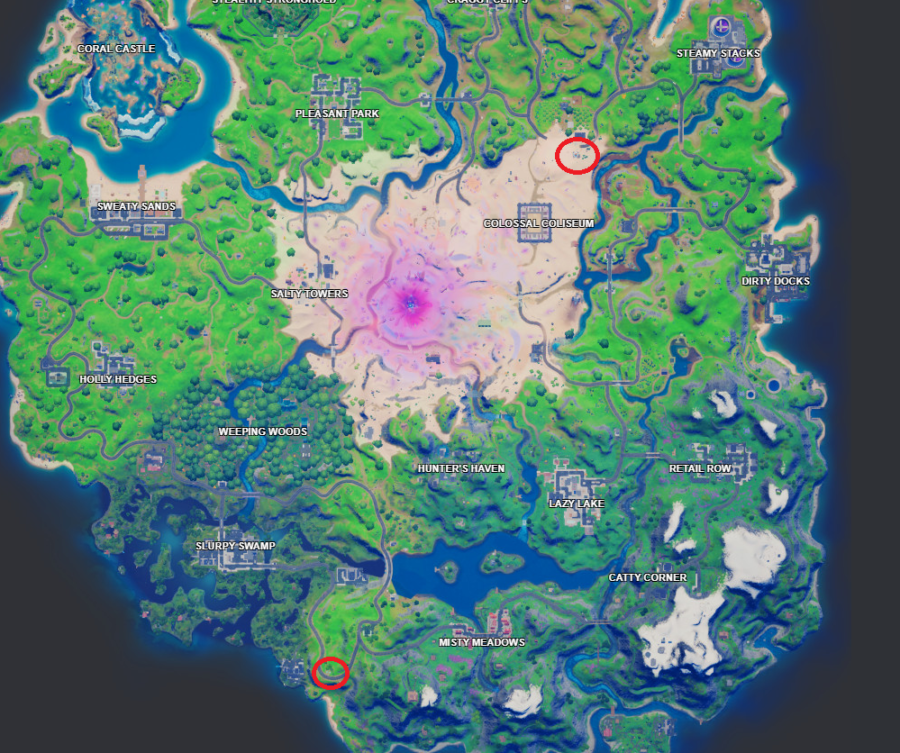 From the image above, you can see who far apart the two places are away from each other. Pizza Pit is northeast of the Colossal Coliseum, and Pizza Food Truck is southeast of the Slurpy Swamp.
To complete this challenge, all you need to do is enter the location and find the Tomato Shrine somewhere inside. Interact with it until the Shrine is set on fire, then bust out your favorite dance emote and challenge completed! As easy as pizza!
If you are unsure of the locations from the image above, why not check out this YouTube video, which will surely help!
Remember to finish off your Legendary quest, as that is the only one that is time-limited! The full list of challenges - we have information on - is available here, at our Fortnite Chapter 2: Season 5 Guide – Challenges & Information article!