For the third quest of the Containment Specialist's Ghostbusters punchcard, we are instructed to exterminate place Ghostbuster Signs in Dirty Docks, Holly Hedges, and Pleasant Park. This is a simple task, but it can be a pain to find all the sign locations.
There are three locations where you can complete this, but you only need to visit one of them since they all have three spots. In the maps below, we show you where you'll find them all.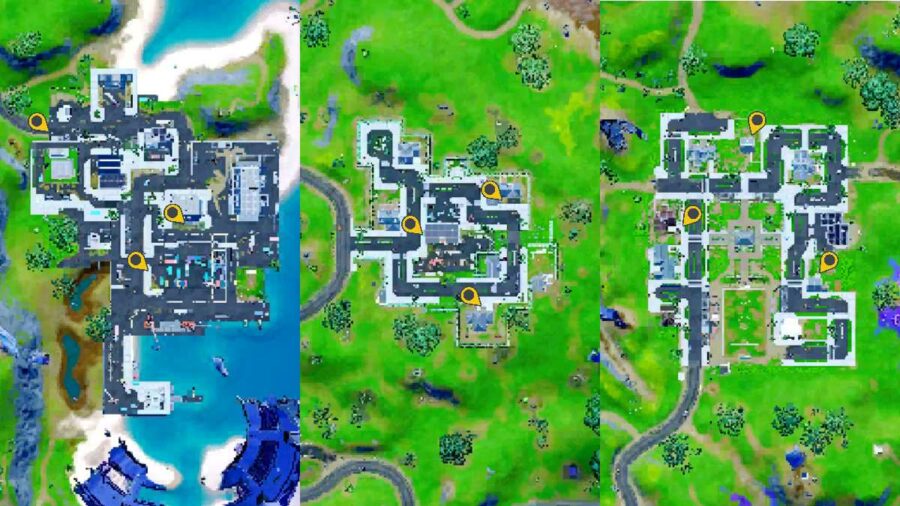 Related: All Ariana Grande Monster Hunter Punchcard Quests in Fortnite Chapter 2 Season 8
In the image on the left, you will see where to find the sign spots in Dirty Docks. In the middle, you'll see Holly Hedges. On the right, you will see where to find them in Pleasant Park.
Dirty Docks

Next to the crossing arm at the exit of the complex in the northwestern corner.
Outside the souther wall of the large building in the center of the complex.
On the rounded sidewalk corner on the western edge of the trailer yard.

Holly Hedges

Outside the entrance (western edge) to the store in the center of town.
In the small patch of grass on the souther side of the house in the northeast corner of town.
In front of the house on the southern edge of town.

Pleasant Park

In front of the fence outside the third house north of the southwest corner of town.
Outside the back door (north side) of the house on the northern edge of town.
Next to the storm shelter outside the house south of the gas station.
When you go to any location above, you'll be able to place three signs. Once you do that, you're ready to move on to the next quest!
Want to see the rest of the quests for this questline, or even get some guides? Check out our list of All Containment Specialist Ghostbuster Punchcard Quests!