Fortnite Chapter 3 Season 4 is now in its fourth week, with a set of new quests available for players to complete. The Week 4 quests have seven challenges, each rewarding players with 20,000 XP. One of the quests requires players to throw a Launchpad at Flutter Barn or Shimmering Shine. You can complete these quests to earn Battle Stars that you can use to claim cosmetics from the Battle Pass. Here's where players need to throw a Launchpad at Flutter Barn or Shimmering Shine in Fortnite.
How to find the Flutter Barn or Shimmering Shine in Fortnite?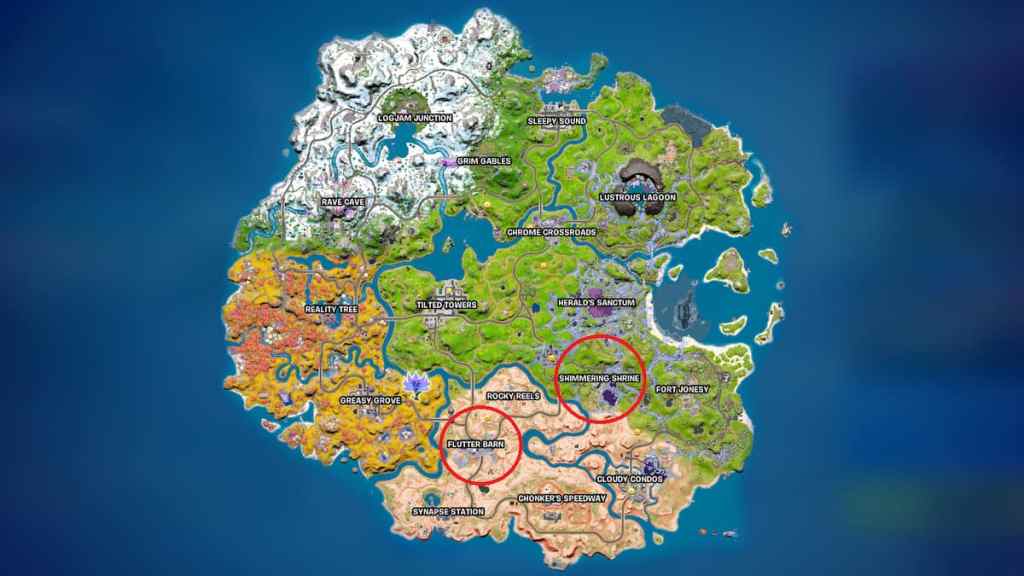 Flutter Barn and Shimmering Shine are two new POIs added to the game in Fortnite Chapter 3 Season 4. Both POIs are named on the map, and you can check the image above to see their exact locations. Several players may not have these areas unlocked, so it's best to travel to these locations first to see them on your map. Flutter Barn is located between Rocky Reels and Synapse Station POI. Likewise, Shimmering Shine is located west of Fort Jonesy, and east of Rocky Reels POI. To complete this challenge, players simply need to pick up a Throwable Launch Pad in their inventory and set it down at either of the locations.
While this is one of the easiest challenges in the Week 4 quests, you may come across opponents trying to complete this challenge at the same POI. We recommend landing at either of the POIs directly from the battle bus. Find a Throwable Launch Pad quickly, set it down, and bounce away to a different location if there are too many enemies. The Explosive Goo Gun is also in the game now, and it is one of the best weapons we have seen in Chapter 3. Use it to get easy eliminations by exploding players out of their hiding spots.
For more Fortnite bug fixes, guides, and news, stay stuck to Pro Game Guides, and check out How to get the Goat Simulator 3 skin in Fortnite while you stay!