The Delorean is a car that everyone knows. It is the star vehicle of the hit 80's trilogy Back to the Future, and it is available in Forza Horizon 5. Getting it, however, is not as simple as going to the Autoshow and buying it. So, here is how you can get the Delorean.
Please note: when the game released there was a glitch that allowed you to purchase the car through the Car Collection page. This has now been fixed, and the car is not available to be purchased brand new.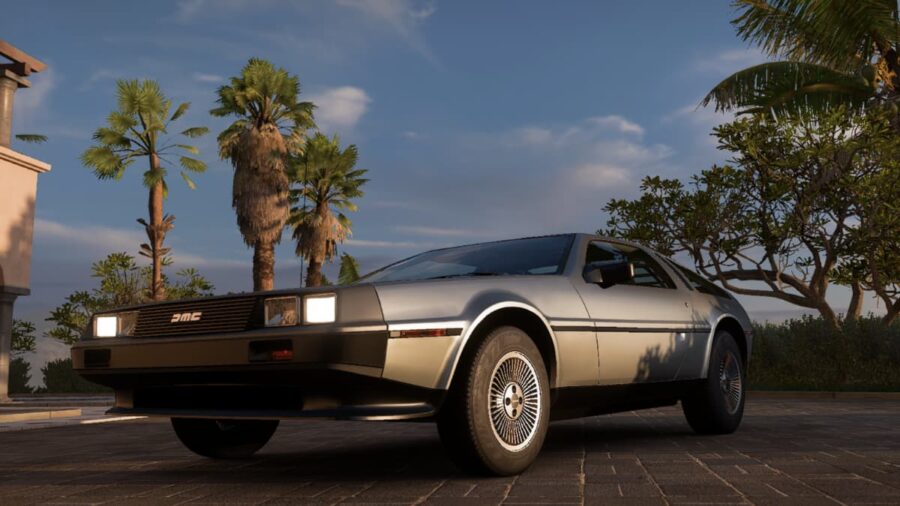 Related: All houses in Forza Horizon 5 – locations and prices
Wheelspins and Super Wheelspins
As avid fans of the series will know, Wheelspins are opportunities to win some great cars. You gain them by leveling up, as well as by purchasing them through the Car Mastery. This is one of the ways you can randomly get a Delorean. If you're lucky, the car will appear in the pool of potential prizes. If you're even luckier, you can land on it to win the car.
The Auction House
Another option is to look for one in the Auction House. Seeing as it is now impossible to get one through the Autoshow or Car Collection, this is the only way you can buy it outright. The good news is that the buyouts usually range between 700,000 and 900,000 credits.
Horizon Playlist
The Delorean was also available as a community goal for the Horizon Playlist. In the Summer Wet Season, if you accumulated 26 Playlist Points you then unlocked the Delorean. Of course, the goals do change from season to season, but you can keep an eye out for it to see if it comes back around.
For each mission in the playlist, it will tell you what you need to do. The aims often revolve around Stunts/Skill Points, the Eliminator game mode, Horizon Promo, and Horizon Arcade, amongst other things. So, keep your eyes peeled for it to pop up again through the rewards system.
For now, those are the ways to get your hands on the famous, make-shift time machine! Looking for more content? Check out All the achievements in Forza Horizon 5.