Genshin Impact : Boreal Wolf's Milk Tooth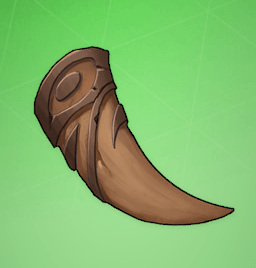 To farm Boreal Wolf's Milk Tooth, you need to complete the Cecilia Garden, a Domain of Forgery located in Mondstadt. You can also purchase them from the Mondstadt Souvenir Shop owned by Marjorie called With Wind Comes Glory. You can buy x3 Boreal Wolf's Milk Tooth for 4 Anemo Sigils apiece, but once you have purchased all of them, they do not restock.
Boreal Wolf's Milk Tooth are rewarded for finishing Cecilia Garden—Domain of Forgery: Submerged Valley I, and you can receive between four to six of them per run.
To enter Cecilia Garden I, you need to be Adventure Rank 16. It is recommended to have your party about Level 15 and characters that use Cryo, Pyro, and Electro.
Cecilia Garden is north of the Wolf of the North Challenge, and west of the Windwail Highland Teleport Waypoint.
Click the image to enlarge.
Cecilia Garden rotates the rewards you get based on what day of the week it is.
On Tuesdays and Fridays, the domain is called Submerged Valley, and you can get the Boreal Wolf's Milk Tooth Weapon Ascension Material.
On Sunday, you can choose whatever domain you desire.
To complete Submerged Valley I, you must kill all 20 enemies. But the time between kills cannot exceed 20 seconds.
The 20 enemies to eliminate:
Due to the Hydro enemies, it is wise to bring along characters that inflict Cryo, Pyro, and Electro Damage.
When inside a Domain of Forgery you are inflicted by a Ley Line Disorder. This is a debuff that is never removed throughout the duration of the Rift.
In Submerged Valley I, you have the following Ley Line Disorder:
Your character will be periodically inflicted with Slowing Water, greatly increasing your skill's Cooldown duration (-80 percent Reduce Cooldown) until the inflicted Hydro element is removed.
If you have completed the domain successfully, to claim the rewards, you need to spend 20 Original Resin or use a Condensed Resin to receive double. You do not have to claim the rewards if you choose not to do so.
Details
Rarity:
Type: Weapon Ascension Material
More Details:
These are the other tiers for this Ascension Material
Recent Genshin Impact Guides