Quests are already plentiful in the land of Teyvat in Genshin Impact, but now with the release of the first major update, you'll no doubt run into more! Though with the newly added Reputation System, it should make exploring every nook and cranny completely worth uncovering, as you want to level up that reputation!
Genshin Impact And This Treasure Goes To
And This Treasure Goes To is a quest in Genshin Impact located in Lingju Pass, where an abandoned camp can be found. You will be asked to complete many objectives, but the reward is truly worth it!
This quest is very poor on hints or clues to help you complete it. When at this camp, first, you'll be tasked with finding three items to examine. The first two are easy as they are indicated by flashes of light. However, the third item is trickier to locate. A book is placed next to some straw at the edge of the cliff within the camp.
Once all three items have been examined, you'll realize that a woman is missing and is in dire need of your help. Look for an engraving on a stone block; this is to the west of Lingju Pass, next to some ruins. Check the image below for a precise location.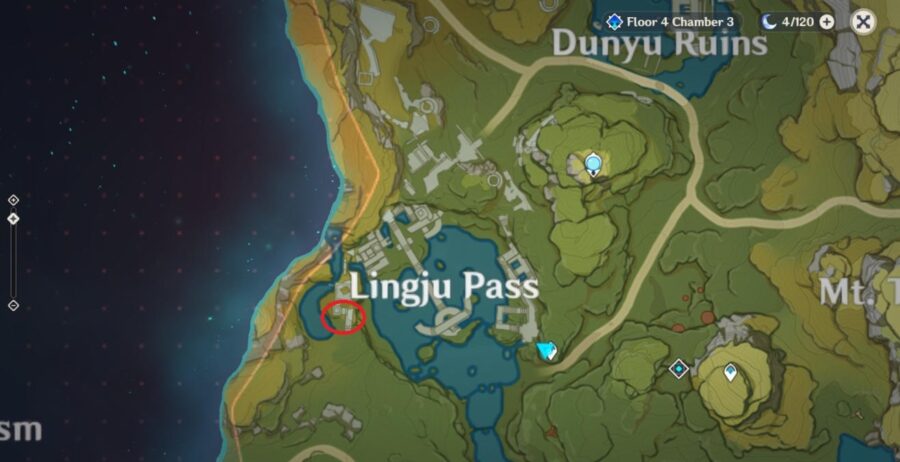 In the surrounding area of this engraving to the west, there should be some enemies, annihilate them all and open the chest, and inside should be a Key. The lady you are looking for is called Alrani and is locked in a cage. Use the key and free her. Once saved, Alrani will tell you some information about a Nameless Treasure, under a large tree with gold leaves.
This tree Alrani is on about is the one that sits in the center of Lingju Pass! It''s extremely hard to miss, as it's unique in appearance. Though it's not that easy as when you head near the tree, you'll be attacked by some sentries. Dispatch these foes and examine the base of the trunk, and you'll find a Luxurious Chest! However, this may be the end of this quest, but by completing this one, another quest opens up to head to Liyue Harbor!
No doubt, by finishing this quest, your exploration percentage will have increased; you can level up the Reputation System by exploring more. When leveling the Reputation Level for Liyue, you can get some pretty awesome items such as the Geo Resonance Stone, the Geo Treasure Compass the Adepti Seeker's Stove!