Genshin Impact is a massive game to get your head around, which has so many different mechanics to get used to and then more pop up as you continue your journey. Leveling up your characters is a massive part of any RPG game, and Genshin Impact is no different, but they do it in a slightly different way. Every character has four things that can be increased: a Character Level, Attributes, Talents, and a Constellation.
That alone is a lot to understand, especially when we're only talking about a single thing, and not how to enhance weapons, stamina, and so forth! For this guide, we will only be covering how to unlock the Constellation aspect of the characters.
What is a Constellation?
The Constellation is akin to a character buff Talent tree that once the first Star of the Constellation is unlocked, the effect will start happening when a certain Talent is used in battle. For this guide, we will use Keqing as an example.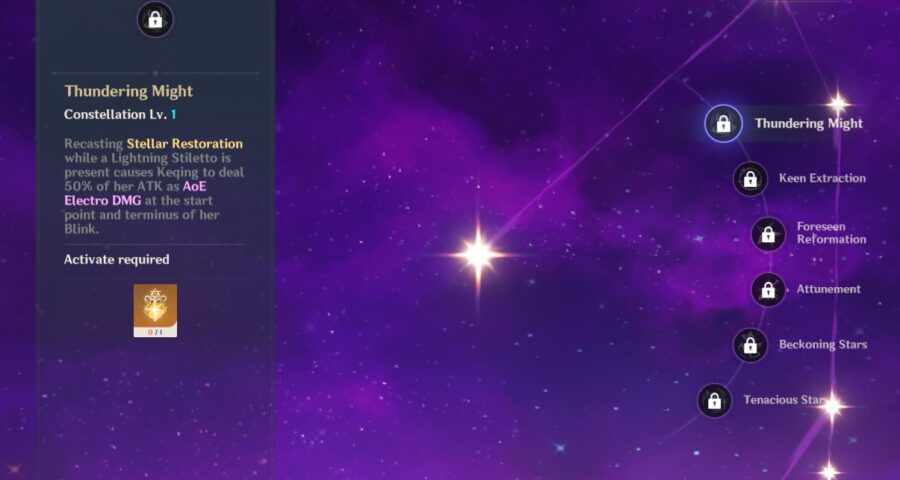 Keqing has a combat talent called Stellar Restoration; this hurls a Lightning Stiletto at her target, which is used by pressing E when playing on PC. This can be used in one of two ways, once the Stiletto has struck, if E is pressed again, then Keqing will blink to that location and slash once, which deals AoE (Area of Effect) Electro damage. If you instead use a Charged Attack near the enemy that has been struck with Lightning Stiletto, Keqing will inflict a series of thundering cuts at the target location, dealing AoE Electro damage.
Her first Star of the Constellation is a passive effect which amplifies Stellar Restoration, called Thundering Might. If the player recasts Stellar Restoration after the cooldown has disappeared and a Lighting Stiletto is still present on the battlefield, it will cause Keqing to deal 50% of her Attack as AoE Electro damage at the start and end of her blink.
The first Constellation effect will completely differ with each character. Sometimes, you'll get a passive only for you; other times, you can get a radius passive that affects every character in range. Each character is unique, with 6 stars to unlock for every one of them.
How to activate the Constellations effects?
This, sadly, is where the grind comes into effect, as the only way to get the material needed to activate a characters Constellation is to get a duplicate character when making a wish. This means that you have to get another Keqing when making a wish. When a duplicate character appears, they are turned into three things, Starglitter, Stardust, and the character named Stella Fortuna, so if the duplicate is Keqing, you'll get a Keqing's Stella Fortuna.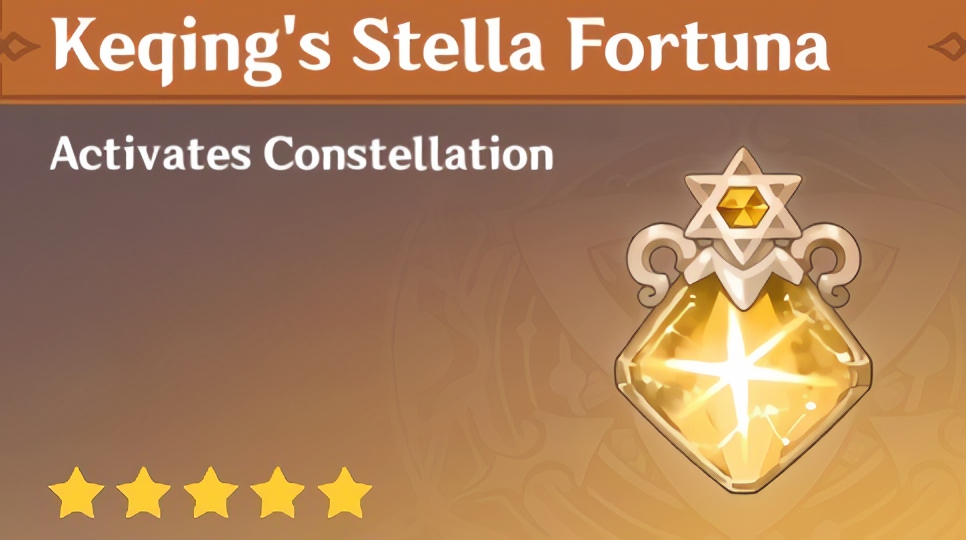 This Stella Fortuna is the item you need to begin unlocking the entire Constellation, luckily the material needed doesn't change, or the amount needed. Every character has 6 stars to unlock in a Constellation, so you need 6 Stella Fortuna to unlock the entire thing. However, the rarer your character is, the harder it's also going to acquire a duplicate, hence the grind and the temptation to spend real money on Genshin Impact.
There is a second way to earn character duplicates and is in the shop Paimon's Bargain shop, is where you can spend Starglitter on 4 Star rank items. Some 4 Star characters are only there for a limited amount of time before they are rotated for others, but they are very expensive; you can buy them for 34 Starglitter. However, Starglitter is the second rarest currency in the game and is only acquired by spending Wishes; this means, you have to earn duplicates to earn more Starglitter, to be able to afford and hope that a character you want a Stella Fortuna for appears in the shop.
There is no way to know if 5 Star characters will appear in Paimon's shop at any point, and if they are the same price as the 4 Star characters, alas, only time will tell.
Main Character Constellation
The main character is a different kettle of fish. If you've played the story or explored the Liyue region and interacted with a Statue of the Seven there, you will be given the Geo element. This makes the character very unique as she can switch between the two different elements of Anemo and Geo. However, this can only be changed at the region's Statue of the Sevens, so if you are in the Mondstadt region with Anemo, you have to go to a Liyue Statue of the Seven to get Geo back, and vice versa.
Furthermore, Constellations work a little different for the main character, as of course, you can't find a duplicate of her to get the Stella Fortunas. Instead, her rewards for upgrading the Constellation are given by the main story as rewards, and after a time, will be in the Souvenir Shop in both regions, using Sigils to purchase them.
Though this means as they've got two elements, there is two different Constellation for her up to upgrade, meaning there are 12 Stella Fortuna needed. If this were any other character, then the grind would be way too much, but luckily as it's the main character, her Stella Fortunas are more common then anyone else in the game. Don't worry, as if you've unlocked a portion for her Anemo Constellation and change to the Geo element, your Anemo progress hasn't disappeared for her Anemo side, as all unlocks are permanent. By going back to the Anemo element, everything will be exactly as you left it!