Genshin Impact's Hues of the Violet Garden event opens Inazuma to the rest of Teyvat with the Magnificent Irodori Festival. It runs from April 7, 2022, to April 25, 2022, and is open to all players Adventure Rank 30 and above who have completed the Ritou Escape Plan segment of the Archon Quest: Chapter II: Act I - The Immovable God and the Eternal Euthymia.
If you have not completed the Inazuma character Story Quests, you must access the event from the Quick Start button on the bottom left of the event menu.
How to Unlock Clash of Lone Blades
You can unlock the Clash of Lone Blades mini-game by completing all the Event Quests up to Act III. These include the following:
The Strange Tales of Suikou's Tipsy Tincture
What the Blue Flowers Left Behind
A New Painting in Pale Scarlet
These Event Quests are unlocked in succeeding order. After completing these prequests, head to the Event Details and follow the quest marker to the islet northeast of Ritou using the Waverider to initiate the Clash of Lone Blades.
Related: How to complete Irodori Poetry: Part 3 in Genshin Impact — Hues of the Violet Garden Event
How to Play Clash of Lone Blades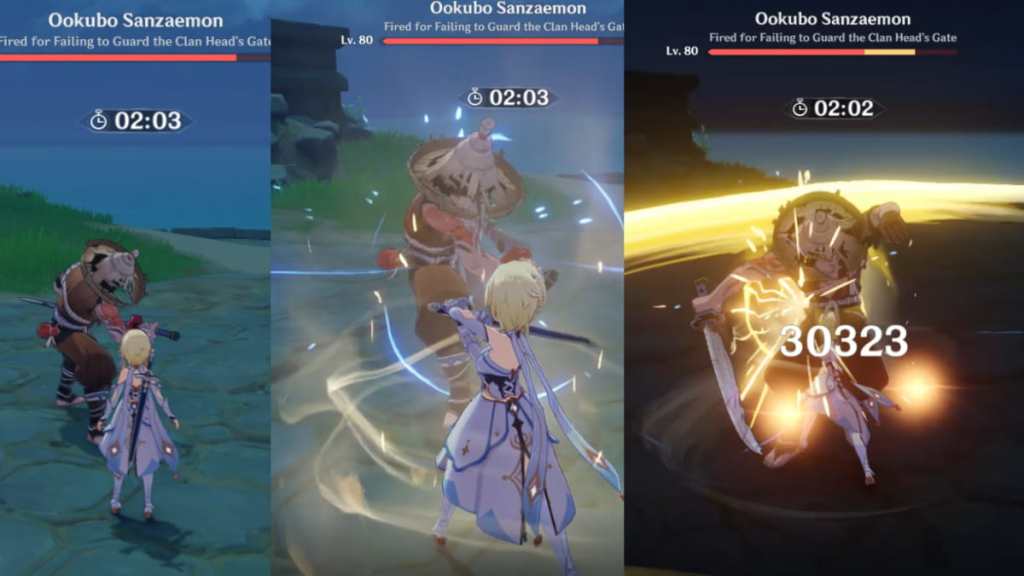 Upon starting the battle, you'll default to using the Traveler at level 80, and your Elemental Skill will be replaced by a Parry. In order to defeat the opponent quickly, you need to deal a large amount of damage by blocking their attack using Parry.
The Parry works differently from Beidou's, as you'll only counterattack when you perfectly block the enemy the moment they attack you. So wait for the enemy to charge, then immediately press the Elemental Skill to block, and then immediately let go to counterattack.
You can tell when an enemy is about to use a Honed Technique when their sword glows brightly. Watch out for it to know when to begin your Parry to deal even more damage against them.
After completing a perfect Parry, revolving red blades will circle around you. These will greatly increase your stats, allowing you to deal a large amount of Normal Attack damage once. After using a Normal Attack, the Valor stacks will disappear. You'll need to do another perfect Parry to build up stacks again.
Don't forget to head to the Event Details menu to claim your rewards!
Check out our Genshin Impact Theater Mechanicus: Slumber Spirit's Bridge (Show of Force) guide — Hues of the Violet Garden Event to play through other mini-games in the Irodori Festival.