Genshin Impact is full of important decisions players can make throughout their time in Teyvat. A lot of time can be spent doing things that players may regret later when they are at a higher level. Spending Mora on the wrong things, or dumping resources into Artifacts that will eventually become obsolete are just some examples of mistakes that players can make. These are some of the biggest mistakes to avoid in Genshin Impact.
Top 6 Mistakes to avoid in Genshin Impact
There are more than just a few mistakes new players can make when playing Genshin Impact. The biggest regrets players have are often in the earliest parts of the game. Going through the game, players will get new characters, Resin, and plenty of Fates. If they aren't careful however, they can under-utilize the tools that the game has given them.
Using Resin effectively in Genshin Impact
Resin is necessary to collect the most important resources in Genshin Impact. At the beginning of the game, Resin can barely be used for more than a few key things. Ley Line Outcrops are unlocked after players reach Adventure Rank 8 for Blossoms of Revelation and Adventure Rank 12 for Blossoms of Wealth. What many players don't realize until later on is that Resin replenishes over time and by not using Resin, they are losing out on Mora and Character EXP materials like Hero's Wit.
Additionally, Domains will have rewards to upgrade Weapons, Talents, and give players Artifacts. The earliest Domain that is unlocked is Cecilia Garden and can be accessed at Adventure Rank 16. Completion of the Domain rewards players with Weapon Ascension Materials that can then be used to upgrade their Weapons.
Upgrading bad Artifacts and Weapons in Genshin Impact
Without much knowledge of what is good or even what works well for their favorite characters, players can run the risk of upgrading something that will eventually become obsolete. The first set of Artifacts and Weapons will come from Chests found while exploring the game and many of the 1 and 2 Star items will quickly lose their value. Weapons gained from spending Fates will always be 3 Star or higher, giving them much more value.
In the beginning, the damage that comes from Reactions and the free characters that players get access to will take them far enough through the game. After the World Level increases, players can still lower the difficulty until they are at a high enough level to get 5 Star Artifacts. Much of the game is not difficult as long as players can stay on top of leveling their characters, Ascending them, and using a good team composition.
Related: All Mondstadt Domains in Genshin Impact – Rewards & Bosses
Discarding items in Genshin Impact
Nearly every resource that players can collect in Genshin Impact has a use. Philanemo Mushrooms and Dandelion Seeds are two Materials that the free characters Barbara and Traveler require to Ascend but are required for several other characters as well. The 5 Star character Klee requires the same Mushrooms and so even if players have raised Barbara to a high level, Philanemo Mushrooms shouldn't ever be discarded.
In other areas, many other resources can be collected that may have uses for characters they may haven't unlocked yet. Liyue characters require many resources local to the region and so just because players don't have a use for an item when they receive it, they can unlock a character later on that might need it. Other items have their uses in crafting upgrade materials for Weapons, using them as ingredients in cooking, and even feeding into the Parametric Transformer.
Not understanding how Elemental Mastery works in Genshin Impact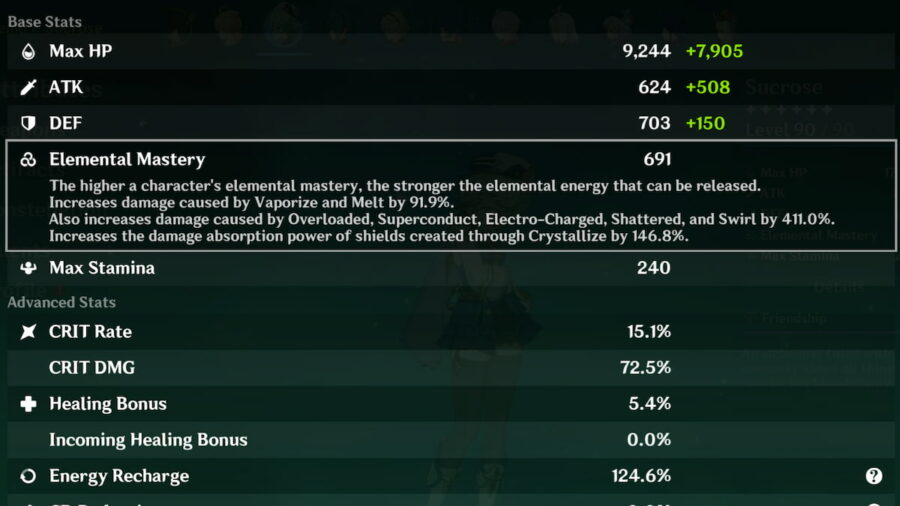 The mechanics of Reactions and their relationship to Elemental Mastery is explained within the game, however, there are some things that the game doesn't outright tell players. The misunderstanding that Elemental Damage comes purely from Elemental Mastery is something that many players can be led to believe. While this is somewhat true, Elemental Mastery is only linked to Reaction damage and the strength of Geo character's Shields.
Related: Genshin Impact: What is Elemental Mastery, Elemental Skill and Elemental Burst?
With this misunderstanding, many players can have Artifacts equipped on their characters that don't actually do anything for them. Unless players are proccing Reactions by switching characters out and using Elemental Bursts that stay on the field, Elemental Mastery won't be increasing damage output. Elemental Mastery is very important in many team compositions, but players should make sure to understand the mechanics behind it before they start investing in Crit Rate for their Overload teams.
Unlocking characters too early in Genshin Impact
Although this isn't necessarily a mistake, many players fall into the trap of getting into the Genshin Impact for the first time and Wishing for a regional character. Wishing for a Liyue or Inazuma character when just starting the game means that players will have to progress through the Story before they are able to level those characters up. Liyue characters will have their Ascension materials dropped from a boss located in Liyue, with their Talents only able to be upgraded by completing the Domain in the same location.
Sumeru characters will require players to get through the story of every region that came out previously, making it pretty time consuming to get those characters up to par. Leveling up multiple characters at once can deplete players of many of their resources and run into problems of having to play with characters they don't like as much on their team to get through the higher level content.
Overleveling characters in Genshin Impact
Leveling up a character to 90 takes some time to do and requires a lot of grinding. Unbeknownst to a lot of Genshin Impact players is that many characters don't need the extra stats from being max leveled. The Ascension bonus from 80 to 90 is often not as significant as other levels and only specific characters really need those extra stats. Anemo characters, in particular, benefit the most from leveling to 90 as well as a few other key characters.
For more Genshin Impact guides, check out Which Anemo characters are worth leveling in Genshin Impact? on Pro Game Guides.