These are official Genshin Impact 1.4 patch notes! This is everything miHoYo has planned. We've compiled all of the known and leaked information from a variety of sources. Right now, we're pretty confident that the majority of this is right, but somethings may change by the time the update is released. But as always, take everything with a pinch of salt.
Genshin Impact Update 1.4 Patch Notes
1.4 Pre-Install
Pre-install for v1.4 for both PC & Mobile begins on March 15 at 9 pm CT. This is the second time Mobile users have been able to pre-install a Genshin Impact Update.
Mobile (iOS & Android) Travelers can pre-install the update by going to the Paimon Menu > Settings > Other > Pre-Install Resource Package.
Maintenence
When Genshin Impact 1.2 goes live, maintenance will occur for roughly 5 hours. This begins on March 17, 4 pm CT. As compensation for the downtime, everyone will be given 300 Primogems if they are above Adventure Rank 5 or higher. Even if the update takes less than 5 hours, you will still earn the 300 Primogems.
Compensation will be given within 5 hours after the update has been completed. Everyone who wants the 300 Priomogems must be logged in before 1.4 ends.
New character
A new character is coming to the second half of the 1.4 update. Her name is Rosaria, and she is a Four-Star Cryo Polearm user! If you want to know about all her details, then we have you covered!
Rosaria: https://progameguides.com/genshin-impact-item/rosaria/
New Equipment
Four new Weapons are coming with 1.4. One new Five-Star and three new Four-Stars!
Five Star
Four Star

The Alley Flash (Sword)
Alley Hunter (Bow)
Wine and Song (Catalyst)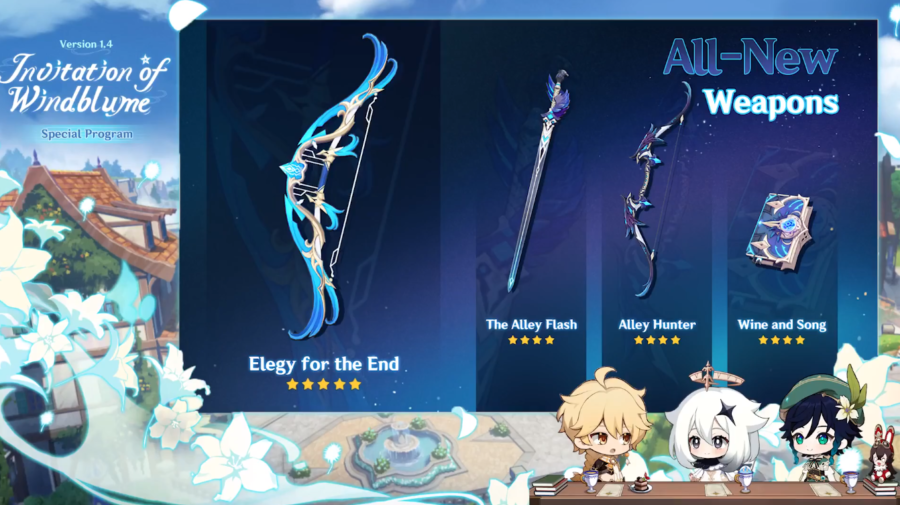 New Events
Invitation to Windbloom
All players who have reached Adventure Rank 20 or above and completed the "Song of the Dragon and Freedom" questline are cordially invited to join the citizens of Mondstadt in their annual celebration of freedom and love as dandelion seeds flutter in the warm spring breeze.
This festival is the main attraction to 1.4, and if you complete it, you have the chance to get one of the new weapons up above, the Windblume Ode.
Gameplay Duration
Event Shop Duration
Event Rules
Take part in challenges during the Windblume Festival to obtain two currencies: Festive Tour Tickets and Peculiar Collab Coupons. Spend these currencies at the Event Shop to purchase the event-exclusive weapon Windblume Ode and its exclusive refinement material "The Visible Winds," as well as the Crown of Insight and more.
This festival is the main focal point of 1.4. A festival in the heart of Mondstadt, where you can your friends can play some mini-games to earn two exclusive festival rewards— the Windblume Festival Commemorative Balloon and the Windsong Lyre, as well as a new 4-star weapon, Windblume Ode.
Festival Anecdotes
Invitation to Windbloom is split into four different Acts. These are spread out through the 1.4 update, with more quests and events unlocking as time goes on. Complete the quests to win rewards such as Primogems, Character EXP Materials, and more. However, more events are to following during the duration of 1.4.
Plus, take part in all of the Windbloom Festival and get 1000 Primogems!
Windbloom Festival Minigames
Bullseye Ballon
The first one is called Bullseye Balloons. In this mini-game, you have to pop the correct balloons within the time limit. Don't worry; you do not need to have a high-level Bow character for this mini-game. You can also compete with others in Co-Op.
Some balloons will award points, and others will deduct points.
Ballads of Breeze
You play the Lyre, and you have to press keyboard prompts in a rhythm mini-game.
Floral Freefall
This minigame involves diving off cliffs and glide into Green Orbs that you have to glide into. You'll have to use a mixture of both gliding and falling to get all of the rings on your journey down. Get enough to get a high score!
Peculiar Wonderland
In this event, you get three random minigames you play. After the three rounds are over, the scores will be turned into buffs, where you have to fight a Pyro Regisvine. The higher your score, the easier this fight will become.
The games will involve obstacle courses, dodging projectiles, and walking in the dark, a memory floor game you have to memorize.
This event has three stages that must be completed to finish it, and they are all revolved around mini-games.
New Game Feature
Hangout Events
A new mechanic is coming to 1.4 with a new questline featuring your beloved characters. These are characters that the story has mentioned/seen through the game but not highlighted much as of yet.
This is sort of Dating Sim-Esque quests with multiple endings, plus rewards with Four-Star characters. The four characters you can do this with are:
Barbara
Bennett
Chongyun
Noelle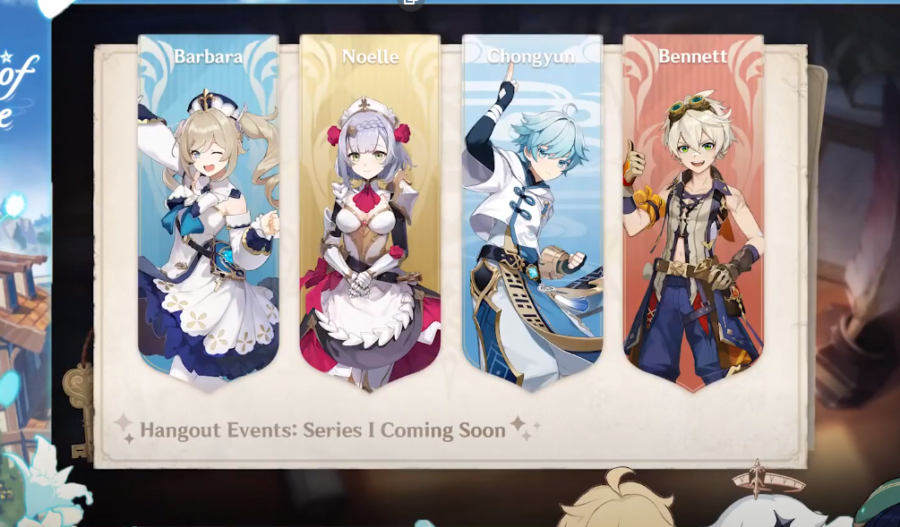 You have to choose dialogue choices, and you choose and see what ending you get. Sometimes if it goes poorly, you might get a bad ending or no ending at all! Don't fret, as you can get unlimited tries to get all the endings, and the more endings you get, the more rewards you can obtain!
Plus, you get a Hangout Memory picture of the hangout events for your collection. Hangout Events are the first of many!
To unlock these Hangout Events, you must have completed a few required story prerequisites and a specific Adventure Rank.
You need:
Two Story Keys

Keys are obtained by completing Daily Commissions. One Key is awarded for every eight commissions completed.

Adventure Rank 26
Wishful Drops
In this event, you are partnered with a Mini-Oceanid to help you in this quest. Upon completion, it will evolve into a pet called Endora!
Rhodeia's Rage challenge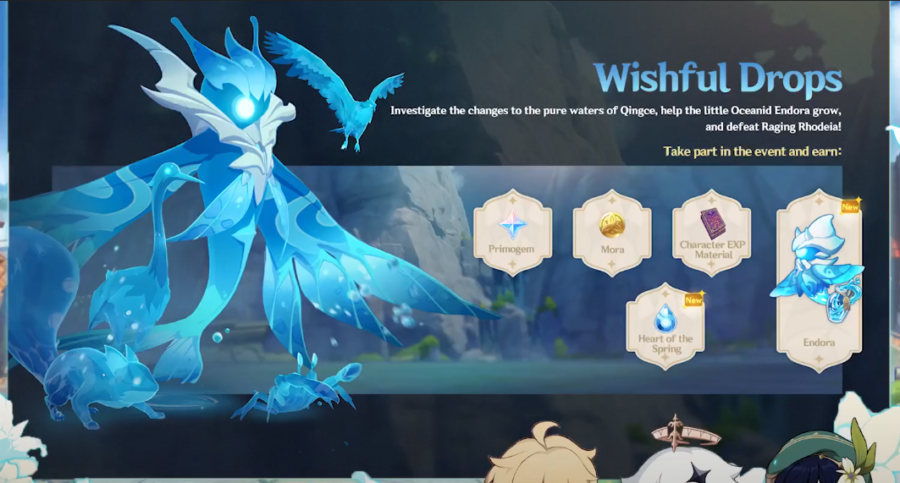 A new event revolved around the Elite boss Oceanid may come to 1.4. Oceanid has new mechanics and moves to make this boss even more difficult. Also, you can play it in Co-op!
With this event, you must find Heart of the Springs. There are five to collect to unlock rewards for this event!
Contending tides
This is a new event where you face off against waves of Churls, Slimes, and even Ruin Hunters, with rewards to be won! Added daily, a new challenge appears, with three difficulty options. If you complete the hardest one, all ones below it will be completed.
However, each challenge will have specific requirements that have to be fulfilled to complete it. Complete them to get rewards!
New Quests
New Archon Quest
You hear from Ganyu and Lan that the Treasure Hoarders of Mondstadt and Liyue have banded together and plan to get involved in some ruins associated with the Abyss Order. Fearing the chaos that the Treasure Hoarders might cause through their involvement, you take up the commission and investigate...
The Archon Quest "Chapter I: Act IV - We Will Be Reunited" will become available at a later date. More information will be released later.
New World Quests
A total of 8 world quests will become available over the course of the Windblume Festival. Complete these quests to win Mora, Character EXP Materials, and more!
Any Windbloom Festival world quests need to be completed before the event ends on 04/05/2021.
Other Additions
Abyss Herald
A new enemy is coming with 1.4! This new enemy is called Herald and is part of the story quest associated with Dainslief. This is a very heavy story-driven quest; however, this is not a new boss; this enemy is only available as part of the Archon Quest. So at the moment, it's a one-and-done type enemy.
New Gadgets
Three new gadgets are coming with the 1.4 update. Two are gadgets, and one is a net pet. These are the Windblume Festival Commemorative Balloon, Windsong Lyre, Endora.
New Recipes

Crispy Potato Shrimp Platter, Mint Jelly, Mint Salad, Minty Meat Rolls, Golden Chicken Burger, Golden Fried Chicken, Fragrant Mashed Potatoes

New Namecards

"Travel Notes: Windblume" and "Rosaria: Indenture"

New Achievements

Additions to the "Wonders of the World" category

Parametric Transformer

Now lets you add various ores as materials

Liyue NPC Changshu

Now additionally sells Potatoes, Sugar, Cheese, Cor Lapis, and Electro Crystal

Liyue NPC Bolai

Now additionally sells Apples, Sunsettias, Fish, and Starconche
System
Condensed Resin
Condensed Resin is getting an increase, and you will be able to hold a total of five instead of three.
Lower World Level
Players can now lower their World Level when they reach World Level 5. Each time you lower or revert your World Level, you can not change it again for 24 hours.
Other
After reaching Adventure Rank 60, any further Adventure EXP you receive will be converted to Mora at a rate of 10 Mora per Adventure EXP point.
Adds a new events/new content summary page to the mobile version of the game.
In Co-Op Mode, Travelers can now see the idle animations of teammates' characters.
Notifications fixed for Resin when entering Domains.
Quality of Life changes coming to the Weapon Upgrade System.
Using Crafting Benches in Coop is coming in the future.
You can save Favorite Mail in 1.4.
Rechallenge option for Spiral Abyss.
Quality of Life Coop Tweaks/Functionality.
Adjustments and Optimizations
Spiral Abyss
Starting from the first time that the Blessing of the Abyssal Moon changes after updating to Version 1.4, the two Blessings of the Abyssal Moon will be as follows:

Period I: Windward Moon

Characters possess an ATK-increasing Windward Aura that can increase their ATK by a maximum of 60%. For every opponent who steps within the Aura, the Aura's effect is decreased by 25%. When 4 or more opponents are within the Aura, this effect will not provide an ATK increase.

Period II: Skyward Moon

Hitting an opponent with a Plunging Attack decreases their DEF by 40% for 10s.

There will be no change to the reset times of the Spiral Abyss and Blessing of the Abyssal Moon. These remain the first and sixteenth days of each month, respectively.
Optimizes the order of item drops: More valuable items will appear earlier in the list.
Optimizes the cooking function: After unlocking Auto Cook, the option Cook Manually remains.
Optimizes the Spiral Abyss challenge: Challenges can be restarted mid-stage; Elemental Resonance effects can be viewed from the character selection screen; adds the option to exit before entering the next floor.
Cooking, crafting and forging functions remember your previous character selection.
Optimizes Xiao's expression when casting his Elemental Skill.
Optimizes the visual effect in Co-Op Mode when the camera makes contact with a teammate or NPC.
Optimizes camera close-up transitions in some domains and quests.
Optimizes the Original Resin replenishment screen: Travelers can view the quantity of Fragile Resin they own and decide which item to replenish Original Resin with more easily.
When you first download the game client on a mobile device, only the voice-over resources corresponding to your device's system language will be downloaded initially by default. (Example: Devices, where the system language is set to English, will download only English voice-over resources by default.) When you update the game client on a mobile device, voice-over resources will be downloaded for both the voice-over language corresponding to your device's system language and the currently selected voice-over language in the game. (Example: If your device's system language is set to English and you have selected Japanese voice-over in the game, both English and Japanese voice-over resources will be downloaded when you update the game.)
Travelers can download any additional voice-over languages they wish to use from within the game.
Audio
The Chinese voice artist for Amber is changed.
Adjusts the Chinese and Japanese voice-over for certain characters.
Adjusts the English voice-over for certain NPCs.
Adds Chinese voice-over for certain characters.
Adds dialogue voice-over to the Oceanid boss fight as well as certain sound effects for Oceanid Creatures.
Optimizes the sound effects for certain character skills and environments.
Optimizes the playback setting for the sound effect when characters take damage.
Other
Adjusts the appearance of Rosaria.
Fixes an issue whereby some characters who have not hit a target with an attack can jump while returning to a standby pose and thus perform a Plunging Attack.

*Additional Note: We are paying close attention to the possible impact of other operations that can produce the same effect. If we have plans to change them in the future, we will announce that as soon as possible.