Ashen Heart is a Five-Star material in Genshin Impact. It can only be obtained by completing the Trounce Domain—Narukami Island: Tenshukaku II and defeating Signora. This domain is unlocked by finishing the Archon Quest Chapter II, Act III Omnipresence Over Mortals.
To access level II of this domain you have to be at Adventure Rank 40 and is recommended to have your party at level 70 or above. It is located in Inazuma City on Narukami Island.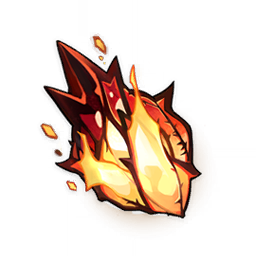 After you have defeated Signore, you can only collect rewards once per week by using 30 Original Resin to open the Ley Line Blossom for the first three Weekly Bosses, and 60 Original Resin subsequently.
Related: How to farm Spectral Husk, Heart, and Nucleus in Genshin Impact
Ashen Heart is one of three Talent Level-Up Materials you can obtain from this Trounce Domain. The other two are:
Due to Ashen Heart being a Talent Level-Up material, only certain characters use this material, but more may be added in future updates. At the moment, only Sara uses Ashen Heart.
A deformed fragment that contains powerful emotions. You obtained this from defeating Signora, who unleashed her original power.

Even tears cannot extinguish the flames. Molten-hot agony and rage rush through her veins, oozing from her tear ducts.

The First Fatuus found her just before her heart could be destroyed by the eternal blaze. He understood that only deeper hate and obsession could quench the fire that devoured her and make her his ally...

In-Game Description
For more Genshin Impact guides, PGG has you covered.