In the south of the Guili Plains, northeast of Liyue Harbor, you'll find an Anemo Monument in front of a ruin, with a locked gate on the ground in front of it. The puzzle connects to a Pressure Plate and a second Anemo Monument underground—successfully solve it to unlock a Precious Chest.
Start by heading to the location circled in the image below. Make sure to bring an Anemo applicator and a character that can activate small Pressure Plates.
At first glance, all you'll find is the Anemo Monument in front of the ruin. Go left until you're no longer standing on stone, and you'll find stairs leading to the floor underground. There, you'll find the Pressure Plate and the second Anemo Monument, which are separated by a wall.
To solve the puzzle, you need to light up both Anemo Monuments at the same time. The easiest way to do it is by inviting a friend through Co-op to light up one Monument while you take care of the other. But it's also completely doable yourself.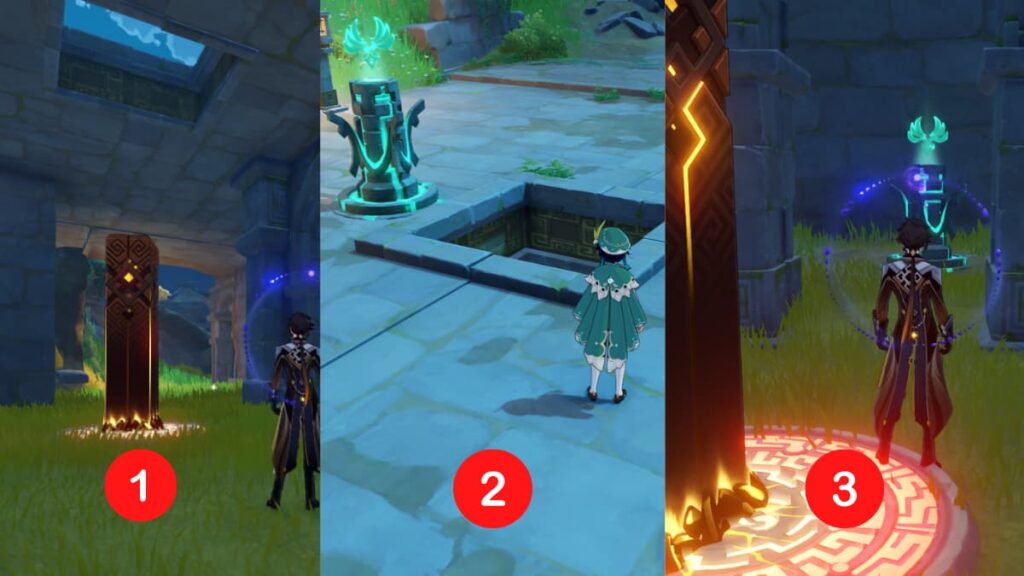 The two Anemo Monuments only stay lit for a short period, and the Pressure Plate will also only stay activated when there's a Construct on it, so you need to complete the puzzle as quickly as possible. Follow the steps below to optimize your route:
Step one: Activate the Pressure Plate underground. The gate in the ceiling will open.
Step two: Go up the stairs and activate the Anemo Monument above-ground.
Step three: Jump down the gate in front of the first Monument, then activate the second Monument underground.
A Precious Chest will appear on the Pressure Plate upon successfully solving the puzzle. You can try again as many times as you need if you fail.
Check out our guide on How to solve the locked Electro Monuments puzzle west of the Three Realms Gateway Offering in Genshin Impact to complete more Monument puzzles in Teyvat.