There are various environmental anomalies local to certain regions in Teyvat that can induce life-threatening status effects. Knowing how they work can give you a massive field advantage so that you don't accidentally succumb to death after swimming in a pool teeming with Electro or get a massive case of frostbite.
In Inazuma, you'll find areas affected by Balethunder, an aberration that causes the environment to produce high concentrations of Electro. The river in the Musoujin Gorge, the Mikage Furnace, and the depths of Mt. Yougou (before completing Yougou Cleansing) are some places affected by Balethunder.
Balethunder Effects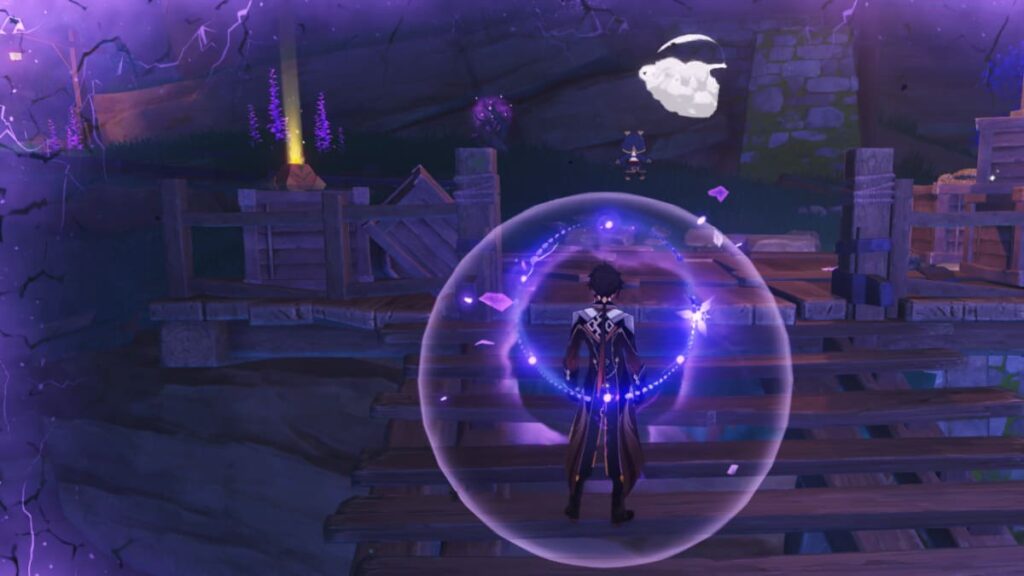 When you visit a place affected by Balethunder, the edges of your screen will glow in purple, and you'll hear the sound of crackling Electro.
The Balethunder inflicts a pulsating Attack that will cause you to lose 150 HP plus one percent max HP every two seconds. After a minute, each tick will deal more damage—you'll lose 450 HP and three percent max HP every two seconds. Pausing the game by opening a menu will also pause the Balethunder's Attack.
How to Counter Balethunder
There are three ways you can protect yourself from Balethunder. One is by standing near Thunderwood, which can be found around the Mikage Furnace in Tatarasuna. These work like the Ruin Braziers in Dragonspine—standing near Thunderwood will give you temporary relief, but walking away will cause the Balethunder's effects to resume.
The second is by picking up an Electrograna from a trusty Thunder Sakura Bough, which you can find all over Inazuma. Each Electrograna can only have a maximum uptime of 30 seconds with a Sacred Sakura's Favor at Level 43, so you need to keep picking some up along the way to completely negate Balethunder.
The third way you can protect yourself is by staying inside the Waverider, which will keep you safe from the anomalous external environment. But it can only help you when you're out at sea, so you need to rely on the first two for most of your adventures.
Check out the How to use Electrograna in Genshin Impact: Inazuma Guide on Pro Game Guides to learn more about how Electrograna can help your journey across the Nation of Eternity.