In the Serenitea Pot, players can decorate their Realm and build a fantastical World inspired by architecture from Teyvat. And at the core of customization are furniture pieces, from houses to fences, tables, pets, and more.
Most furniture pieces start off as Furnishing Blueprints, which are recipes that tell you how to craft a particular item. There are various ways you can obtain Furnishing Blueprints in the game—but the easiest is to buy them.
Monstadt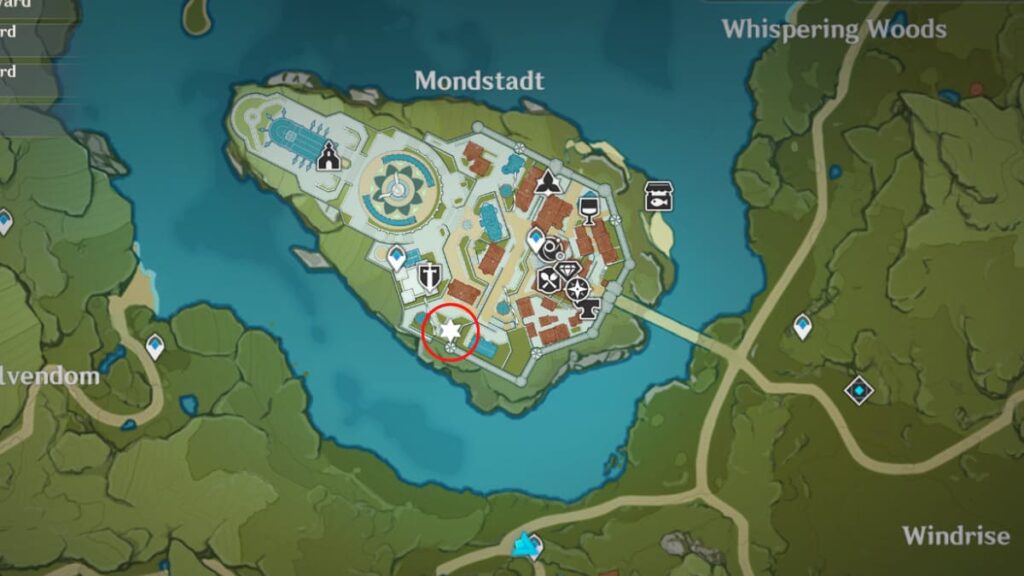 Head to the location marked above in Monstadt, where you'll find Goth, the boss of the Goth Grand Hotel and Monstadt's resident Furnishing Blueprint seller. He stands on a bench in front of a fountain facing the walls surrounding the Knights of Favonius Headquarters. Check the time before searching for him—he only appears in the daytime from 6:00 to 19:00.
Related: How to get more Serenitea Pot Adeptal Energy in Genshin Impact
Goth only sells one of each of his wares, but since Blueprints work like recipes, you can make as many of the furniture you need.
Check out his wares below:
Blueprint: Deadwood Road Sign—25,000 Mora
Blueprint: Simple Single-Person Tent—50,000 Mora
Blueprint: Lightning Protective Tent—50,000 Mora
Blueprint: Adventurer Camp—50,000 Mora
Liyue
In the area marked above in Qingce Village, you'll find Master Lu, a Master Carpenter and your source of Liyue Furnishing Blueprints. He walks around the same spot day and night, so you don't have to worry about changing the time to find him.
Like Goth, Master Lu only sells one of each Blueprint, but you can make as many furniture pieces as you want from them.
Check out his wares below:
Blueprint: "The Adventurer's Burdens"—50,000 Mora
Blueprint: Lone and Cautious Adventurer—50,000 Mora
Blueprint: Dialogue Twixt Ancient Tree and Rock—50,000 Mora
Serenitea Pot
In the Serenitea Pot, the ever-reliable Tubby runs the Realm Depot, where you can purchase a wide range of Furnishing Blueprints as well as pre-made Furnishings. Remember to choose the Furnishing Blueprints section if you intend to buy the recipes, as Furnishings are sold as-is and can't be reproduced, so you have to purchase more if you need to.
Check out our guide on How to increase Serenitea Pot Trust Rank in Genshin Impact to help you make the most out of your Furniture Blueprints.