With the newly released Genshin Impact 1.2  comes Dragonspine, a new large region for gamers to explore. Alongside it comes a new type of leveling up system, more or less along the same lines as the Statue of the Sevens found all over Teyvat.
Where to find Crimson Agate in Genshin impact
To find Crimson Agate in Genshin Impact, you must be in the new region of Dragonspine, as this is the only place in Teyvat that you will find it. As you explore this new region, you will find many Crimson Agate; however, it's very much like the Oculi that can be found in Mondstadt and Liyue, that it's a limited resource.
Crimson Agate has one purpose and one purpose alone: to level up the Frostbearing Tree. The Frostbearing Tree acts as a mini Statue of the Seven, meaning that you can offer these Crimson Agate to level it up. And after every level, the amount of Crimson Agate required is increased. In the image below, you will find where to find all Crimson Agate locations in the Dragonspine region.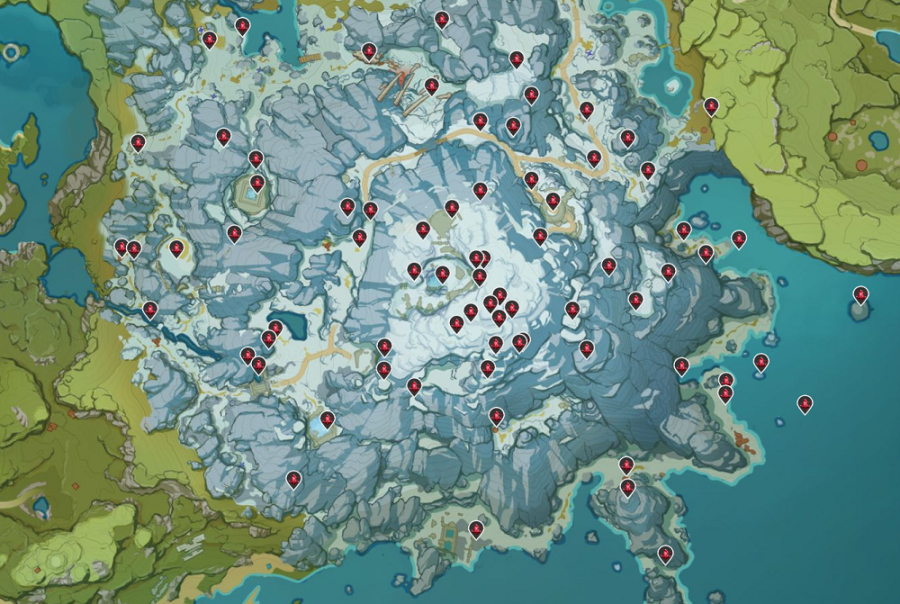 It's not hard to locate Crimson Agates, as they glow a harsh deep red when compared to the snowy area around them; it's quite a contrast. And very much like the Oculi that appears on your minimap when you are in close proximity to one, Crimson Agate will appear just the same.
Leveling up the Frostbearing Tree has an essential purpose, as you can obtain diagrams for weapons, a new set of glider wings, and the most important item of all, a diagram for a new gadget, the Warming Bottle. The Warming Bottle can help negate the Sheer Cold status effect while exploring Dragonspine! So always visit The Frostbearing Tree regularly to level it up!
There is much to do on the region of Dragonspine, so why not check out our massive Genshin Impact 1.2 Patch Notes. Or find out when the next banner is coming?