Working solo in Ghostbusters: Spirits Unleashed can be a bit daunting. As the Ghost, even with ghoulish tricks up your sleeves, competing against a team of four requires some quick thinking to come out on top. Having a hard time winning your matches as a Ghost? Here's a couple of tips to help you refine your strategy in Ghostbusters: Spirits Unleashed.
5 tips for playing as the Ghost in Ghostbusters: Spirits Unleashed
1. Spare no civilians
One of the quickest way to haunt a level is to send horrified bystanders running for the doors. You can send minions after them or haunt nearby objects, but the most effective method is as simple as floating up behind them for a scare by. Some Ghosts will do this more effectively than others. But, in general, any time you are playing as a Ghost, go for the civilians first.
2. Use possession wisely
Objects that you can possess aren't simply hiding spots. They are also useful for recharging energy, and, more importantly, can be used to shift the environment in your favor. You won't be able to move large objects like the Whale in Whitestone Museum, but vending machines are just small enough that you can hobble in them and block off a nearby hallway, then leave the object and float away. Doing this in multiple locations on a level can significantly limit the Ghostbusters' ability to chase you in the final seconds of a match.
Related: 5 quick tips for Ghostbusters in Ghostbusters: Spirits Unleashed
3. Try different Ghosts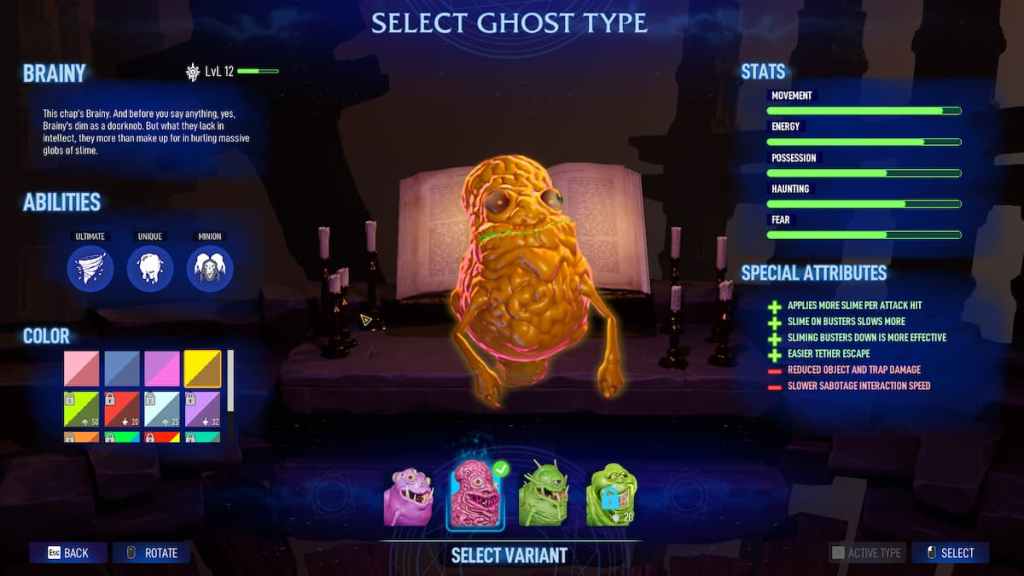 There are currently five Ghost categories in the game and at least three different variants of Ghosts in each category, giving you lots of options to find one that matches your playstyle. If you prefer to be a speedy and slippery Ghost to catch, you can stick with the Ectoblasts. Drakes, a type of Ghouly, can possess humans and scare them quickly. Choose whatever type fits you best to give you an edge.
4. Save your Ultimate ability for when you need it most
You'll have many ghastly tricks to try out with each new ghost, but don't go using them every chance you get. It quickly gives your position away. With low energy and powerful abilities on cool down, you'll become an easy target for the Ghostbusters. Ultimate abilities in particular should be saved for when you're in a real bind, like going to defend an exposed Rift.
5. Take to the skies
One of your largest advantages over the Ghostbusters comes from something you don't have: Legs. Because you can float from floor to floor, you can generally evade capture by floating over a balcony, forcing Ghostbusters to either use their V.A.Ds or take the stairs. You can even hide in plain sight sometimes if Ghostbusters are too focused on what's in front of them rather than looking up.
Need help playing as a Ghostbuster? Check out How to level up faster in Ghostbusters: Spirits Unleashed here at Pro Game Guides.