When the Definitive Edition of San Andreas released, it was far from perfect. There were glitches and bugs galore, and whilst some were funny, others were genuinely inhibitive. A lot have now been fixed, but some remain. One causes The Truth to be blown up by a helicopter during the Are You Going to San Fierro mission. Here's how to get around it.
During the mission Are You Going to San Fierro, you will need to burn the field of weed with The Truth. You have a timer that forces you to complete the mission before the cops show up to arrest you both.
There is always a police helicopter that comes to spy on you at the start of the mission—but the problem is that, in the Definitive Edition, it has a habit of spontaneously blowing up and taking out The Truth as it lands. This makes it impossible to finish the mission, meaning you can't progress in the game.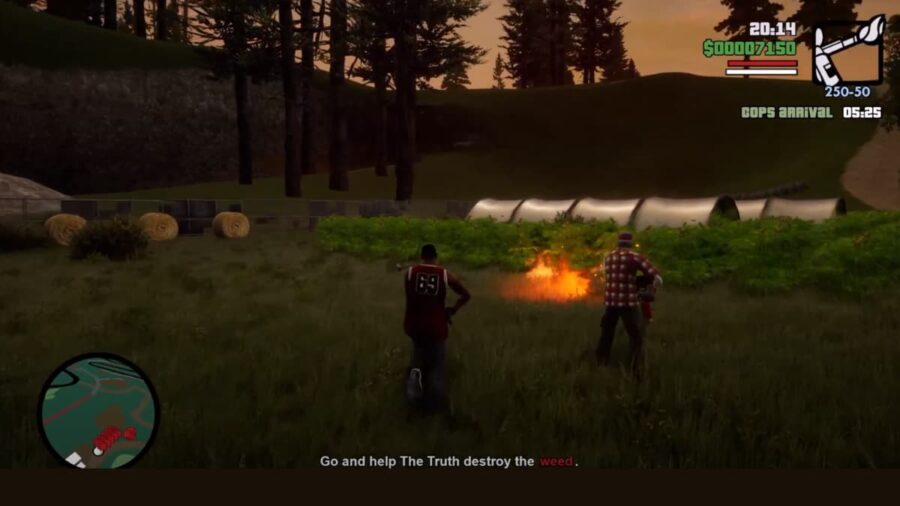 Related: GTA: San Andreas – Definitive Edition Cheats and Console Commands for PC, Xbox, and Playstation
The way to get around it is to start burning the pot at the other side of the field first. So, instead of starting from where The Truth is standing, go all the way down to the bottom. By doing this, one of two things will happen. Either:
The helicopter won't explode and you will finish the mission in the allotted time. You will then blow the helicopter up with a rocket launcher as intended.
or
The helicopter will still spontaneously combust, but due to you being farther down the field, it will explode at a different point in the sky, missing The Truth as it falls.
For us, the helicopter stayed intact until it was time for us to blow it up ourselves.
This glitch is particularly annoying, especially since it occurs during a main quest. Maybe one day it will be fixed, but for now, it seems as though Rockstar has stopped rolling out patches, as this glitch has been happening since the game's November 2021 release.
Looking for more content? Check out How to fix the 'crash after loading game' bug in Grand Theft Auto San Andreas – Definitive Edition.