Monster Hunter is an excellent game series to relax and play with your friends, but with the latest entry, Monster Hunter Rise, the system in which players can join each other's games changed. So, that being said, here's how to play Co-op in Monster Hunter Rise.
How to play Online Co-op in Monster Hunter Rise
To play co-op in Monster Hunter Rise, you will need to advance to the point where the option to do so unlocks at the start of the game. There will be a special NPC called the courier at this point in the game, and you will need to talk to them to open up a number of co-op options. However, if you intend to play online, you will need both an online connection and be a member of Nintendo online.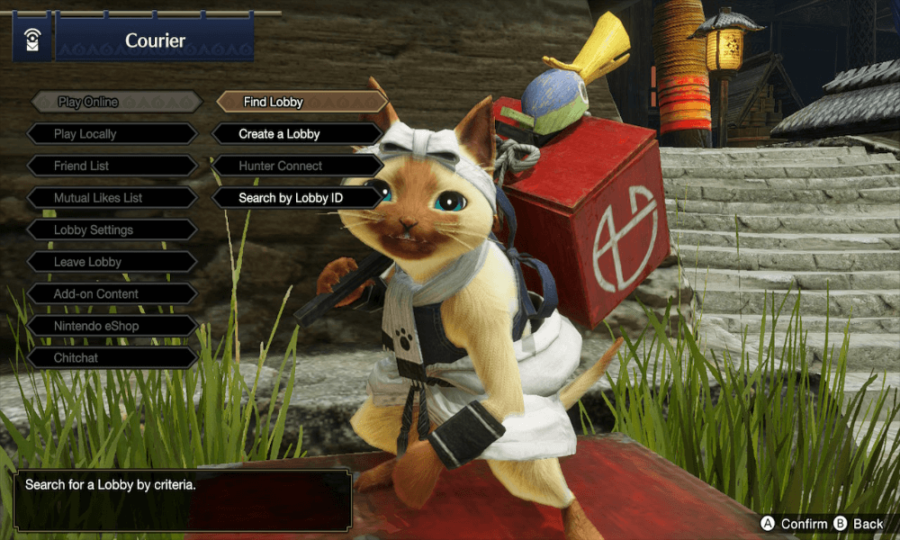 That said, upon talking to the courier, you will have the option to either find or create an online co-op game via the option play online. After clicking play online, two more options will present themselves: find lobby and create a lobby. If you want to join an online co-op game choose the option that says find lobby, but if you want to host, click the option that says create a lobby.
Related: How to play and download the Monster Hunter Rise Demo
When you click to create a lobby, you will be presented with more options involving the lobby; these settings include stuff like quest type, minimum hunter rank and number of players. Feel free to play around with these settings at your leisure, and when you are done, just click on create to host the lobby. After this, your friend should be able to join you if you both have online connections and Nintendo online memberships.
How to play Local Co-op in Monster Hunter Rise
To play local co-op is a bit different from online in Rise, but involves much the same steps. To start, you and the person you want to play co-op with will need to be close to the host or in the same house as them. But other than that, you can create a local co-op game by clicking on play local and then create a lobby. If you want to join a local co-op lobby, it's the same as the online mode; click play local and then select find lobby, and the game will search for any local games near your switch.
For more on Monster Hunter, we at PGG have you covered with guides like Best Monster Hunter World Mods and Monster Hunter World: Iceborne – To Our World Quest.