A less known fact about boars is that you can tame them in Valheim; here's how to do it and what you will need.
How to tame boars in Valheim
To tame a boar in Valheim, you will need to make a pen with a gate and then lure boars into it and shut the gate. After this, you will need to keep feeding them either mushrooms or carrots. Eventually, a tame meeter will build up, and they will become fully tamed.
You can make a pen and wooden gate with a hammer; start by right-clicking the hammer and then going to the building tab. In the building tab, you will be able to build a gate by building a wooden gate for 12 wood and a pen with fences that cost one wood each.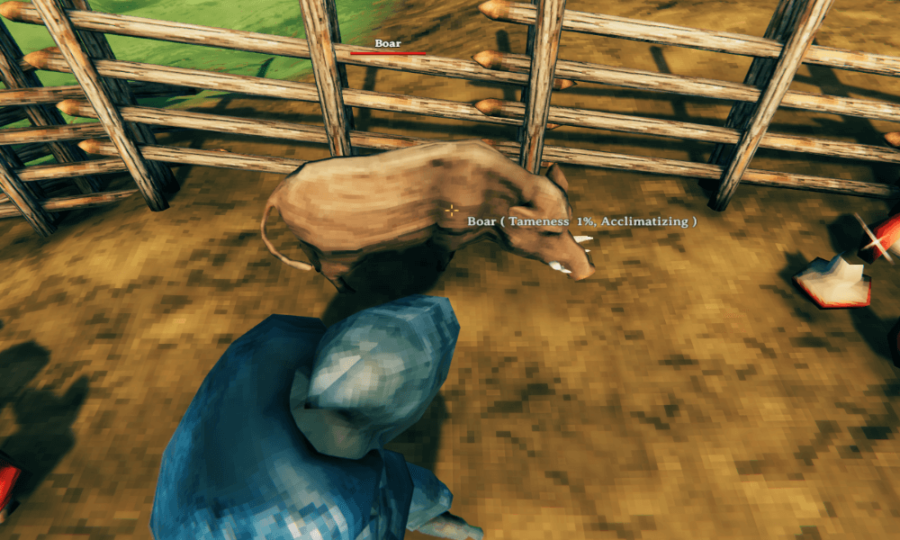 Once you get the pen built, you will need to find your boar; you will need to go into the meadows biome as boars spawn more often. When you find your boars, run up on them and get them frightened and lure them back to your base and your pen; It might be useful to have a friend waiting by to slam the gate shut when the boars run after you into the pen.
When you get the boars inside the pen, the hard part about taming them will be over, and you will then need to keep feeding them mushrooms or carrots. We suggest merely chucking mushrooms as they are easier to get than carrots; you can get mushrooms in the black forest and meadows biome if you didn't know already.
You can also feed boars berries, and if you build your pen around a berry bush, your boars will actually eat from them! As a side note, make sure to avoid placing any fires near boars, they are scared of fire and placing fire near them will ruin your chances of taming them.
That said, if you keep it up, continually feed your boars around 10 to 15 mushrooms or berries, you will eventually tame the boars you captured, which you can then later breed to make even more piggies!
How to breed boars in Valheim
To breed boars in Valheim, all you need to is merely feed them and get them happy, once they have the happy status they will go to the nearest boar that is also happy and make a smaller boar; You can tell when the boars are breeding when little pink hearts show up above them. After some time, a smaller boar will appear and you will have successfully bred more boars in Valheim.
For more on Valheim, we at PGG have you covered with an expanding roster of guides like how to get the swamp key and How to get a pickaxe in Valheim. Along with these two incredible guides, check back later, and we will have even more guides for Valheim coming out in the weeks and days ahead.