Harvest Town puts you in control of your very own farm. Abandon city life to live the idyllic life in the peaceful countryside. There is also a nearby town where you can meet and befriend the local residents. To speed up the farming process, you can use Harvest Town codes.
Codes in Harvest Town will give you various rewards, but they do have expiration dates, so you will need to use the codes before they expire. We have compiled a list of available codes so you can earn various rewards quickly. If a code has expired, please let us know so we can remove it!
If you're looking to check out other mobile games, take a look at some of our other code guides to get you started in games like Dislyte Codes – Free Gold, Nexus Crystals, & Gold Records, All Valor Legends Codes – Free Energy and Gold!, Figure Fantasy Codes, Blue Archive Coupon Codes and more on Pro Game Guides.
All Harvest Town Codes List
All Harvest Town Codes List (Working)
There are no active Harvest Town game codes at this time
All Harvest Town Codes List (Expired)
909a10093fb8
971a1ead6950
938a1037f0f0
970a1ead6b00
937a1037ee20
939a1a91dcf8
969a1ead6b48
935a1037e770
967a1ead70a0
932a1037df00
936a1037ea40
934a1037e4a0

931a1037dc30
927a1856e7b0
966a1ead70e8
933a1037e1d0
907a1fefa600
930a1856e190
929a1856ed50
928a1856ea80
908a1f3a1678
How to redeem codes in Harvest Town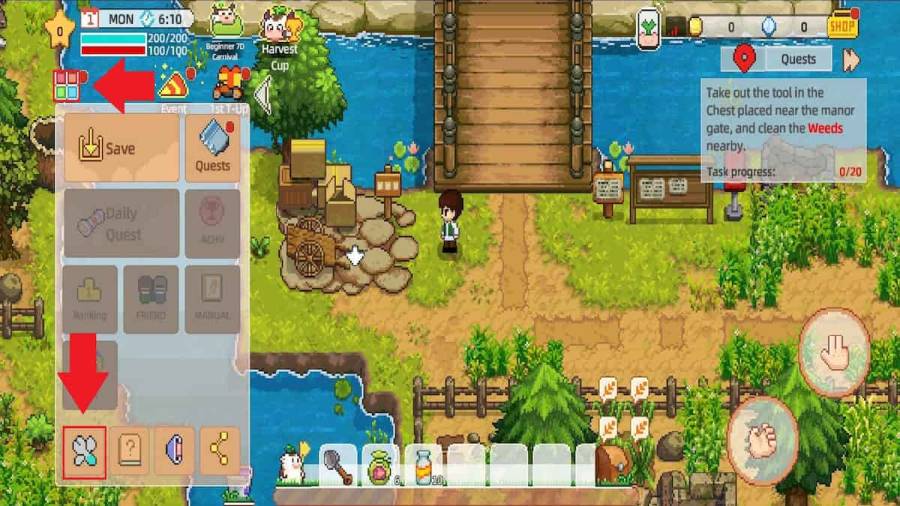 Here is how to redeem codes in Harvest Town.
Click on the Settings button in the top-left corner of the screen.
Click the setting button on the bottom bar in the new menu.
Input the code (you must be level three).
How can you get more Harvest Town codes?
The best way to get more Harvest Town codes is to follow the official Harvest Town Facebook. You can also check this page for updates to our code list.
Why aren't my Harvest Town codes working?
The Developer has control over codes for Harvest Town and determines how long they are active. Some codes may expire quicker than others, and some may not work with others. If a code does not work for you, double-check if there is a spelling error, the code isn't active yet, or it has already expired.
To help solve that issue, bookmark this page and come back often to see if Harvest Town has added a new code!
What is Harvest Town?
Harvest Town is a pixel art farming sim. You leave the bustling city and come to a relaxing farm. You are tasked with taking care of it and returning it to its former glory. There is also a nearby town where you can meet, befriend, and even marry the citizens.
For more information on gaming, check out How to catch a Walleye Fish in Stardew Valley and How to catch Chub in Stardew Valley on Pro Game Guides.