Manga Clash is a popular game for mobile devices where you can use many fan-favorite characters from popular manga and anime series to battle against powerful villains. Like many similar mobile games, your aim is to bring out the most powerful form of your characters, which can usually be done by leveling them up with battle experience.
However, experience is not the only form of currency in the game. You can also obtain other resources, such as Coins, Stone, and Power. Collecting enough of these resources enables you to do otherwise limited actions like battling, gambling (in-game) for strong and/or rare characters, or boosting your characters to level up faster.
Listed below are all the latest codes you can claim to get the resources you need to continue playing the game when you feel like you're stuck. While you're claiming these codes, don't forget to check out our codes for other similar mobile games like Mythic Heroes, Mobile Legends, Idle Heroes of Light, and Immortal Taoists!
All Manga Clash Codes
Manga Clash codes usually expire quickly, so it's best to use these as soon as possible. Be sure to enter them exactly as listed. You can copy them and then paste them where they belong to make sure you've got them correct. If they no longer work, feel free to leave a comment and let us know so we can double-check!
Manga Clash Codes (Working)
Below are all of the Manga Clash Codes.
711748478463—Redeem for Stone and Power
711814255583—Redeem for Stone and Power
Manga Clash Codes (Expired)
Below are all of the expired Manga Clash Codes. Eventually, all codes end up expiring, and we keep them here to show how the game is progressing and how often it rewards players. Sometimes, codes even come back, so some lucky players will find luck trying them out again.
711465939131—Redeem for Stone and Power
711540439956—Redeem for Stone and Power
711245033796—Redeem for Stone and Power
711096850998—Redeem for Stone and Power
710859590184—Redeem for Stone and Power
How to redeem Manga Clash codes
Redeeming codes in Manga Clash can be confusing if you're not familiar with the game. The most important thing to know is that you must complete the tutorial. If you don't complete the tutorial and play through the first couple of battles, the code redemption box will not be available. Once you have done that, follow the instructions below.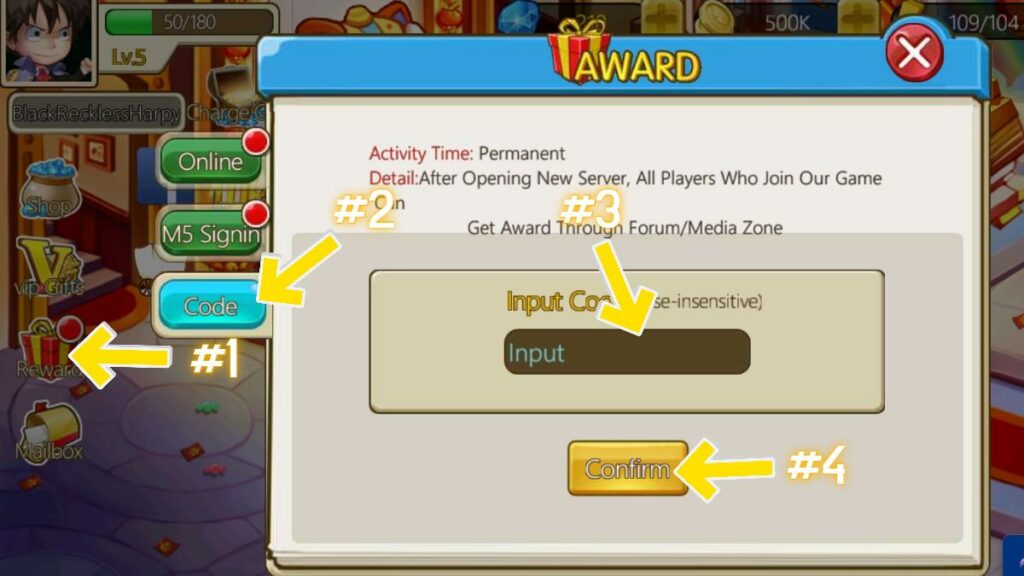 In the game, press the Reward button on the left side of the screen.
Navigate to the Code tab in the reward menu.
In the text box, enter the code exactly as it appears in the list above.
Press Confirm to claim your reward!
What are Manga Clash codes?
Codes in Manga Clash are sequences of numbers that can be entered to claim exclusive rewards or resources. Most codes in Manga Clash provide Stone and Power, so you can progress further in the game when you find that you've run out of either of them. Occasionally, codes will release during events or holidays. Using these special codes can grant you special characters or rare cosmetics.
Why aren't my Manga Clash codes working?
Manga Clash codes usually expire within a couple of weeks after they're dropped, but the game will always show if the code you entered is expired. If it doesn't say that, then there is some other issue with the code. The most common problem is that the user entered the code incorrectly. To avoid this problem, try copying and pasting the code rather than entering it in manually.
Many players also have frequent issues with Manga Clash's user interface. It's possible for codes to be entered correctly but fail because of some issue in the way you interact with the menu options. Try codes more than once to be sure they didn't work.
What is Manga Clash?
Manga Clash brings you into the world of not just one of your favorite animes/mangas, but several of them! This idle combat battler gives you the chance to battle as many of your favorite characters from some of the most popular franchises. Make your way as the most powerful character you can find, and use them to cleave through your opponents—some of whom might also be major villains from your favorite animes!
Did you know we have codes for many more mobile games? Check out our codes lists for the immensely popular Genshin Impact, or find your favorite games in our comprehensive list of Roblox codes!