Mythic Heroes is an idle RPG in which you summon mystical gods and heroes to do battle. You collect these characters through a gacha mechanic and can upgrade them as you progress. You can speed up this process or get free rewards by using codes.
Codes in Mythic Heroes will give you various rewards, so keep an eye on them. These will also have expiration dates, so you will need to use the codes before they expire. We have compiled a list of available codes so you can earn gold, diamonds, and new summons in Mythic Heroes quickly. If a code has expired, please let us know so we can remove it!
If you're looking to check out other mobile games, take a look at some of our other code guides to get you started in games like Dislyte Codes – Free Gold, Nexus Crystals, & Gold Records, All Manga Clash Codes – Free Stone and Power!, NBA 2k Mobile Codes, All Valor Legends Codes – Free Energy and Gold!, Cookie Run: Kingdom Codes – All CRK Codes, and more on Pro Game Guides.
All Mythic Heroes Codes List
Mythic Heroes Codes (Working)
MH7777—3,000 Diamonds

MH8888—20 Summon Scrolls
SW3GC—400 Diamonds
Mythic Heroes Codes (Expired)
SCH2M
93BNW
1CODES
CODES2
D891F
SD09R
XZ432
9BV3G
43XH8
5V2GK

8UYMF
CODES1
MHCODE
NOCODE
XMASCODE
7TGDV
FFDG8
LUNATIGER
E8CL3
HQUM1
YUME3
5GS26

GVCE4
MYTH1
SH47G
KVCQ9
DBKW6
8LMVS
THANKYOU
XCYXM
DQTYP
XMAS
JMVFU
JP3EX

XT34S
ZJAL8
WBA2M
YQ44F
FLY4D
B35L4
LAEZM
9DDBE
YZ5XM
VTSMV
7ZDWM
MH8888

E5OVG
WMRZG
WL5UP
ISVQ6
LU93I
8EUBF
CG1F3
XZ432
O8FYX
WZG7V
76HLV
How to Redeem Mythic Heroes Codes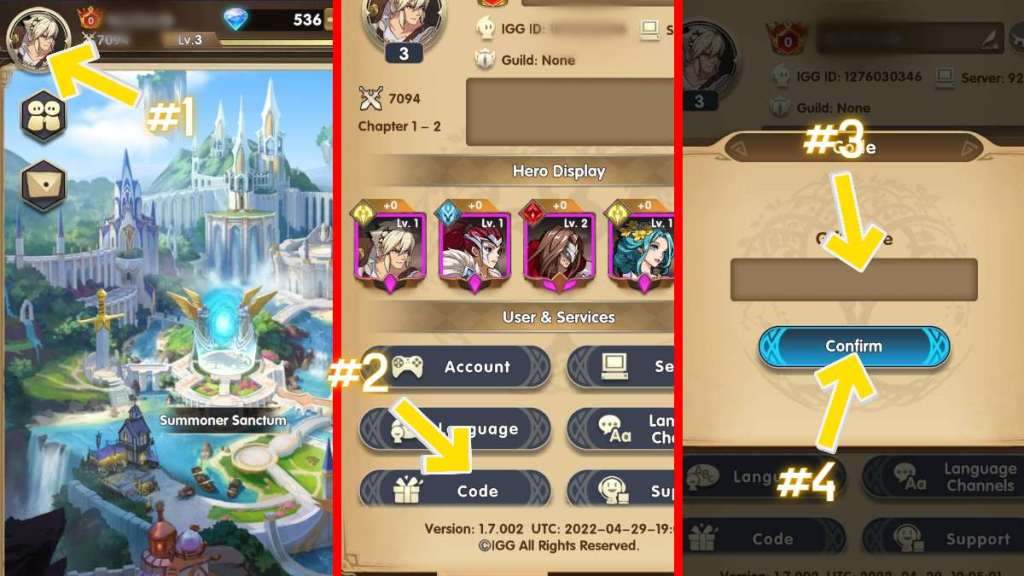 To redeem codes in Mythic Heroes, simply click on your profile picture in the top-left corner of the screen. Select the Code button and input your code. Once you have entered it, press Confirm and the code will be applied to your account.
How can you get more Mythic Heroes codes?
The best way to get more Mythic Heroes codes is to follow the official Mythic Heroes Twitter or check the Mythic Heroes Facebook. You can also check this page for updates to our code list.
Why aren't my Mythic Heroes codes working?
The Developer has control over codes for Mythic Heroes and determines how long they are active. Some codes may expire quicker than others, and some may not work with others. If a code does not work for you, double-check if there is a spelling error, the code isn't active yet, or it has already expired.
To help solve that issue, bookmark this page and come back often to see if Mythic Heroes has added a new code!
What is Mythic Heroes?
Mythic Heroes is an idle gacha RPG in which you collect and summon gods and heroes from various mythologies and cultures. Using these, you build a team and face dark forces that threaten the world. You can upgrade your units to make them stronger and collect rewards while you progress. It is free to play, so you can check it out on iPhone or Android.
For more information on gaming, check out All Heroes and Abilities in Mythic Heroes and How to Ascend Heroes in AFK Arena | AFK Arena Ascension Guide on Pro Game Guides.