Basketball fans can enjoy 2k Interactive's popular sports simulator thanks to the NBA 2k mobile experience. Fans on iOS and Android can take to the court, playing as icons from the sport from past and present teams to take titles on their phones and tablets. Those looking to up their game can secure a few boosts with codes.
Pro Game Guides has a comprehensive list of all active NBA 2k Mobile Codes! These cards will be a big boost to some, but they will not be as helpful to veterans of NBA 2k Mobile. If you want to get some free stuff like players, keys, cosmetics, and recharges, then make sure you're up to date on every code coming out in this mobile experience with our guide.
Be sure to keep an eye out for codes, as they drop every other month. If you're a new player, these codes will help you get started in NBA 2K mobile, offering Sapphire-level characters that are excellent beginner tools. For more on game codes and guides on 2k, visit other code articles like NBA 2K22 Locker Codes, NBA 2K21 Locker Codes for MyTeam, and NBA 2K20 Locker Codes. If you want more 2k guides, then try out How to do the Playoff Round 1 Agenda Challenge in NBA 2K22 MyTeam.
Updated June 7, 2022

Added new code
All NBA 2K Codes List
NBA Mobile Codes (Working)
The following is a list of all NBA 2k mobile codes currently available.
SKYHOOK33—Redeem for a Kareem Abdul-Jabbar card (New) [Expires June 14, 2022]
NBA Mobile Codes (Expired)
The following codes are no longer active in NBA 2k mobile.
MVPDROSE—Redeem for a Derrick Rose card and a 2x Energy Recharge
JORDAN23—Redeem for a Michael Jordan card and 2x Energy Recharge
GYROSTEP
THEADMIRAL—Redeem code for David Robinson card!
TAINKLAY - Redeem code for Klay Thomspon card!
WHATITDOBABY—Redeem code for Kawhi Leonard card!
DAMETIME - Redeem code for Damon Lillard's card!
JRUESUMMER - Redeem code for Jrue's Summer card!
SHOWTIME - Redeem code for Magic Johnson's card!
THEBIGCACTUS - Redeem code for a Shaq's card!
KPPLAYOFFS - Redeem code to get Porzingis' theme card and 2 event energy chargers!
ELGINBAYLOR - Redeem code to get Elgin Baylor's card! (Expires April 11. Can be redeemed once per account.)
CP3PHOENIX - Redeem to get Chris Paul's card! (Expires Mar. 2. Can be redeemed once per account.)
EMERALDKLAY - Redeem to get Klay Thompson's card! (Expires Jan. 16. Can be redeemed once per account.)
How to Redeem Codes in NBA 2k Mobile
To redeem codes in NBA 2k Mobile, you need to open up the game and look for the "Redeem" option on the screen. Once you hit that button, you can type in a code, and then you will instantly be given the rewards as long as they are available.
The REDEEM option only shows up when there's an available code!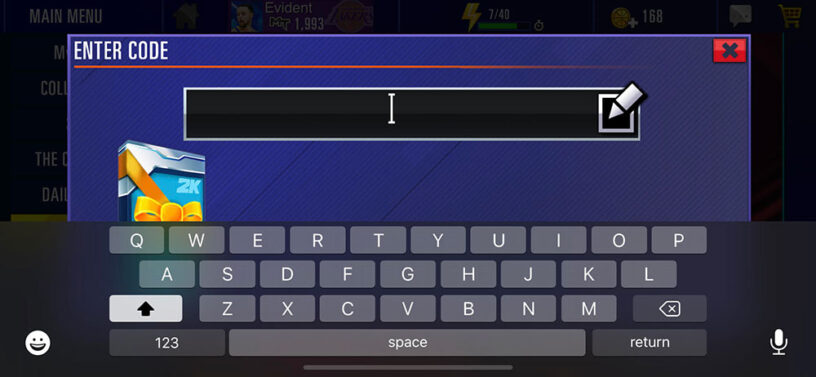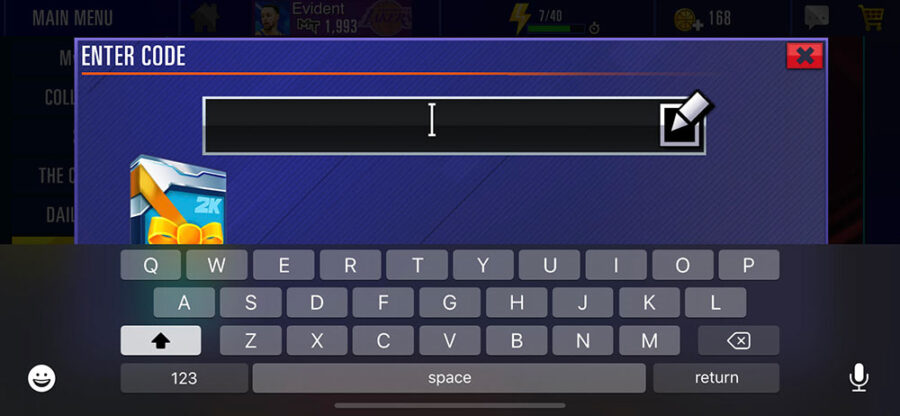 What do codes do in NBA 2k Mobile?
Codes in NBA 2k Mobile often give players rare cards that they can use to help create their dream team. Some codes even offer increased Energy Recharge rates to get players back in the game faster. Codes are your best bet if you're looking for an extra edge. It's not technically cheating because everyone has access to this and the developers put this in themselves. This is just to make the game more fun.
Check out the other mobile game codes that we have on Pro Game Guides!