NBA 2K22 is a basketball simulation focused on the National Basketball Association league. You can play many modes in this game like MyLeague, MyCareer, PlayNow (where you can play NBA and WNBA games straight away), and MyTeam. The last one is one of the most popular modes as you can collect players from all basketball eras and form your custom team.
That way, you can have Moses Malone, Michael Jordan, Nikola Jokić, and Dirk Nowitzki playing together. You'll have to collect their cards by playing games and via NBA 2K22 locker codes to achieve that. They will help you create a dangerous team for multiplayer games, so make sure to claim them all.
If you're into basketball, check out articles like Roblox Dunking Simulator Codes, NBA 2k Mobile Codes, NBA 2K21 Locker Codes for MyTeam, and Everything we know about NBA 2K23.
All NBA 2K22 Locker Codes List
Updated August 2, 2022

Added a new code.
NBA 2K22 Locker Codes (Working)
Here's a look at all the working NBA 2K22 locker codes.
DARK-MATTER-DIAMOND-CONTRACT—Redeem to get a Diamond Contract and a Dark Matter player (New)
2K23-COVER-DEVIN-BOOKER—Redeem fo free rewards (New)
SEASON-8-MyTEAM-100-TOKENS—Redeem for 100 tokens
GWCRB-VFBR2-FN8EK-SXRJR-QXLPG—Redeem for Invincible LeBron James
XAQY8-3Q7SP-ANZDR-LGLQN-2QD8H—Redeem for Dark Matter Takeoff Jayson Tatum
U5KDA-LVGPE-43RDL-KXR2T-J8AZ4—Redeem for Swish Andre Iguodala
LAA9M-CRHQV-VVW2R-V3MD6-A33CT—Redeem for Dark Matter End Game Shaquille O'Neal
FOREVER-CODE-FROM-ASK-A-DEV—Redeem for 50 Tokens, Diamond Contract, Diamond Shoe, Hall of Fame Badge, or Zero Gravity Deluxe Pack
2K23-IS-COMING—Redeem for Galaxy Opal Damian Lillard, Demar Derozan, Joel Embiid, Ja Morant, Karl-Anthony Towns, or Luka Dončić
MYTEAM-SEASON-8-X58WM—Redeem for HoF Badge Pack, End Game Pack, Diamond Contract Pack, or Tokens
HAPPY-4TH-OF-JULY-MYTEAM-7QN6W—Redeem for Diamond Contract, HOF Badge, or 76 Tokens
HUNT-4-GLORY-CAMO-THE-WORM
NBA2K-NYK-LAC-SUNDAYS
MYTEAM-NBA-75-THE-LOGO
NBA 2K22 Locker Codes (Expired)
Here's a list of NBA 2k22 codes that have expired.
VCL7V-YJVBK-TRY6E-2QNJW-35J5U—Redeem for Fearless Jalen Green
MYSTIC-TMAG-AND-GIANNIS
THANKSGIVING-COUNTDOWN
MYTEAM-DIAMOND-OPTION-PACK—Choose from two Diamond Shoe Colorways, two Diamond Shoe Boosts, or a Diamond Contract
PD-NATE-THURMOND-IN-MYTEAM - NBA Primetime V Pack or Rim Protector Badge Pack
NOV-PLAYER-BANNER—Redeem for a Banner
NBA-PRIMETIME-3-MASHBURN—Redeem for an NBA Primetime III, NBA Series Pelicans Pack, or Gold Show Pack
PRIMETIME-PETE-MARAVICH-MytEAM—Redeem code for NBA Primetime II Pack, Tight Handles Badge Pack, or Shoe Award Pack
REC-BANNER-2K22 - Player Banner (Expires Oct. 18) [Some players are reporting issues with this code]
FLASH-2-PACKS-IN-MYTEAM - Flash 2 Pack, Nike Gold Shoe Pack, or two tokens.)
DOUBLEXP-BANNERS-ANDMORE - 3 Banners, 30 minute 2XP Coin, New Player Indicator, New Perfect Green Release Animation (Expires Sep. 21)
FLASH-PACKS-IN-MYTEAM-2K22 - Flash Pack, Gold New Balance Kawhi Shoe Base Pack, Gold Adidas D-Rose 11 Shoe Base Pack or 2 Tokens (Expires Sep. 24)
GET-READY-FOR-PRIMETIME - Jordan Shoe Pack, Adidas Shoe Pack, Badge Pack, Gold Shoe Boost Pack or Token (Expires Sep. 21)
HAPPY-NEXTGEN-2KDAY-22—Redeem for Three Banners, 30 minutes of two-XP Coin, a New Player Indicator, New Perfect Green Release Animation.
2KDAY-IN-MYTEAM—Redeem for +4 Driving Dunk Card, a Diamond Shoe, a Free Agent Lebron, a Free Agent Russell Westbrook, and a Free Agent Zach Lavine.
NBA 2K22 FAQ, Answered
Here's everything you need to know regarding NBA 2K22 Locker codes.
How to redeem NBA 2K22 Locker Codes
Redeeming locker codes for free rewards in NBA 2K22 is easy.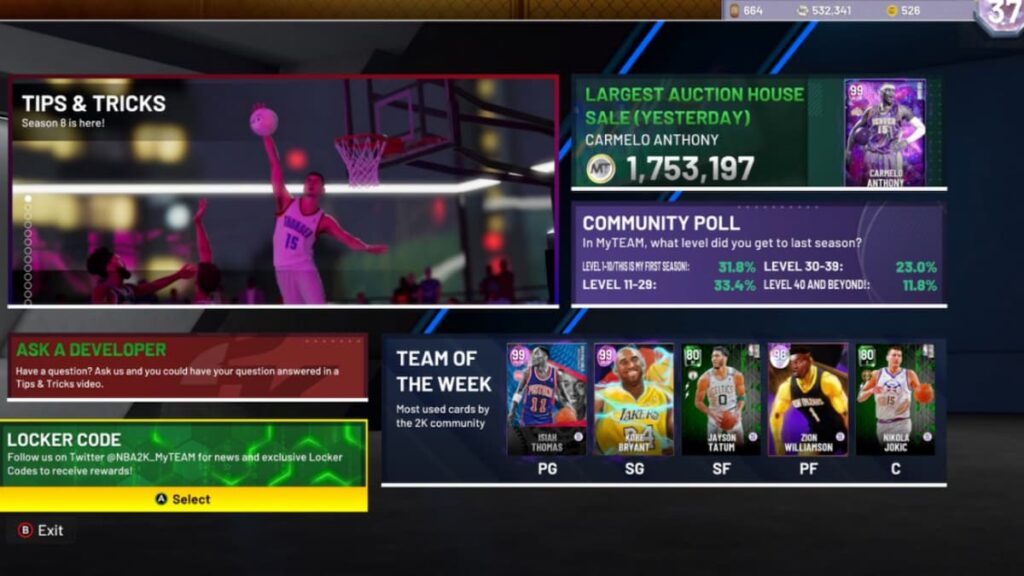 In the game, go to the My Team menu.
Select MyTeam Community Hub.
Select the Locker codes section at the bottom of the screen.
In the text box, enter the code exactly as it appears in the list above.
Confirm your selection and enjoy some great rewards.
How can you get more NBA 2K22 Locker Codes?
The best way to have all the NBA 2K22 locker codes for MyTeam is to check this page often. We'll update it as soon as new codes arrive. For more information, check out the official NBA 2K22 MyTeam Twitter account.
Why aren't my NBA 2K22 Locker Codes working?
The expiration date is the main reason why NBA 2K22 locker codes for MyTeam might now work. Most of the codes expire after a week. Also, some codes come in limited quantity (like the Fearless Jalen Green Dark Matter Locker code), so you have to claim them fast.
Another reason why some codes don't work is a typo. There are a lot of letters and numbers to type in, so mistakes happen. To avoid that, copy and paste codes from the active list above into the text box.
What is NBA 2K22?
NBA 2K22 is a game that lets you live out your dream of playing in the NBA, the best basketball league in the world. Test your skills playing with the best NBA players like Larry Bird, Magic Johnson, Nikola Jokić, Michael Jordan, Luka Dončić, Ja Morant, Giannis Antetokounmpo, and many more. If you want to play them together, focus on MyTeam and create a historically great team!
If you're looking for codes for other games, we have many of them in our Game Codes post! You can also get a bunch of free stuff via our Roblox Promo Codes page.