Our Hearthstone Control Warrior Deck List Guide features all of the essential information you'll need to know when you pilot this deck in the Rise of Shadows meta! We're featuring a full mulligan guide, play strategy, card choices, substitutions, and the most popular deck for this archetype. I've also included a couple of alternative deck options at the bottom of the guide!
Control Warrior has been a long time staple in Hearthstone for a long time. While it's not always the strongest deck, it usually provides players who like slow methodical games a way to play. The deck usually relies on building up a ton of armor while removing minions from the board with cheap spells, and the version being played right now in Rise of Shadows is no different. This deck is sometimes referred to as "Wallet Warrior" because it can cost quite a bit to play the deck due to all of the required Legendaries. Don't let that fully deter you, if you've got most of the card this deck can be worth giving a shot!
Control Warrior Deck List for Rise of Shadows
This is the most popular list right now, but if you'd like to try a different variant, I've included some more at the bottom of the guide!
Warrior
Neutral
2x -

Eternium Rover

1x -

Harrison Jones

2x -

Omega Assembly

1x -

Zilliax

2x -

Shield Slam

1x -

Archivist Elysiana

2x -

Upgrade!

2x -

Execute

2x -

Slam

2x -

Warpath

2x -

Weapons Project

2x -

Clockwork Goblin

2x -

Shield Block

2x -

Wrenchcalibur

1x -

Brawl

2x -

Dyn-o-matic

1x -

Blastmaster Boom

1x -

Dr. Boom, Mad Genius
Deck Code
AAECAQcGS5AHkvgCoIADm5QDhp0DDP8DogSRBv8Hsgib8wL09QKD+wKe+wKz/AKXlAOalAMA

Copy Code
Control Warrior Gameplay
Control Warrior Mulligan Guide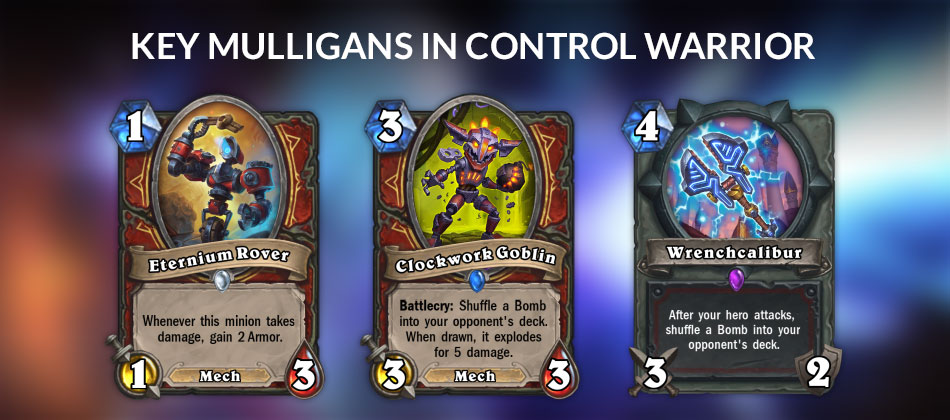 Always Keep
Eternium Rover

- Good early minion for giving us some health and potentially get some easy trades.

Clockwork Goblin

- We want to get some bombs into our opponent's deck early. This way if we get our Blastmaster Boom in our hand, we can play him on curve and have a nice board for our opponent to have to deal with.

Wrenchcalibur

- We're a slower deck, so we're not terribly concerned with having a play each turn early on. Keep the weapon, and hopefully we can get some value out of it, and maybe a couple of bombs into our opponent's deck.
Situational Keeps
Slam

- This can be kept with Eternium Rover, it will potentially give you enough damage to get the card draw and finish the trade with the Rover. You can also just keep it if you think your opponent is running something you need to immediately get rid of in the early game. For example, Secretkeeper for Secret Paladin is pretty important to remove.

Weapons Project

- Not the greatest keep, but if we think we absolutely need a weapon it can be worth holding onto if we don't have Wrenchcalibur.
Control Warrior Play Strategy
We have two different game-plans, against aggressive decks we're doing our best to keep the board clear and build up our health total. We're happy to use all of our resources just to keep them from getting too far ahead of us and getting our health too low. Against slower decks, however, we're looking to gain as many resources as possible. We want to stretch out the Omega Assembly and make sure we get three cards out of it. We'll want to make sure to wait as long as we can to pop Archivist Elysiana to get the most value out of our deck and her cards. We're potentially going into fatigue turns against slower decks, so we will need resources for the long haul.
Early turns are just all about keeping the board manageable, and using our removal and AOE to do that. Eternium Rover is quality for this early push, but Weapons Project and eventually Wrenchcalibur will also provide valuable support to us. Yes, while it's not great to give our probably aggressive opponent a weapon, it's better than us getting repeatedly smashed by minions. Don't be too greedy with Execute against faster decks, we want to take out any threat as quickly as possible. Against slower decks, however, you'll want to conserve your removal as much as possible for any late game value generators.
As we head into the mid-game, we've hopefully added at least a couple of bombs into our opponent's deck. We aren't a full on bomb deck, but we're looking to get into the late game and those bombs are likely going to play a factor in killing our opponent faster. They also obviously buff our Blastmaster Boom , and we're going to want to get full value out of him.
If you're against a slower deck, then look for the combo of Weapons Project and Harrison Jones . This is a great way to use this card, and we can get a few draws out of Harrison. Not only that, if we're against Rogue or another Warrior we can break their current weapon and replace it with the likely less damaging Weapons Project version. Harrison is also a great card against Rogue and other Warriors.
If we're in no threat of immediate death, then we'll want to play Dr. Boom, Mad Genius as soon as possible. His hero powers can offer a tremendous amount of value, and we'll likely be able to use them just about every turn. At this point, if we're still alive we've likely gassed out our aggro opponent and should be able to put them away.
As for control opponents, we're still trying to out resource them. The ultimate card for this is Archivist Elysiana from the new Rise of Shadows expansion. We can discover 5 cards, and we will get 2 copies of each of those that we replace our deck with. We'll obviously want to wait pretty late in the game to do this, and hopefully our opponent will get stuck into fatigue while we're still pulling out resources from our deck each turn.
Control Warrior Card Choices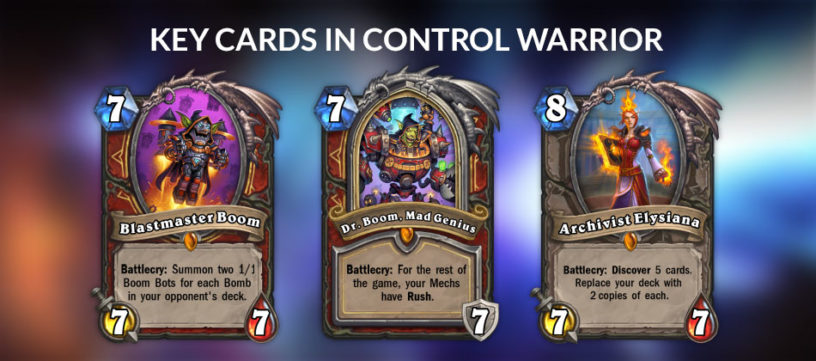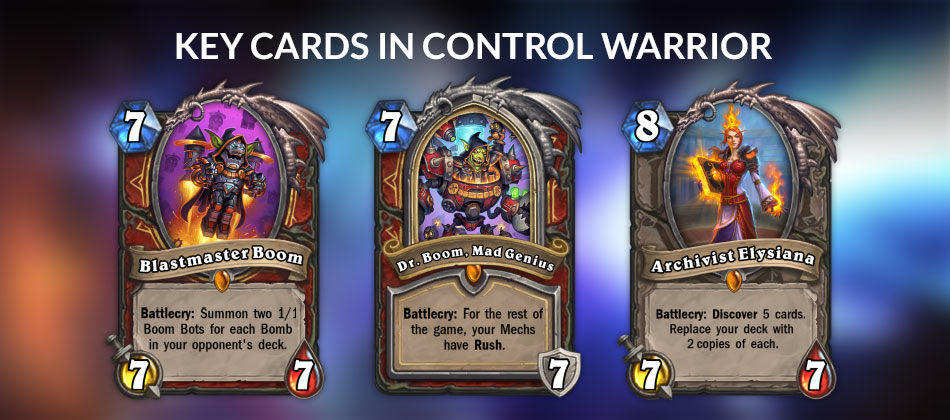 Eternium Rover

- Good early drop to protect the board, but also gives you a way to gain some extra armor in the late game or for Shield Slam.

Omega Assembly

- Better to wait and use this in the end game for the full three card draw, a great resource generator that comes outside of your deck.

Shield Slam

- Pretty good removal, and we've got a couple of armor generators in the deck as well as our hero power.

Upgrade!

- Buffs our Wrenchcalibur so we can drop some more bombs into our opponent's deck. Can be a weapon on its own, but generally we want to wait for a target to buff.

Execute

- Removal for problematic enemies, and pairs with some of our various damage AOE and Slam.

Slam

- Good for popping Divine Shields, or just chipping down an enemy to make it manageable for our weapon. We pretty much always want to get the draw, but there will be times it's worth just using to remove a minion.

Warpath

- Solid AOE card that gets better in the later game where we can use it multiple times.

Weapons Project

- Most of the time we don't want to give our opponent any benefits, but we get to use the weapon first and we can use the armor. We're very rarely looking to burn our opponent down, so the armor will largely be inconsequential. This can also be used as a combo with Harrison Jones to draw some cards from the weapon.

Clockwork Goblin

- While we aren't really a bomb deck, we are still running Blastmaster Boom and we just need a couple of bombs to be stuck into our opponent's deck to get value out of him.

Shield Block

- Some survivability and armor for Shield Slam, and we also get a card.

Wrenchcalibur

- Pretty nice weapon that will guarantee us a full board of Boom Bots from Blastmaster Boom. Great target for Upgrade! as well.

Brawl

- Pretty strong AOE for boards that are getting too wide for us to handle.

Dyn-o-matic

- Some decent AOE that doesn't harm itself or the other Mechs we're running in the deck. Also synergizeds with Dr. Boom, Mad Genius.

Harrison Jones

- Lots of weapons in the game right now and Harrison eats them up and gives us some additional value. This also pairs really well with Weapons Project.

Zilliax

- Perhaps the best Legendary in Standard right now, you want to include this in just about every deck you run.

Blastmaster Boom

- Very strong card and has immediate board impact and can swing us back into the game immediately. It only requires three bombs in our opponent's deck to fill up a board with minions when we play this.

Dr. Boom, Mad Genius

- Hero cards are great, and Dr. Boom, Mad Genius is no different. He has a lot of great hero powers that we can take advantage of.

Archivist Elysiana

- This is a great Control card, and if we've stalled out the game long enough it will get us enough resources to finish the game usually. The cards are pretty random, so there's a possibility we get nothing but junk. However, in the late game it usually doesn't matter as long as we can keep some pressure on the opponent.
Control Warrior Card Substitutions
Devastate

- Cheap way to remove a minion.

Town Crier

- If we want to run a Rush minion or two, then this is a great card for getting them into our hand.

Baleful Banker

- If we really want to go towards fatigue, we can use Baleful Banker on our Archivist to get extra resources out of it.

Hecklebot

- Good against aggro decks, and also nice for combo decks. If control decks become more prevalent, it also could be used to pull Archivist out of decks so they don't have those end game resources.

Omega Devastator

- Good late game removal, and not a bad stat line for on curve play.

Darius Crowley

- Great Rush card and can trade down boards and force our opponent to have an answer for it.

Supercollider

- Strong weapon, can be useful for clearing boards.

Unseen Saboteur

- If spell based combo decks start to become popular then this is a good tech card.
Control Warrior Tips & Combos
The best combo with this deck is

Harrison Jones

&

Omega Assembly

. This forces even a non-weapon having class to get you value out of your Harrison. With a lot of classes running weapon, Harrison Jones is still good even without the combo.

Archivist Elysiana

actually is a soft counter against Bomb Warrior. You replace your entire deck, so if you still got multiple bombs in there, they will be replaced by your new cards!
Bombs and

Blastmaster Boom

are a pretty obvious combo, but you might not realize that you just need three bombs in your opponent's deck to get a full board with Boom. This shouldn't be too difficult to do, and even if you don't just a couple bombs gets you a five minion board!
If you pair

Upgrade!

with your Wrenchcliabur then you'll have all the bombs you need in your opponent's deck for Blastmaster.
You don't have a ton of Mechs in your deck, but you can prioritize them from Archivist Elysiana so they benefit from the Rush buff that

Dr. Boom, Mad Genius

gives.
Try to remember to

Slam

a minion first before using AOE if you are removing a minion in this way. Make sure to get that card draw out of Slam, which is the main reason it's in the deck.
Control Warrior Alternative Deck Lists
We featured a specific list that we feel is likely the most optimal, but there's some other versions that might fit your play style or card collection better.
Hecklebot + Omega Devastator Control Warrior
Warrior
Neutral
1x -

Devastate

2x -

Acolyte of Pain

2x -

Eternium Rover

2x -

Hecklebot

2x -

Omega Assembly

1x -

Harrison Jones

2x -

Shield Slam

1x -

Zilliax

2x -

Warpath

2x -

Unseen Saboteur

2x -

Weapons Project

1x -

Archivist Elysiana

2x -

Shield Block

2x -

Omega Devastator

2x -

Brawl

2x -

Dyn-o-matic

1x -

Supercollider

1x -

Dr. Boom, Mad Genius
Deck Code
AAECAQcGkAeS+AKO+wKggAP4hgOGnQMMS6IE/wf7DJvzAvT1AoP7Ap77ArP8ApWUA9KYA5KfAwA=

Copy Code
Hecklebot + Omega Devastator + Unseen Saboteur Control Warrior
Warrior
Neutral
1x -

Devastate

2x -

Acolyte of Pain

2x -

Eternium Rover

2x -

Hecklebot

2x -

Omega Assembly

1x -

Harrison Jones

2x -

Shield Slam

1x -

Zilliax

1x -

Slam

1x -

Unseen Saboteur

2x -

Warpath

1x -

Archivist Elysiana

2x -

Weapons Project

2x -

Shield Block

2x -

Omega Devastator

2x -

Brawl

2x -

Dyn-o-matic

1x -

Supercollider

1x -

Dr. Boom, Mad Genius
Deck Code
AAECAQcIkAeyCJL4Ao77AqCAA/iGA9KYA4adAwtLogT/B/sMm/MC9PUCg/sCnvsCs/wClZQDkp8DAA==

Copy Code