We're taking a look at Hearthstone's brand new Demon Hunter class that was leaked! We've got information on their Basic Cards, Hero Power, and some of the cards they'll be receiving in the next expansion. This is a huge change to the game because the idea of adding new classes has been around for a while, but it was always viewed as something that was always in the future. Well, the future is now because Hearthstone will finally be getting their 10th playable class.
Demon Hunter Hero Power
The Demon Hunter Hero Power is called, Demon Claws! This is a 1-Mana ability that grants you 1-attack. It's obviously very similar to the Druid Hero Power, but without the armor and costs one less mana. This is a pretty strong early game ability because you'll be able to deal with cheap minions and potentially build your board.
New Keyword: Outcast
This appears to be a keyword that is going to be exclusive to the Demon Hunter class. What Outcast does is that if you cast the card while it is the right-most or left-most in your card you will be given the listed bonus. For example, the card Consume Magic listed below will Draw a Card if you can meet the parameters of the Outcast keyword.
How-to Get the Demon Hunter
Demon Hunter is going to be free for everyone! You'll be able to complete a little prologue PVE story and you will receive the class, Illidan Stormrage Hero, and 30 Demon Hunter Cards! The Demon Hunter Prologue will be released to everyone on April 2nd, 2020!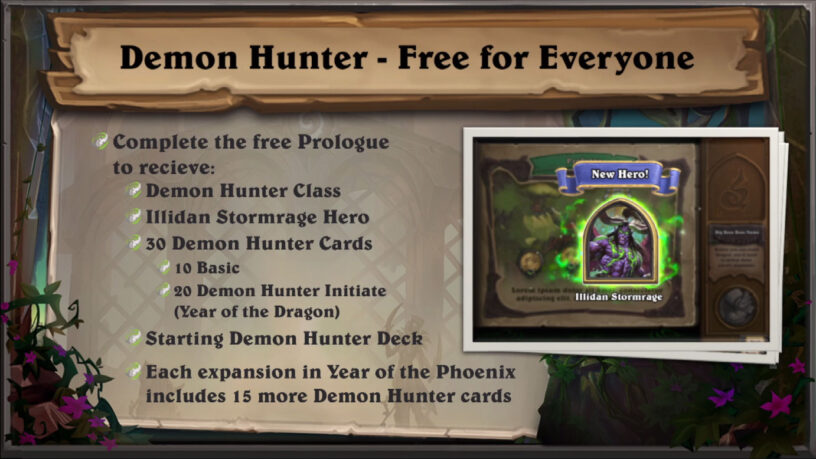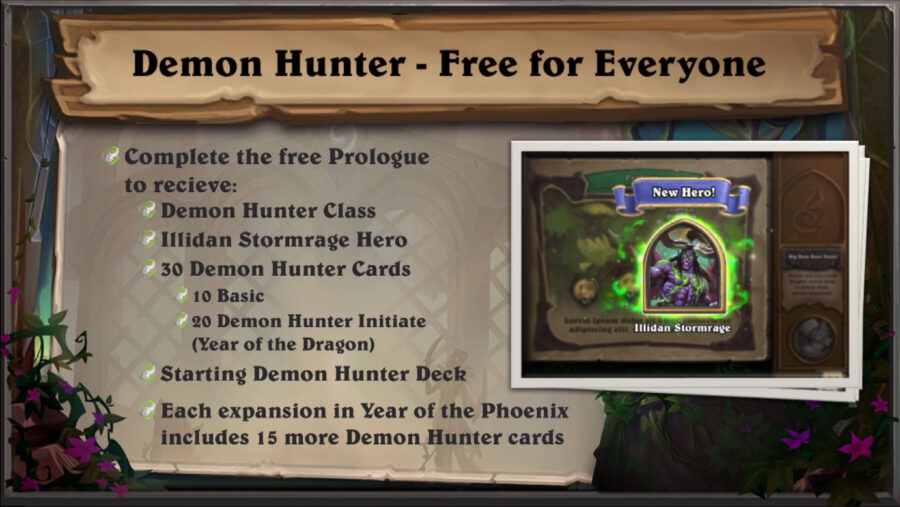 Demon Hunter Cinematic
Basic Demon Hunter Cards
Here's a look at some of the basic cards that the new Demon Hunter class will be receiving.
Demon Hunter Initiate Set
These cards are going to be part of a free prologue you can play that will get you the Demon Hunter class and all of their cards! This is more closely related to the rarities of what you would get out of a Classic pack. It's a way for the class to catch up to all of the other classes.
Demon Hunter Ashes of Outlands
Demon Hunter is also getting cards in the next expansion! Check out our coverage of that on our Ashes of Outland Cards post.