Our Highlander Dragon Mage Deck List Guide features a look at this archetype for the Descent of Dragons (DoD) expansion! We've got detailed information on mulligans, card choices and replacements. Highlander Mage has been strong leading up to the release of the new expansion, so we'll be adding some of the powerful new Dragon options to this already popular list!
As mentioned, Highlander Mage has been a deck of note in the previous meta, so it stands to reason it will be at least decent in this one. With the release of the new expansion, it looks like the possibility of flavoring it with strong Dragon cards is possible. Cards like Arcane Breath, Malygos, Aspect of Magic, Dragoncaster, and Dragonqueen Alexstrasza are all seemingly powerful and should increase the power level of this deck. However, it still remains to be seen what ends up being the most popular archetype for the Mage class.
Highlander Dragon Mage Deck List
Here's a look at the top performing Highlander Dragon Mage deck in Descent of Dragons:
Mage
Neutral
1x -

Arcane Breath

1x -

Doomsayer

1x -

Learn Draconic

1x -

Firetree Witchdoctor

1x -

Ray of Frost

1x -

Zephrys the Great

1x -

Frostbolt

1x -

SN1P-SN4P

1x -

Arcane Intellect

1x -

Scalerider

1x -

Frost Nova

1x -

Frizz Kindleroost

1x -

Polymorph

1x -

Twilight Drake

1x -

Malygos, Aspect of Magic

1x -

Big Ol' Whelp

1x -

Blizzard

1x -

Cobalt Spellkin

1x -

Reno the Relicologist

1x -

Zilliax

1x -

Dragoncaster

1x -

Crowd Roaster

1x -

Flamestrike

1x -

Siamat

1x -

Power of Creation

1x -

Alexstrasza

1x -

Tortollan Pilgrim

1x -

Dragonqueen Alexstrasza

1x -

Kalecgos

1x -

Puzzle Box of Yogg-Saron
Deck Code
AAECAf0EHk2KAckDqwTFBMsElgXsB40IoIAD6IkD6JQDn5sDoJsDip4DwqED/KMDi6QDkqQDhKcD+qwD8K8D8a8DiLAD57ADgbEDh7EDkbED4bYDn7cDAAA=

Copy Code
Highlander Dragon Mage Mulligan Guide
You know the deck type you will be facing by class is going to be super important when figuring out what cards to mulligan.
Always Keep
Arcane Breath

- Needs a Dragon to really get the most out of it, but it's a good card for removal and to give us an additional resource.

Learn Draconic

- This deck runs a lot of spells, so keep this to give us an early play and something to work towards.

Doomsayer

- Gives us a chance to clear the board or to give something for our opponent to have to deal damage to other than our face.

Firetree Witchdoctor

- Not the greatest stats, but we should be holding a Dragon which will get us a spell. This also gives us something to play early in the game.

Zephrys the Great

- Very strong card and gets us something we need. Not always useful in the early game, but should pay off later down the road when we could use an answer.

Frizz Kindleroost

- I have a very strong suspicion that this card is going to have a big impact on winrates when played. This is a super powerful effect and is also well statted for what it does and costs. This is one of the better cards to come out of the new expansion.
Possible Keeps
Frostbolt

- Early game minion stopper that saves us some health and can potentially slow down a problematic minion. Best kept against aggressive and midrange decks.

Arcane Intellect

- We're looking to cycle through our deck, so it's potentially worth keeping a card that draws more cards. It's a bit slow, so we'd probably not want to keep it against aggro.

Twilight Drake

- Strong keep against slower decks where we don't need to be dumping our hand early on.

Reno the Relicologist

- Obviously a mid-game card, but this could help us clear out a board and give us some presence if we're behind.
Play Strategy
This is a slower deck, but once it gets going it should be pretty difficult to manage due to all of the powerful late game options it contains. When against control decks, we're just looking to accumulate our late game resources. Against aggro, however, we're mainly looking to survive the early game and run them out of cards in hand!
In the early game, we're mainly looking to either protect our face from too much damage or accumulate resources. In the case of protecting our face, look to use spells like Arcane Breath and Frostbolt to keep minions at bay. We also might need to use our hero power here, but we're not totally against that in this slow style of deck. Doomsayer should also be used pretty aggressively against a faster opponent. Throwing it on an empty board on turn two will force our opponent to wait a turn before they can play anything. Yes, they might not have had something to place on the board, but we can't always know that.
Accumulating resources is what we want to be doing against slower decks. Arcane Intellect and Firetree Witchdoctor can get us some additional cards and even a powerful spell for the current or late-game board state.
Frizz Kindleroost is one of the more powerful cards in the deck and likely going to be one of the standouts from the expansion itself. If you can get this out on-curve, then you'll be benefiting from it throughout the game. You'll actually want to consider holding onto any card draw if you have this in your hand because it only reduces mana on Dragon cards that are in your deck!
Malygos, Aspect of Magic is one of the standout Dragon cards, and it is exclusively for the Mage class. If you aren't sure what the upgraded spells actually look like, here's an image with all of them: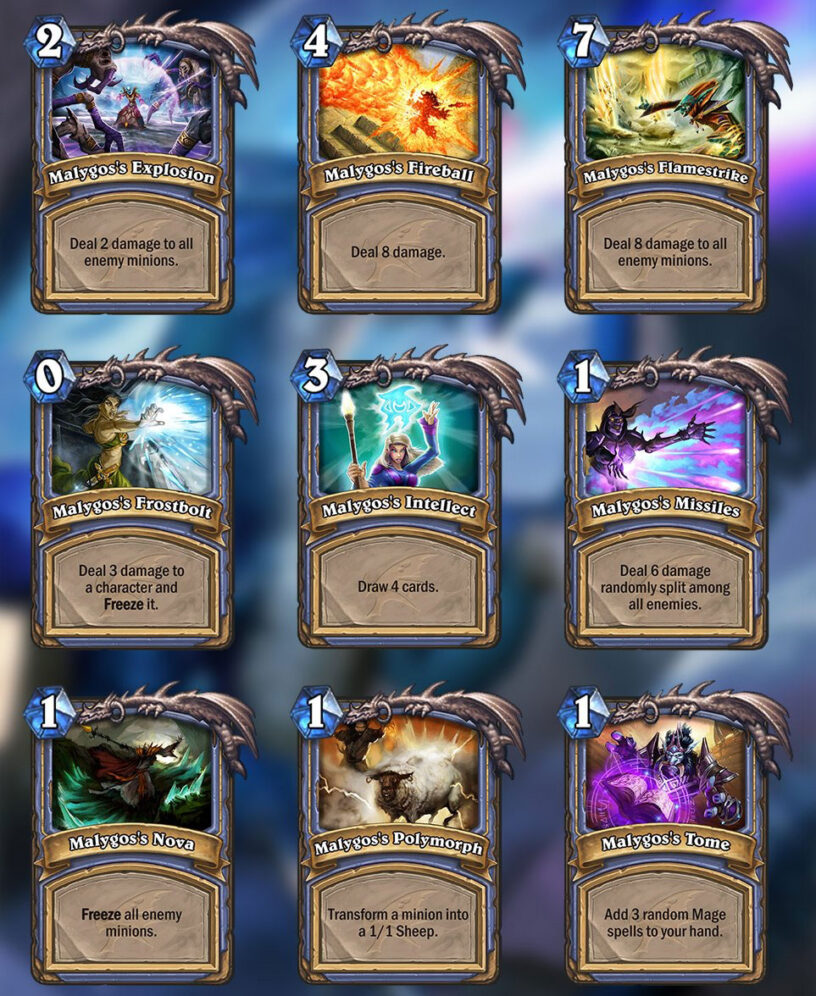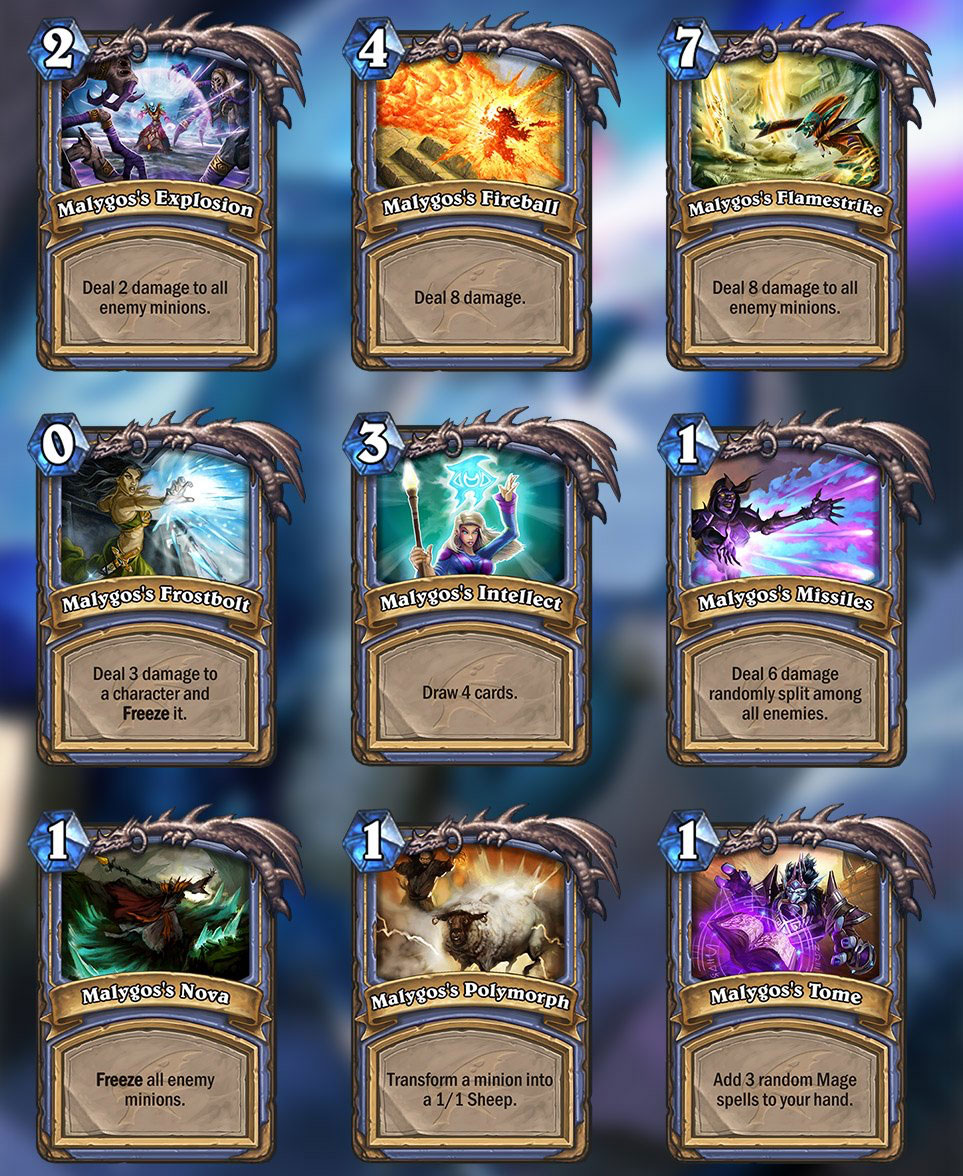 As you can see, they have either been reduced in cost or been given additional damage. A 4-mana deal 8 damage card isn't too shabby. When you play the new Malygos, you will be shown three of these options and you'll be able to pick one, just like other Discover cards.
To finish off games, we'll either be able to overrun our opponent with cheap Dragon cards or burn them out with a combination of Alexstrasza and damage spells. Towards the Dragon plan, Dragonqueen Alexstrasza gives you two potentially strong options that can be too much for our opponent. However, because the Dragon pool has been increased so much, you might not always get the best of options.
Card Substitutions
Highlander decks are notorious for being very flexible when it comes to how you build them. You will want to try and adjust the deck to play their best against the decks you are encountering most frequently. Don't fret if you're missing a few of the Legendaries, they aren't all required to make the deck work. However, the ones that benefit specifically from being in a singleton list are usually the most important.
Ancient Mysteries

- If we were to go more towards a Secret based build then we'd want this card in the deck for sure.

Flame Ward

- Great secret against aggro decks and would be the prime Ancient Mysteries target.

Bone Wraith

- Solid early game card that could protect us against aggressive decks.

Vulpera Scoundrel

- Generates resources for us which we'd want against slower decks.

Luna's Pocket Galaxy

- Ate a big nerf, but it's possible that that it could still be worth playing with some of the high cost minions we have.

Mountain Giant

- An obviously strong addition to a deck that might not be playing a lot of cards early on.