Our Tempo Mage Deck List Guide will walk you through the details of this notable deck of the Mage class! We're taking an early look at how this archetype might stack up against the field in the upcoming Rise of Shadows meta with some theorycraft. We will eventually have mulligans, play strategy, card choices, and substitutions listed in the guide.
Tempo Mage is one of the Mage classes most enduring styles of deck. The premise is relatively simple, hold the board and beat up your opponent in the early game with minions. Once your opponent inevitably is able to take back the board, burn them out with spells! We can arrive at victories in different ways, but this is generally the strategy that is employed. Mage will be losing some powerful Tempo based cards in the Standard rotation, and it previously felt the sting of a nerf when Mana Wyrm was taken down a peg. It remains to be see how the deck will do in the upcoming Rise of Shadows meta.
Tempo Mage Deck List for Rise of Shadows
The outlook for Tempo Mage right now is pretty bleak. There hasn't been too much success with the list currently, but we will reevaluate this soon.
Apxvoid's Tempo Mage
Mage
Neutral
2x -

Elemental Evocation

2x -

Mana Addict

2x -

Arcane Missiles

1x -

Exotic Mountseller

2x -

Magic Trick

1x -

Mirror Image

2x -

Ray of Frost

2x -

Shooting Star

2x -

Frostbolt

1x -

Magic Dart Frog

2x -

Mana Cyclone

2x -

Sorcerer's Apprentice

2x -

Arcane Intellect

1x -

Cinderstorm

1x -

Stargazer Luna

2x -

Cosmic Anomaly

2x -

Fireball

1x -

Archmage Antonidas
Deck Code
AAEBAf0EBuKfA4mWA+72AvvsArwIuAgM/50D4psDn5sDyIcDuf8Clf8ClgXm BLQEqwS7AgwA

Copy Code
Tempo Mage Rise of Shadows Card Choices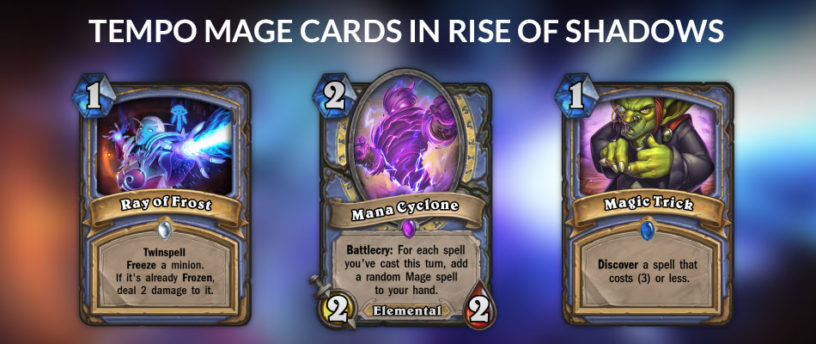 Mage will have quite a few new choices for this deck, but how you build it in general will largely determine which of these newer cards will end up in the deck.
Magic Trick
This seems like a pretty solid card, and we can even play it for 0-mana if we have a Sorcerer's Apprentice on board. It gives us some flexibility, because we'll hopefully have an idea what deck our opponent is playing and can make a choice accordingly.
Ray of Frost
This is a good burn spell that we can pair with Frostbolt to get a lethal. For 2-mana we're getting 4 damage, which is better than Frostbolt. We'll also hopefully have some Spell Damage on the board, which doubles up the damage because it's two spells instead of one!
Khadgar
This is going to be the interesting part of how we build our Tempo Mage. Are we going to include cards that summon minions? If so, we're probably going to want to run Khadgar to get a lot of value out of them. There's not a ton of cards we'll want to have in our deck that actually do summon minions. There's Conjurer's Calling which destroys a minion and spawns two, but we don't really want to be destroying our own minions. There's also Vex Crow, which is a good option but then we're going to have to sink more mana for Khadgar which limits the amount of value we can get out of it.
Magic Dart Frog
When I first saw this card I thought it was insane, it was a baby version of Flamewaker . Then I read the card further and realized it can only hit minions, and it only deals 1 damage. So it's not a baby version of Flamewaker, it's a pretty bad version of Flamewaker. If this could at the very least hit our opponent's face, then it would be for sure worth playing. In its current state, I'm not sure it will be good enough.
Mana Cyclone
This is probably the most exciting card to potentially end up in this deck. There's a lot of good Mage spells, and we'll hopefully be getting some of them as we're attempting to burn out our opponent. This could also be more powerful if we decide to go with a bit more Elemental synergy, which could give us access to Elemental Evocation.
Conjurer's Calling
This is a very interesting card, we obviously don't necessarily want to be destroying our own minions, but there will be times when it could be worth doing just to upgrade. This is especially the case after a trade that might leave it weak health wise. We also don't really want to use it to destroy an enemy's minion, but if the minion is particularly powerful, it's worth removing it and taking a gamble!
Kirin Tor Tricaster
The Spell Damage on this card is crazy, but adding cost to our spells is pretty terrible. You are also likely paying 4-mana this turn to put it on the board, then you'll have to try to cast as many spells as possible to take advantage of it. It might be good enough if you have cheaper spells, but Fireball will drain your mana almost completely (if you have 10-mana). There's no way your opponent allows this to stick to the board, so I'm not quite sure if its a good enough bonus to warrant being added to the deck.
Other Likely Cards for Tempo Mage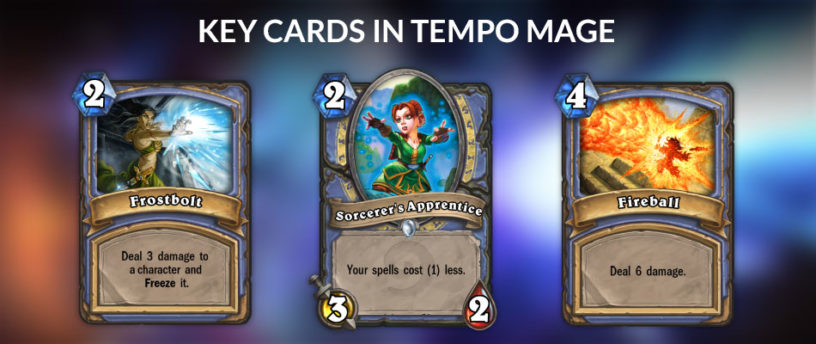 We'll be looking either to splash a bit of Elemental synergy, or we could end up loading up on spells or cards that summon minions for Khadgar.
Elemental Evocation

- Great card if we're going to be looking to go the Elemental route. It's hard to hate on a 0-mana card, especially one that works well with Mana Cyclone.

Arcane Missiles

- Can sometimes be useful in the early game as a RNG AOE, but if we can stack some Spell Damage it all of a sudden becomes a pretty lethal spell.

Shooting Star

- An AOE spell that works well with Spell Damage, we'll need a way to keep some pressure off of our health total and minions.

Bloodmage Thalnos

- Thalnos has been a consistent option for Tempo Mage, and it's hard not to understand why due to how much versatility this card has. It does two things that we want, adds some Spell Damage and gets us a card once it dies.

Frostbolt

- One of the core damage spells for the Mage class. Pairs extremely well with Ray of Frost.

Sorcerer's Apprentice

- Another core card, and one of the most important to us. Reducing our spell cost will allow us to do a lot more in terms of casting spells, and will usually more than make up for its mana cost.

Spellzerker

- Decent early game card stats, and can be pinged in the late game to get us some extra Spell Damage that we might need to finish out a game. This in particular is good for pairing with Shooting Star for an early game AOE clear if we can damage it.

Cinderstorm

- Decent AOE with the side use of damaging our opponent's face!

Stargazer Luna

- Great for the late game push that will hopefully draw us into some more firepower if we need it. Can also be used in desperate times for a quick draw to hopefully get us something useful.

Cosmic Anomaly

- Okay stats, but that Spell Damage is very nice and extremely useful with our cheap spells. The Elemental tag makes Evocation potentially worth playing.

Fireball

- The signature spell of Mage, deals a lot of damage and can take out minions in a pinch.

Vex Crow

- This likely makes the cut if we end up playing Khadgar, but we'll have to play this and Khadgar to get value and that leaves us with less mana and forces the combination to be later into the game.

Archmage Antonidas

- We'll likely be playing a lot of cheap spells, and Antonidas allows us to get some more gas to help finish off our opponent in the late game.