Various puzzles and enemies you come across during Charles Rookwood's Trial make it a challenging main quest in Hogwarts Legacy. After you take out all the Pensieve Sentries and Pensieve Protectors, the Pensieve Guardian will emerge. The main boss of this mission has a huge health bar and uses powerful magic spells and attack techniques.
How to defeat Pensieve Guardian boss in Hogwarts Legacy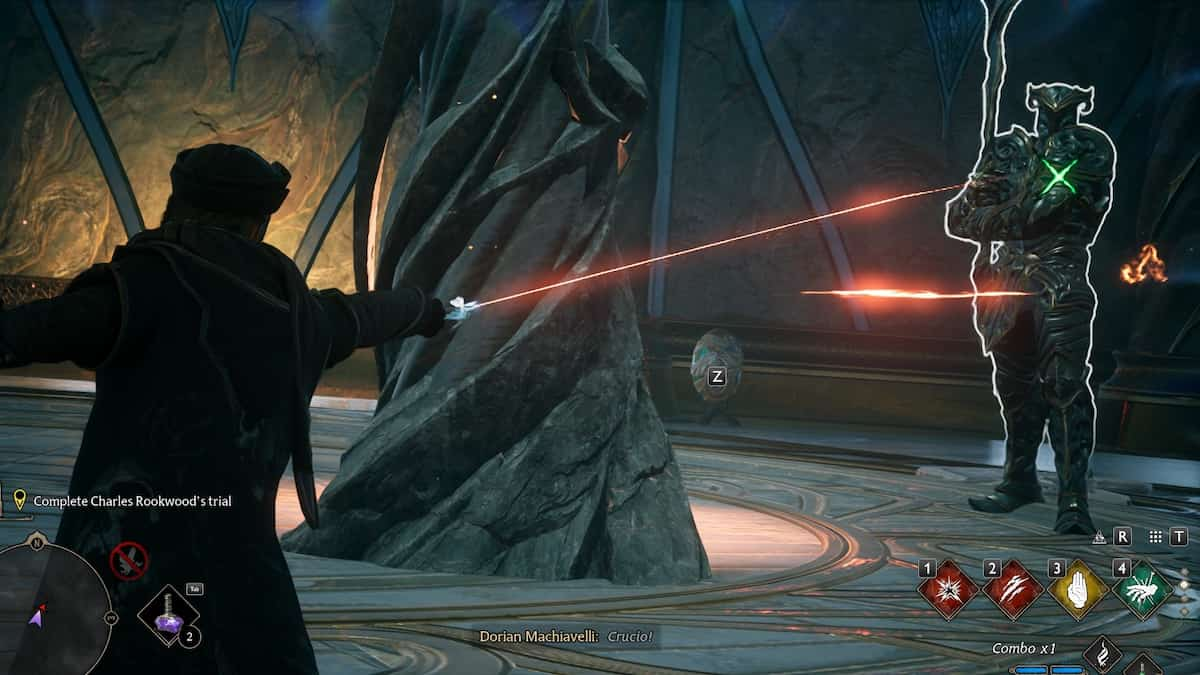 Pensieve Guardian mainly uses footstomps, power orbs, and ranged arrow strikes as its attack moves. You can counter its attacks by dodge rolling (O/B/Ctrl) and using the Protego spell (Triangle/Y/Q). This may seem an easy thing to do, but you may not succeed unless you time your dodges correctly. Now that you know how to defend yourself, here's how you can defeat the Pensieve Guardian quickly:
Start by using your basic attack magic and damage spells such as Diffindo, Confringo, and Bombarda if you have them unlocked.
Performing multiple attack moves will fill up your combo meter. This will then allow you to cast the Ancient Magic spell (L1+R1/LB+RB/X), which the most powerful spell that you can use against the Guardian. When you use this power spell on the giant, it'll go into a sedentary state for a while. This is your chance to deal more heavy blows. But remember, it releases a shockwave when it gets back up, which you need to stay out of.
Related: How to 'Investigate the goblin presence' in Hogwarts Legacy (Percival Rackham's Trial)
Now, there's another maneuver that you can use to save yourself and damage the Pensieve Guardian at the same time. When the sentry starts building power orbs in its hands, hit it with a spell of the same color as the orb. For instance, if the orb is yellow, hit it with a yellow spell like Levioso or Arresto Momentum. Similarly, if the giant uses a purple orb, cast a purple spell such as Accio or Depulso.
Stay tuned to Pro Game Guides for more Hogwarts Legacy content. In the meantime, head over to our article on Hogwarts Legacy – Difference between Levioso and Wingardium Leviosa, explained.