In Hogwarts Legacy, you will come across various enemies such as the Poachers, Trolls, and Dugbogs to name a few. Defeating them in specific ways can earn you Dueling Feats. As you progress in the story, you will find many Dueling Feats that appear during combat. The key to completing the challenges is to know the right spells and the precise time to use them. Here is how you can slow a Poacher after they release their Blast Attack in Hogwarts Legacy.
What spells can be used to slow a Poacher after they release their Blast Attack in Hogwarts Legacy?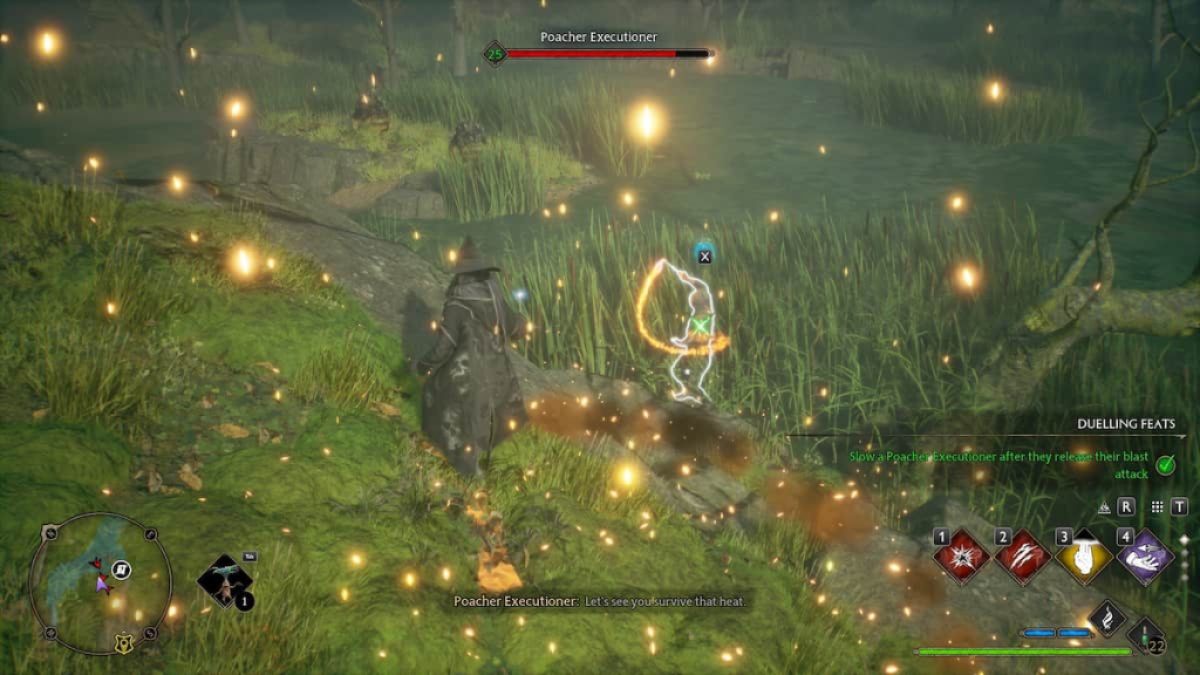 Poachers are powerful wizards that can be found in Hogwarts Legacy. These wizards can cast a Tornado Fire spell, but are susceptible to different Attack spells because they cannot produce shield charms. When they cast their Tornado Fire spell, you need to quickly dodge the attack. If you use Expelliarmus while they cast the fire spell, they will lose control and take damage.
After dodging, use Arresto Momentum when the Poacher is casting their Blast Attack. Make sure to use the aforementioned spell while they cast the attack and not after to complete the Dueling Feat. A green tick will appear once you successfully slow a Poacher after they release their Blast Attack.
Related: How to transform an Animagus back into human form in Hogwarts Legacy
Poachers can be found in the Bandit camps scattered around the Highlands. They are responsible for hunting and capturing various magical creatures. To save these creatures from Poachers, you need to capture them using a Nab-Sack. You can take them to the Vivarium inside the Room of Requirement to keep them safe. You can save these magical creatures using the Nab-Sack after you complete The Elf, The Nab-Sack, and the Loom quest.
To find out more on Hogwarts Legacy check out, How to hit a Troll with its own boulder in Hogwarts Legacy (Dueling Feat) on Pro Game Guides.