Thanks to the PS5's exclusive features, players will be able to experience everything Hogwarts Legacy offers. In addition to the exclusive controller and headphones, the PS5 version adds much more to the game than other versions. Chandler Wood, the Community Manager for WB Games Avalanche, revealed many features coming in a PlayStation Blog post.
How does PS5 Vibration work for Hogwarts Legacy?
When players hold the controller, it vibrates to keep them engaged. When the player is riding on beasts or roller coasters, the controller vibrates to simulate what the player would feel, adding to the immersion. As players cast spells, there is also a vibration that makes the player feel the weight of their spells and how effective they can be.
Related: Has JK Rowling contributed to Hogwarts Legacy & will she earn royalties?
There's more to it than that, as different controller parts vibrate based on where the spell is cast. For spells cast with the right hand, the player's right side of the controller will vibrate. It also affects deflecting spells and absorbed spells. The effect isn't limited to big events either. For the Potions Class, vibration occurs when collecting materials and mixing them.
How lighting on the PS5 controller works in Hogwarts Legacy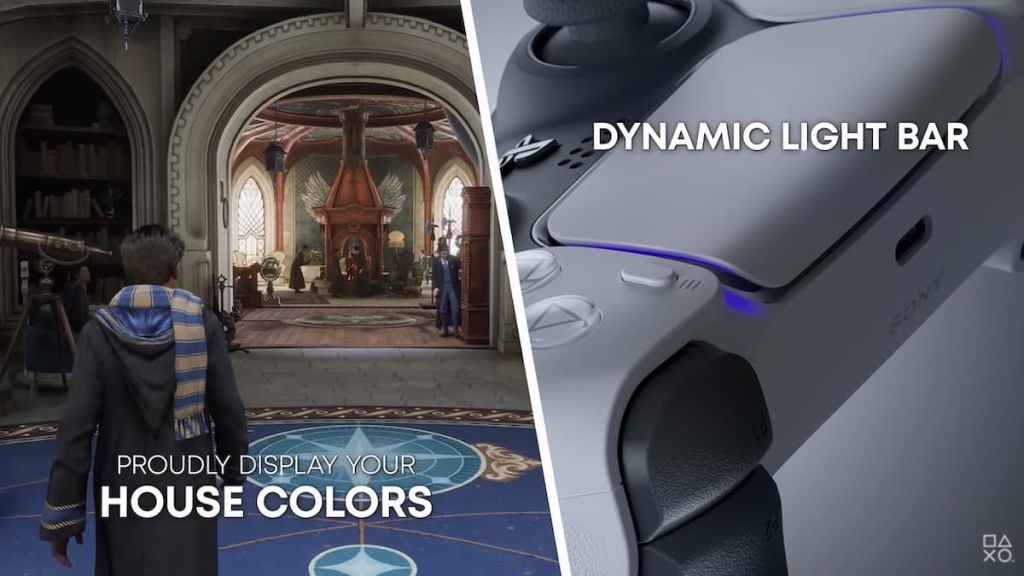 The color under the touchpad will change according to your house choice. Slytherin, Gryffindor, Hufflepuff, and Ravenclaw all change the touchpad's glowing color to red, green, yellow, and blue, respectively. As a result, players feel like their chosen House really matters. The light bar will also flash when you cast powerful spells or take damage during combat. In this way, players feel as if the controller is an extension of their wand.
How will the PS5 Tempest 3D AudioTech sound in Hogwarts Legacy?
In Hogwarts Legacy, players can hear even the tiniest sounds with Tempest 3D AudioTech on the PS5. It will be possible to hear the bubbling of cauldrons, crackling fire from Incendio spells, as well as the unique sounds of the environment. Each aspect works to make players feel as though they are present within the heart of this magical world.
For more on Hogwarts Legacy, check out Is there fast travel in Hogwarts Legacy? or Will Hogwarts Legacy be at Summer Games Fest 2022? here on Pro Game Guides!