In Hogwarts Legacy, you will become a witch or wizard and get sorted into any of the four Houses. You get to choose between Gryffindor, Slytherin, Ravenclaw, or Hufflepuff during the Sorting Ceremony. Iconic characters like Rowena Ravenclaw, Luna Lovegood, Sybill Trelawney, among others belonged to the Ravenclaw House. Ravenclaws are known to be creative, intellectual, and full of wisdom. Here is how you can find the Ravenclaw Tower & Common Room in Hogwarts Legacy.
How to find the Ravenclaw Tower & Common Room in Hogwarts Legacy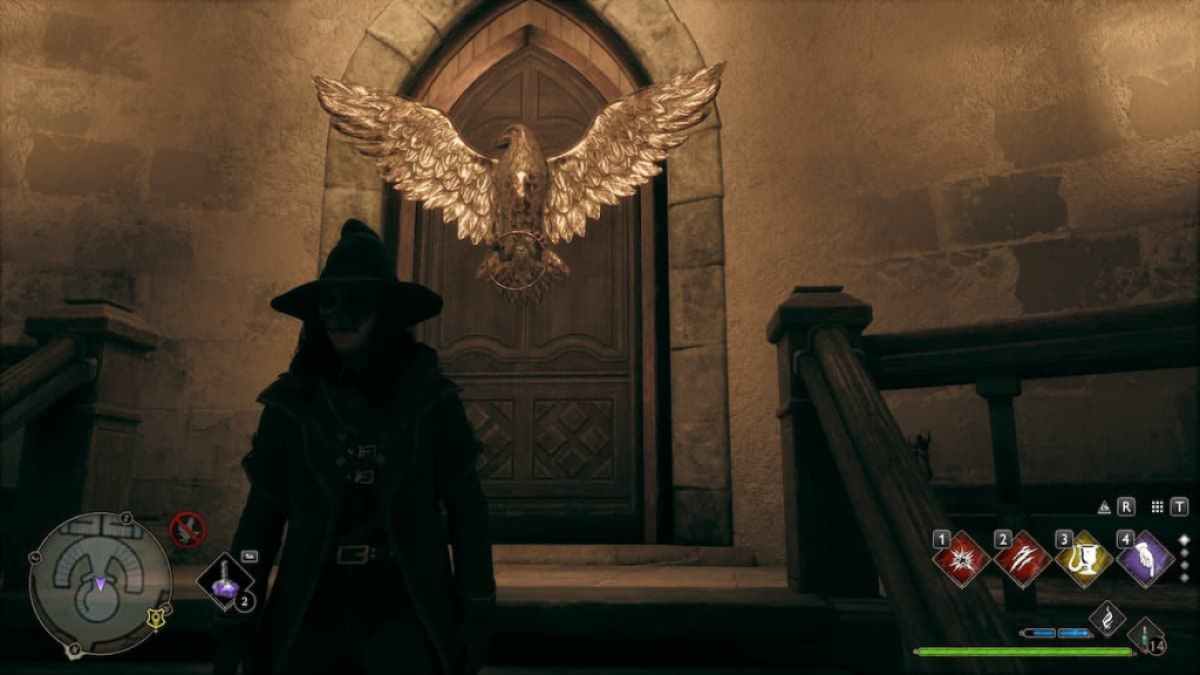 The Ravenclaw common room is inside the Ravenclaw Tower, which is one of the three largest towers in Hogwarts. Once you have reached the Ravenclaw Tower Floo Flame through the Grand Staircase, you need to go straight until you find a room that is decorated with green wallpaper. Now, take a right from there and you will find a big spiral staircase. Take the staircase which will lead you to the Golden Eagle wooden doorway.
The Eagle is the Ravenclaw House symbol and signifies the entrance to the Ravenclaw Common Room. If you have been sorted in the Ravenclaw House, then entering the common room won't be an issue. You will use the password for the first time that's been taught to you. From the next time on, the door will automatically open once you stand in front of the Common Room doorway.
Related: How to Freeze a Poacher Stalker while they are readying their attack (Dueling Feat)
Ravenclaw's Common Room is little different than the other Common Rooms. The ceiling is decorated with astrological illustrations in gold. The entire room is embellished with blue and gold colors. You will also find a harp and a flute in the Common Room along with a piano in the top floor. The best part about the Ravenclaw Common Room is the rooftop balcony that none of the other houses have.
You will also find Rowena Ravenclaw's statue where she is wearing her diadem. You might remember the significance of Rowena's diadem in the Harry Potter Franchise. You will also speak to Amit and Everett in the Ravenclaw Common Room just as you start your journey in Hogwarts. Apart from this, you will also find two armor suits guarding the dorms with weapons as you enter. This is to prevent the witch or wizard from taking the staircase that leads to others' dorms.
To find more on Hogwarts Legacy check out, How to hit a Troll with its own boulder in Hogwarts Legacy (Dueling Feat) on Pro Game Guides.