In Hogwarts Legacy, players get to explore the magical world, learning new spells and taking on different types of enemies. Flying is an important part of being a student at Hogwarts, and you can even purchase different brooms to fly around the world. Naturally, players need to know which broom to buy and upgrade in the game. Here's everything you need to know about brooms in Hogwarts Legacy.
How to get Brooms in Hogwarts Legacy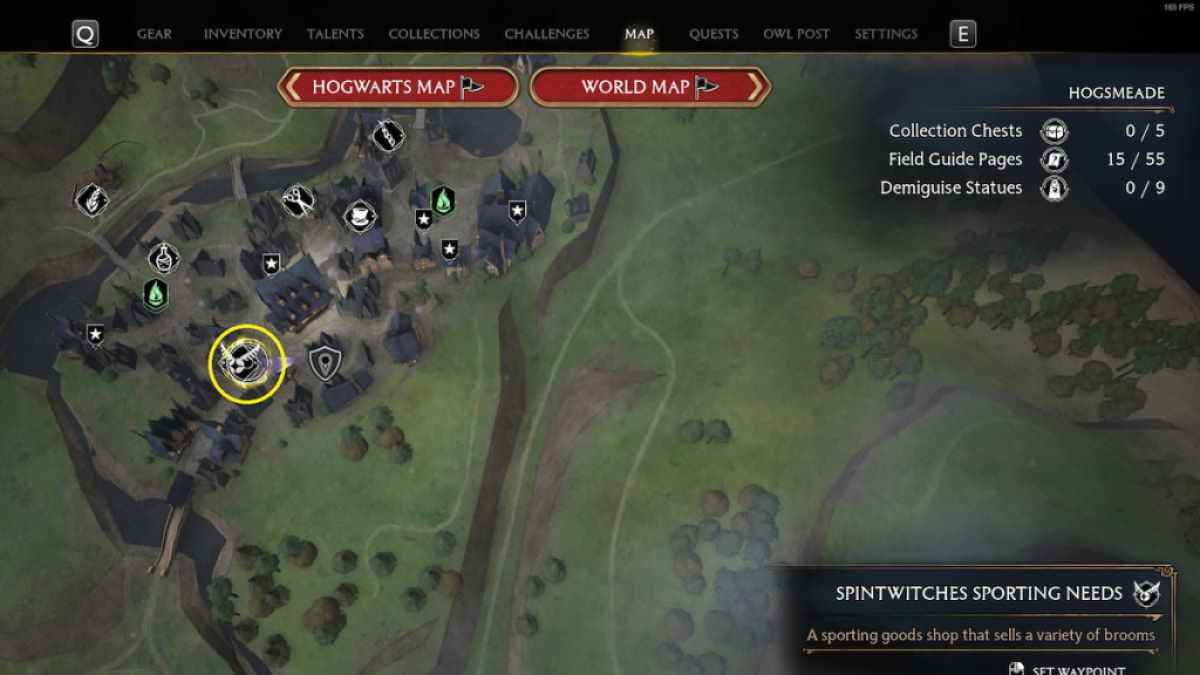 Players need to visit the Spintwitches Sporting Needs shop at Hogsmeade to purchase a broom in Hogwarts Legacy. Check the yellow circle on the map image above to see its exact location. Enter the shop, and interact with Albie Weekes to purchase a broom. Make sure to unlock different chests and collect enough Galleons before visiting the shop. We recommend purchasing the Ember Dash broom or the Hogwarts House broom as the first transportation resource in the game.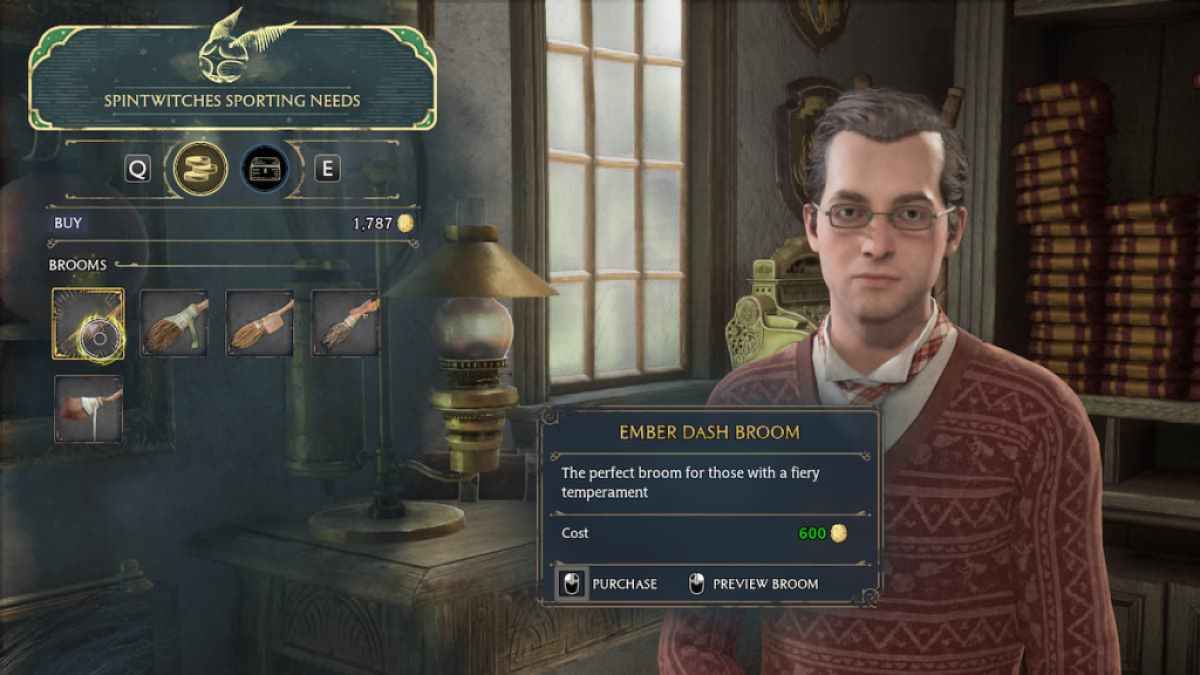 After taking the Flight class at Hogwarts, players can fly on their own brooms. The five brooms available at Spintwitches Sporting Needs are listed below.
Ember Dash Broom (600 Galleons): The perfect broom for those with a fiery temperament
Hogwarts House Broom (600 Galleons): A broom enchanted to celebrate your particular Hogwarts house pride
Moon Trimmer Broom (600 Galleons): Finely crafted from ash, this broom is built for stability
Wind Wisp Broom (600 Galleons): A stylish broom with a light touch – quite literally
Yew Weaver Broom (600 Galleons): A comfortable and speedy broom with a unique woven design
That's not all, players can also unlock certain brooms from the Challenges tab. Check the Exploration progress in the Challenge tab to see the unlockable brooms in the Pop Balloons section. To unlock these brooms, players need to pop different Balloons found all around the world. Players will come across these Balloons during Madam Kogawa's Assignment, and popping the Balloons around the map will help them progress in the challenge. There are also a few brooms sold at certain shops. For instance, we purchased the Sky Scythe Broom for 5,000 Galleons from the Wanderer Shop at Hogsmeade Station.
Related: When do you unlock Alohomora (level 1 lock) in Hogwarts Legacy?
How to upgrade brooms in Hogwarts Legacy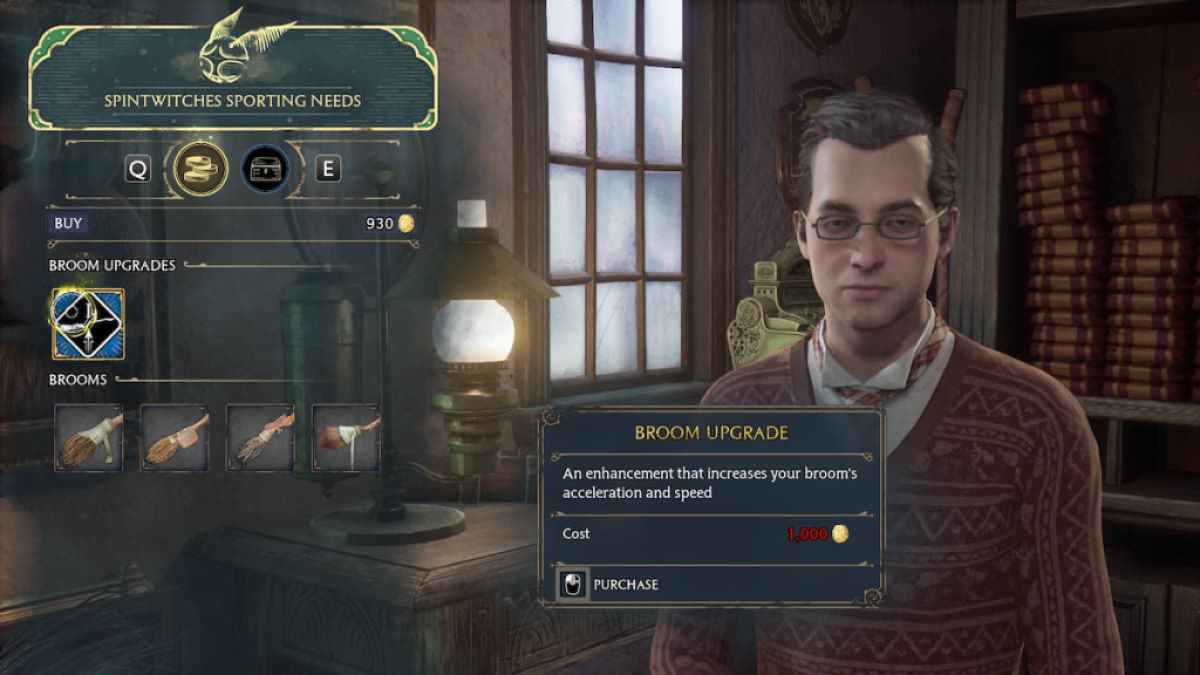 Brooms can also be upgraded in Hogwarts Legacy, and to do this, players need to visit Spintwitches Sporting Needs. However, to get the upgrades, players must complete a few side quests involving Imelda Reyes. Albie Weekes tells players he needs more information for broom upgrades, and this is when they can participate in different broom course runs. Gather the information by competing in these courses, and head back to Spintwitches Sporting Needs for the upgrades. The first broom upgrade will cost around 1,000 Galleons.
For more information on Hogwarts Legacy, check out How To Fix 'Unable to connect to server' in Wizarding World on Pro Game Guides.