Those playing through LEGO Star Wars: The Skywalker Saga will quickly notice the sheer number of Side Missions and Challenges that the game has to offer. Some of these quests that players can tackle are Galaxy Challenges, which are depicted with a blue star icon. There are ten of these Challenges in total. For a list and explanation of all of the game's Galaxy Challenges, continue reading below.
All Galaxy Challenges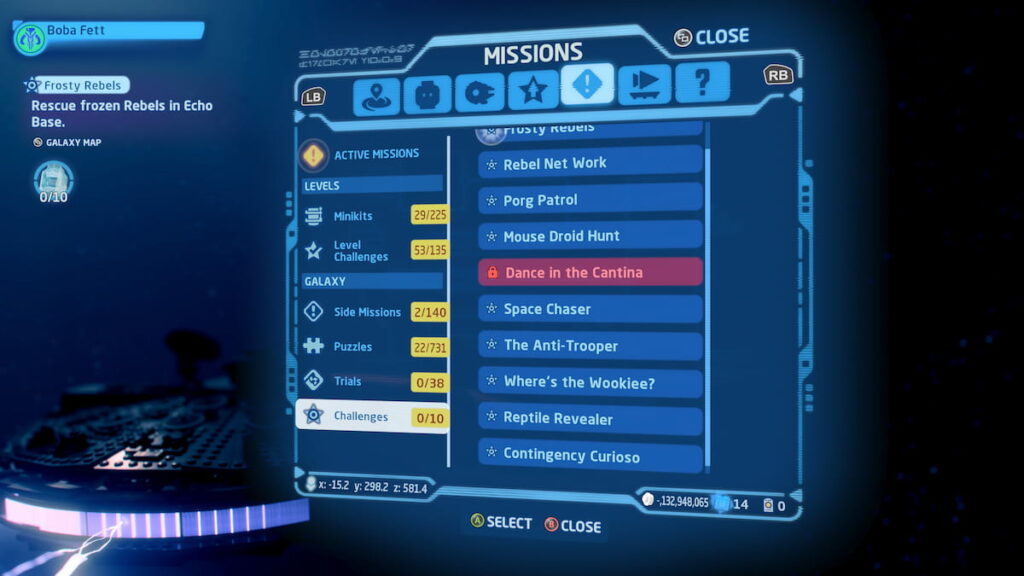 Frosty Rebels - For this Challenge, players must make their way through Echo Base on the planet Hoth and rescue the 10 frozen Rebels.
Rebel Net Work - Similar to the last Challenge, players must rescue five Rebels trapped in nets in the Ewok Village area of Endor.
Porg Patrol - Players will need to retrieve 20 displaced Porgs found across the galaxy to complete this Challenge.
Mouse Droid Hunt - Destroy 20 Mouse Droids wearing helmets found in various locations across the galaxy.
Dance in the Cantina - To finish this Challenge, players must first complete four Side Missions: No Arm in Asking, Party People, Armed and Ready, and Baba Bar Brawl. Then head to Chalmun's Cantina in the Mos Eisley area of Tatooine. Inside, players should distract five people around the Cantina while equipped as a Jedi Class character.
Related: How to complete the Wupiupi Whoopee side quest in LEGO Star Wars Skywalker Saga
Space Chaser - To complete this Challenge, players will need to locate 10 Golden Ships flying in the orbit of 10 different planets.
The Anti-Trooper - Complete all 12 Shooting Gallery Challenges across the galaxy. Some of them require players to use specific character Classes and unlock locations.
Where's the Wookiee? - Locate all 33 Wandering Wookiees throughout the galaxy. Though there are quite a few Wookiees to find, most of them can be spotted in the open.
Reptile Revealer - Find all 10 of the lizard-like Zymods in the Resistance Camp located on the planet Ajan Kloss.
Contingency Curioso - Read all 10 of the Contingency Plaques found while exploring the Sith Citadel on Exegol.
Interested in reading more about LEGO Star Wars: The Skywalker Saga? Check out How to unlock the Steadfast in LEGO Star Wars Skywalker Saga on Pro Game Guides!