In League of Legends, several types of loot rewards incentivize players to spend RP. These include Hextech Chests, Event Orbs, and Skin Shards. One of these rewards is Masterwork Chests, which are likely to drop a Skin Shard. These items have incremental bonus rewards granted every five Masterwork Chests you open. Here are all Masterwork Chest rewards in League of Legends.
All Masterwork Chest milestone rewards in League of Legends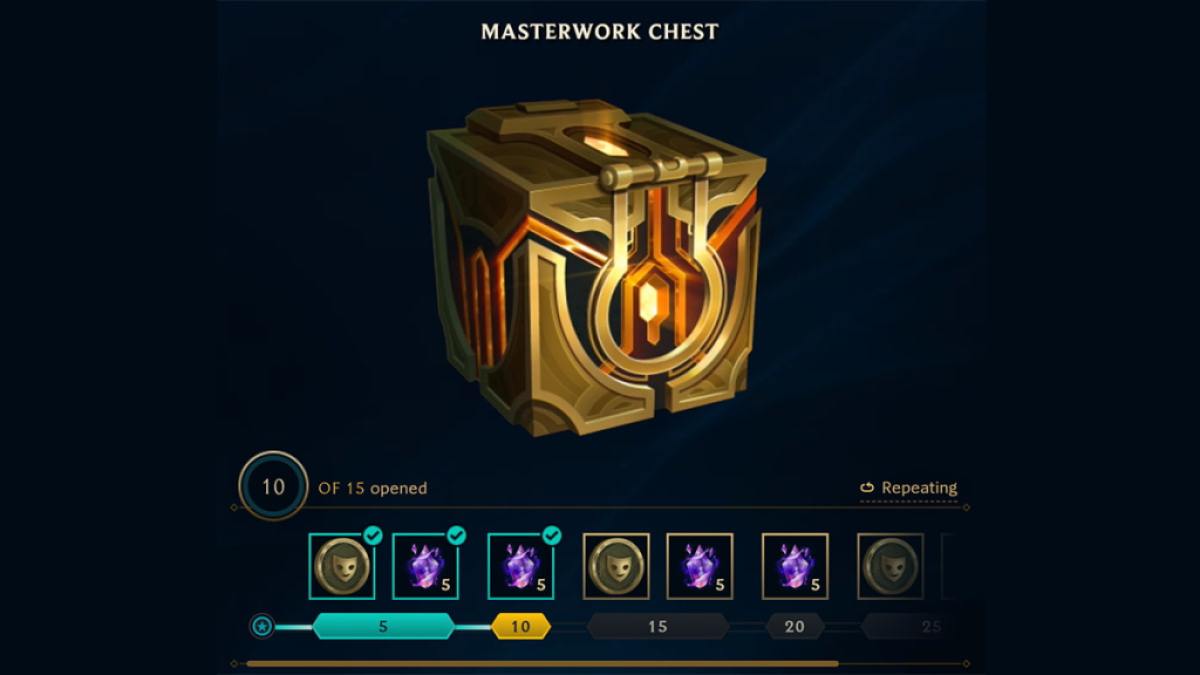 Every five times you open a Masterwork Chest, you receive a bonus reward, which you can claim in the Loot tab. Depending on the milestone tier, these rewards range from 5-10 Mythic Essence, random Skin Shards, and 1350 RP+ Skin Shards. After opening five Masterwork Chests, you receive a random Skin Shard and five Mythic Essence. After 10 Masterwork Chests, you are given a reward of five Mythic Essence.
At 15 Masterwork Chests, you receive a Skin Shard that is guaranteed to be worth 975 RP or more, alongside five Mythic Essence. At 20 Masterwork Chests, you receive an intermediary five Mythic Essence in anticipation of the final reward. At the maximum milestone tier of 25 Masterwork Chests, you are granted 10 Mythic Essence and a Skin Shard worth 1350 RP or more.
Even so, these incremental rewards never truly stop. After this 25 Masterwork Chest bonus, the milestone track resets to the beginning. To view your progress on this reward track, navigate to the Loot tab and select the Masterwork Chest icon. You can see how close you are to the next milestone bonus on the left side.
For more League of Legends guides, come check out How to complete 'Embrace the Foreglow and Silence the voices' in League of Legends here on Pro Game Guides.