Riot Games truly hired some of the most talented artists to create splash art for League of Legends. Each art piece in League of Legends is intricately drawn, with vivid colors and expertly imitated lighting. Every champion splash art allows players to glimpse that character's identity and natural environment. Here are the 11 best splash arts in League of Legends.
11 best champion splash arts in League of Legends
11- Star Guardian Ezreal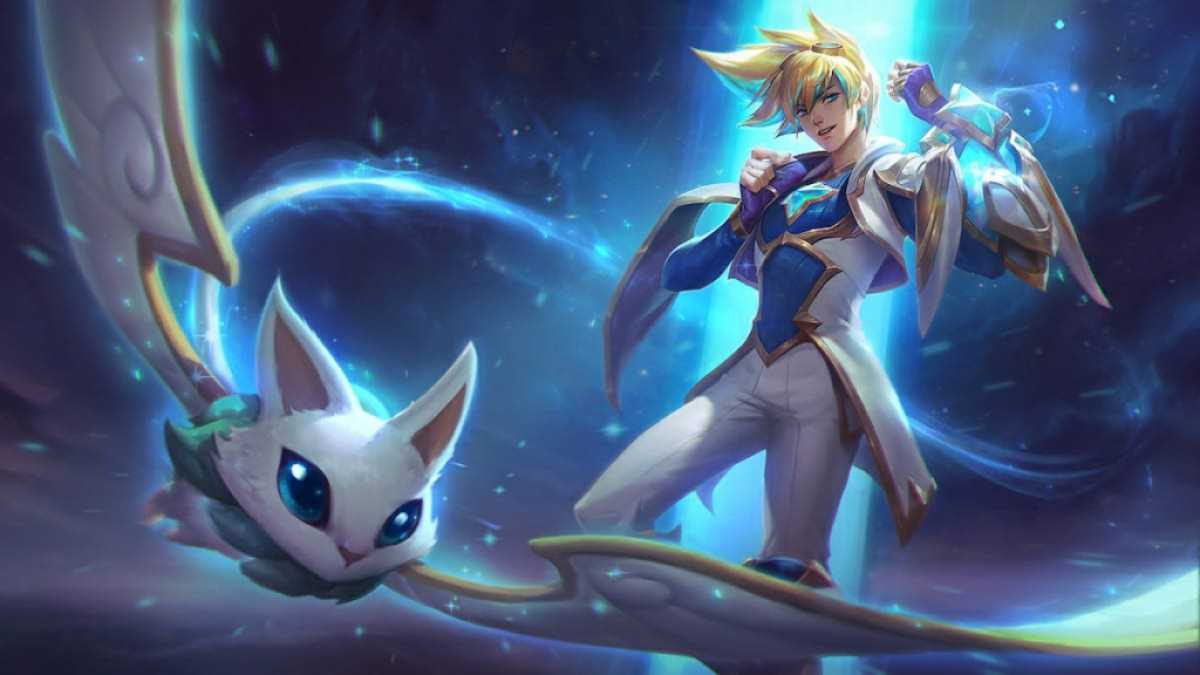 Star Guardian Ezreal exudes playfulness and fun. This splash art puts Ezreal's enthusiasm on display, revealing his childlike excitement to save the world. The bright colors reinforce this portrayal of youth, painting Ezreal in light blue and yellow. Without words, this splash art tells Ezreal's personality through its color palette and expression.
10- Ivern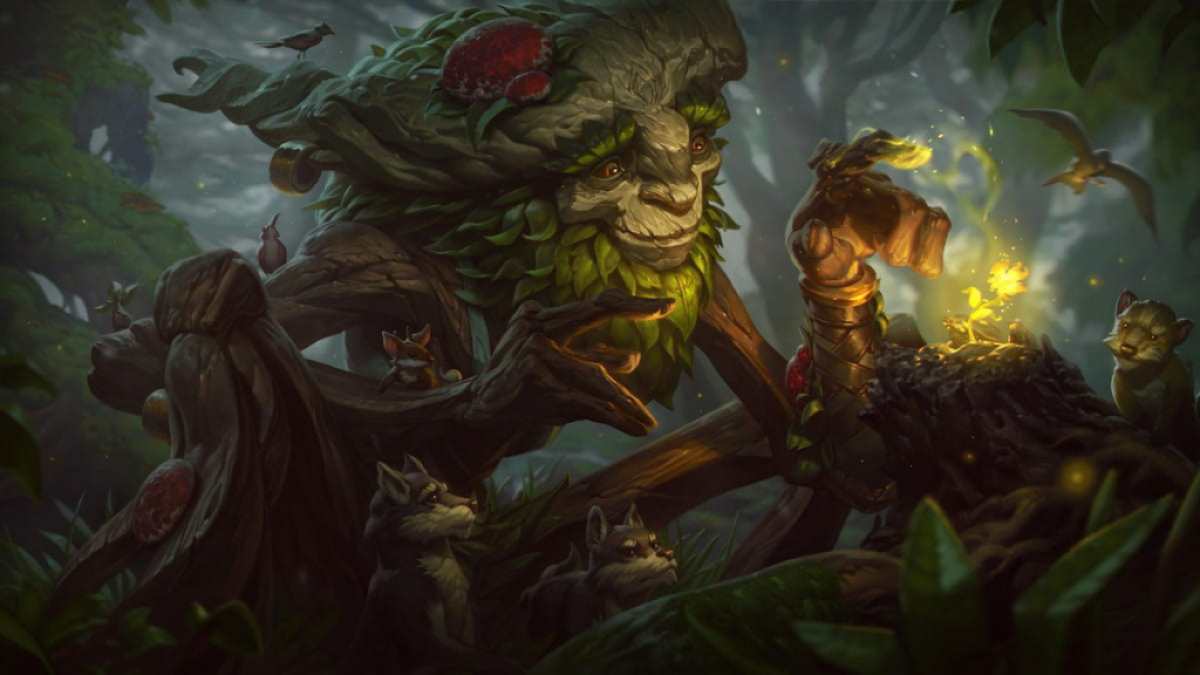 Ivern is colloquially known as the Green Father, and this splash art communicates that perfectly. Using his magic, Ivern encourages a small sprout to grow, to the amazement of wildlife around him. This moment is beautiful and displays Ivern's kindness toward the smallest forms of life. He is not only a visitor to the forest, rather, he is an inseparable part of it.
9- Sacred Sword Janna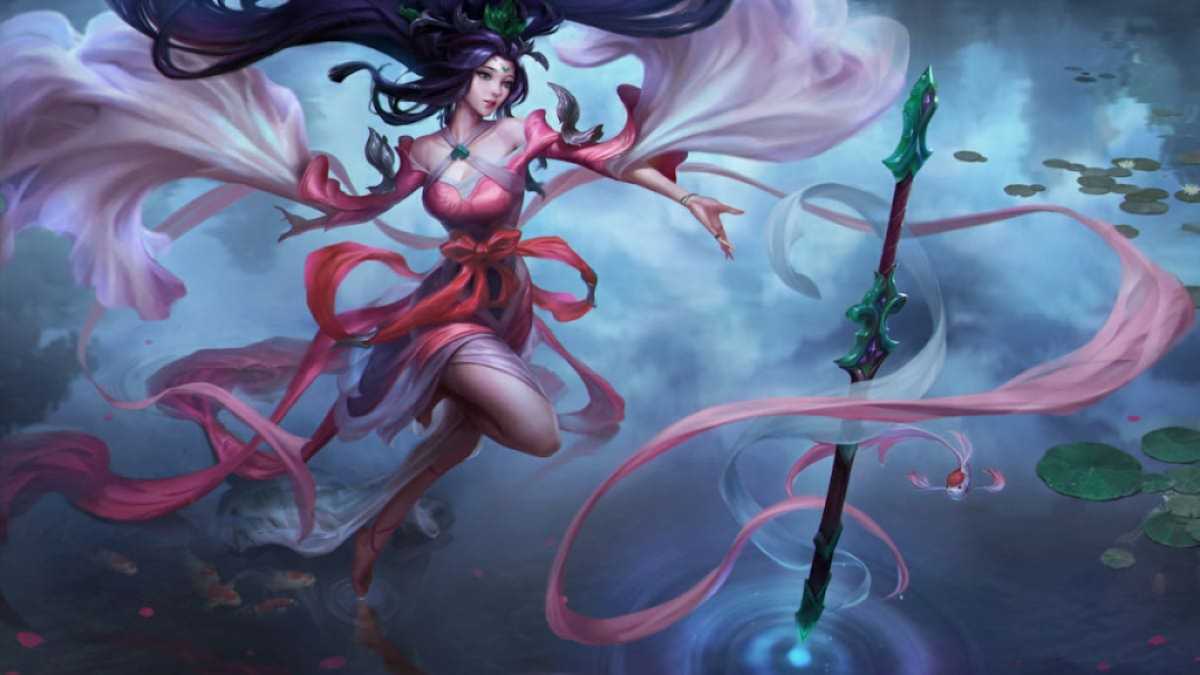 Sacred Sword Janna could be plucked from a traditional Japanese painting, and we would not be surprised. This piece of art portrays Janna as a flowing, mystical being, potentially one of the divine. Although she steps on the water, she causes a small ripple, preserving the lake's calm. Her pink color scheme presents her as a calm individual with a warm heart for the suffering.
8- Spirit Blossom Soraka
Where some Soraka skins paint her as a joyful god, Spirit Blossom Soraka shows her mourning for those she's lost. Although she has saved many lives, she cannot save them all, and this splash art portrays that realization. It is a beautiful picture of empathy and the duality of joy and suffering.
7- Cosmic Destiny Nami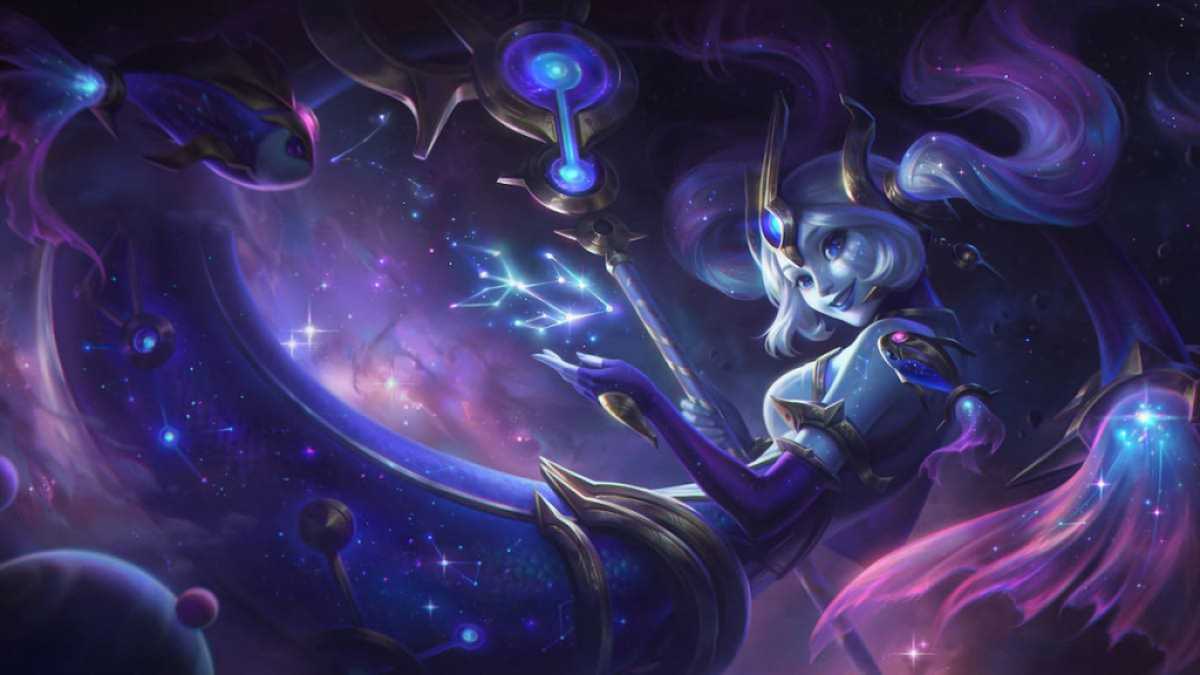 Cosmic Destiny Nami is a delightful portrait of love. In this splash art, Nami carefully forms the stars into constellations, preparing to send them out into space. However, this task is not grueling, as we can see from her expression. Instead, Nami is enthralled with giving life to the stars, seeing beauty in the birth of the cosmos.
6- Empyrean Vex
Empyrean Vex represents pure, unbridled chaos. This splash art shows the collapse of order by using brash colors that are abrasive to the eyes. Vex's grief is no longer self-contained, it rips the seams of reality and disrupts the balance of nature. This concept is fascinating, and its execution is brilliantly done.
5- Kindred
Kindred's champion splash art is haunting, showing the duo actively reaping a soul. Lamb is pulling a spectral arrow from the body's chest, while Wolf waits hungrily, his maw eager to feast upon the next soul. The perspective of this artwork indicates that we are bystanders who accidentally stumbled upon the duo at work. This evokes feelings of terror, as well as a somber veneration.
4- Nunu & Beelump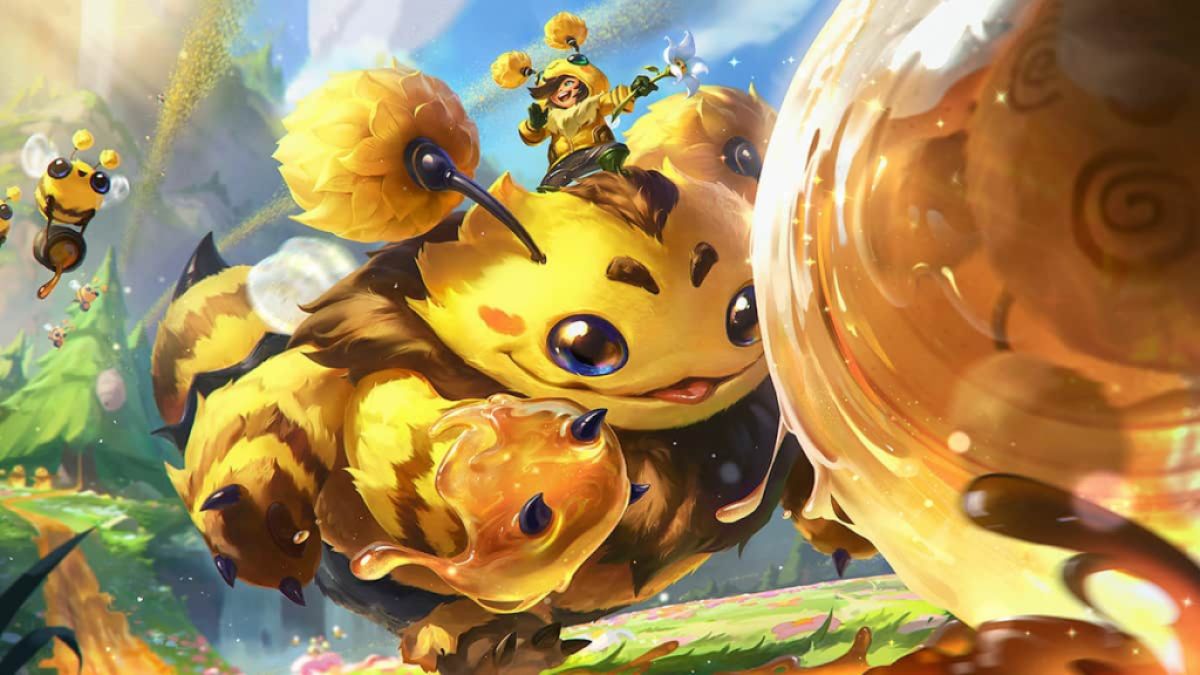 Nunu & Beelump is joy personified. These two friends are having the best of times, rolling around a giant ball of honey. The fact that Nunu commands the bees with a flower is absolutely adorable. The background of the splash art enhances the childlike wonder with fantasy trees and a shining sun. We can't imagine how sticky Willump's paws will be after this, though.
3- Divine Sword Irelia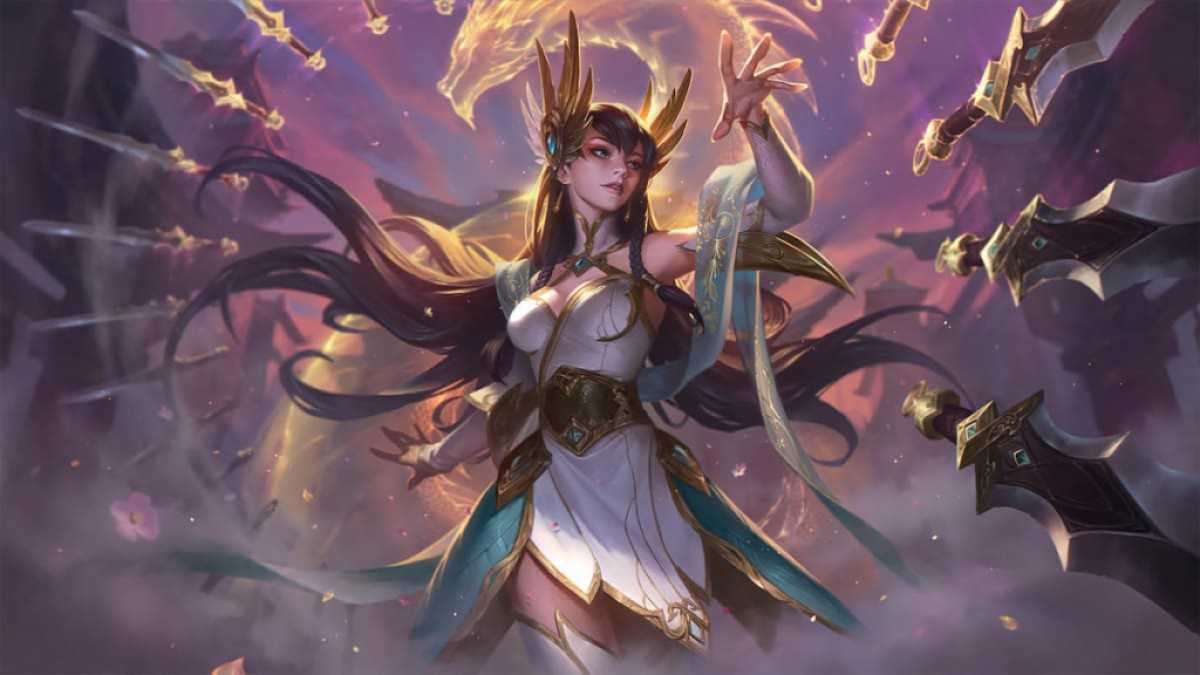 Divine Sword Irelia is graceful beyond words. With soft lighting and a regal color scheme, this splash art demands respect. This piece of art is simultaneously beautiful and deadly, demonstrating the mystique of Irelia's blade dances. With a spectral dragon behind her, she appears to be divine, creating a sense of power behind her grace.
2- Birdio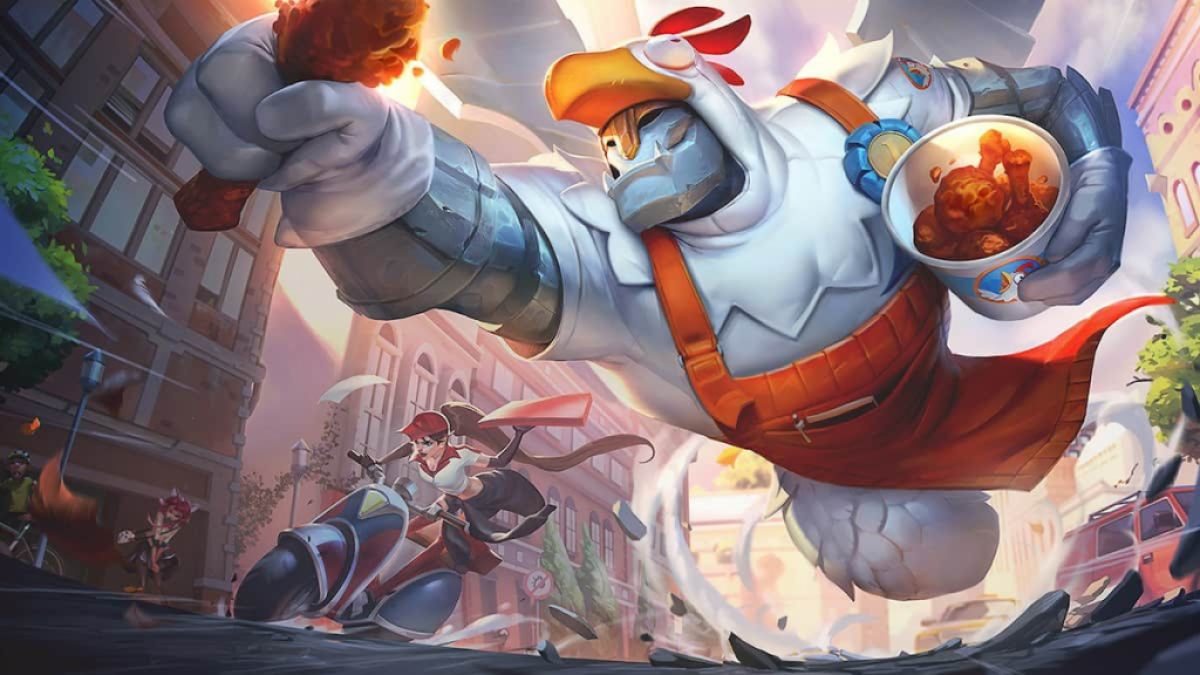 Birdio's splash art is unbelievably fun. In this scene, Galio swoops through the city, bucket of fried chicken in hand. He races alongside Pizza Delivery Sivir, determined to deliver food as fast as possible. There truly isn't anything more fun than a chicken-delivering stone golem.
1- Elderwood Hecarim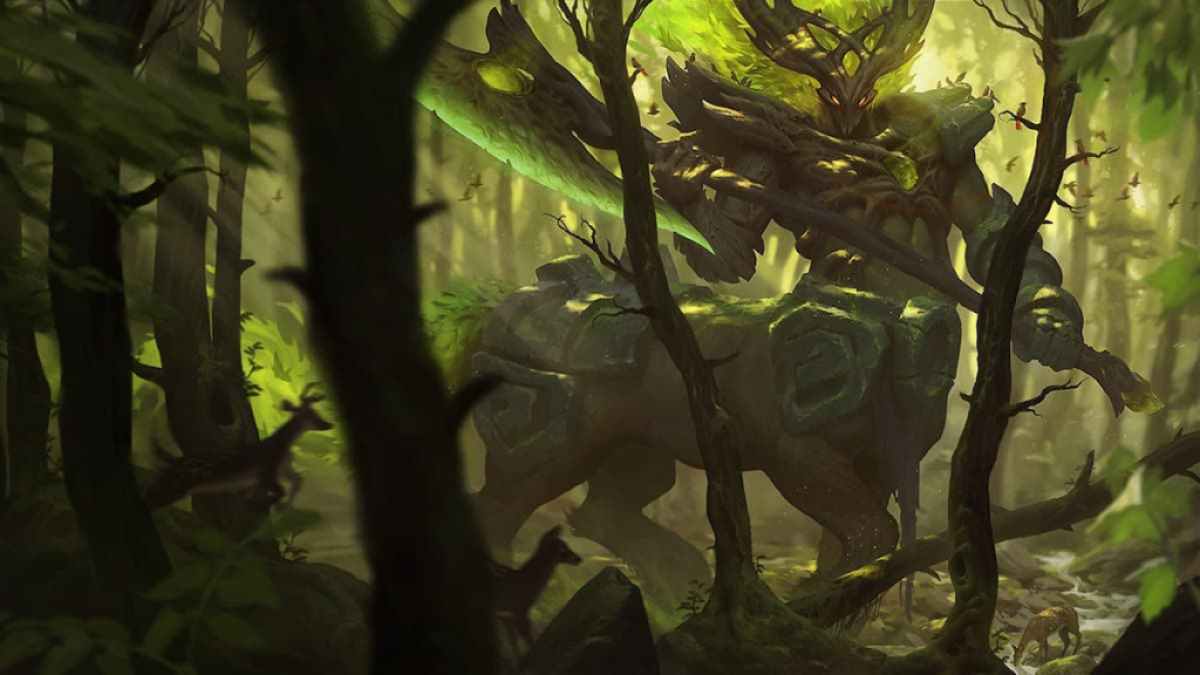 Elderwood Hecarim captures the feeling of being a child in the woods and seeing a creature beyond comprehension. Even if nobody believes you afterward, you know what you saw. For a moment, peeking through the foliage, you witnessed a being of unmatched glory. It stole the words from your mouth. You will never be the same.
For more League of Legends guides, come check out 10 Best Champion Themes in League of Legends here on Pro Game Guides.