When playing a casual mobile game in my free time, I want something that won't require me to grind or sweat too much. Thankfully, in Lone Tower, you can earn gold and Gems simply by defending your Tower successfully each day. You can use those currencies to purchase upgrades, items, and special cards that will increase your stats and make it easier to wipe out impending enemies with ease.
You can also earn some Gems, items, and other unique rewards by using in-game codes. Developers provide codes for players to redeem free items, and they are well worth entering so you can get a headstart in your experience. You can claim more free rewards with codes for other games like this, such as Airship Knights Codes or Rise of Kingdoms Codes.
All Lone Tower Codes List
Lone Tower Codes (Working)
Here is a look at all the working Lone Tower codes.
frozen—Redeem for 777 Ice Arrows (New)
gummy—Redeem for 420 Gems (New)
lotto—Redeem for random Gems from 1-9999 (New)
payday—Redeem for a free 200 Gems
grow—Redeem for a free 200 Seeds
kickstart—Redeem for a free 300 Gems
lumos—Redeem for a free 100 Gems
yum—Redeem for a free 250 Gems
levelup—Redeem for a free 150 Gems
popcorn—Redeem for a free 222 Gems
heart—Redeem for a free 200 Gems
booster—Redeem for a free 300 Gems

buggy—Redeem for a free 150 Gems
incorrect—Redeem for a free 250 Gems
midgar—Redeem for a free 200 Gems
blood—Redeem to activate the Blood Mode reward! (extra gory - to turn off, restart your game)
jackpot—Redeem for a free 1,500 Gems
genetix—Redeem for a free 9,999 Gems
Lone Tower Codes (Expired)
These Lone Tower codes are no longer working.
There are currently no expired Lone Tower codes.
Related: Lego Tower Codes
How to redeem codes in Lone Tower
Redeeming codes for Lone Tower is a quick and easy process.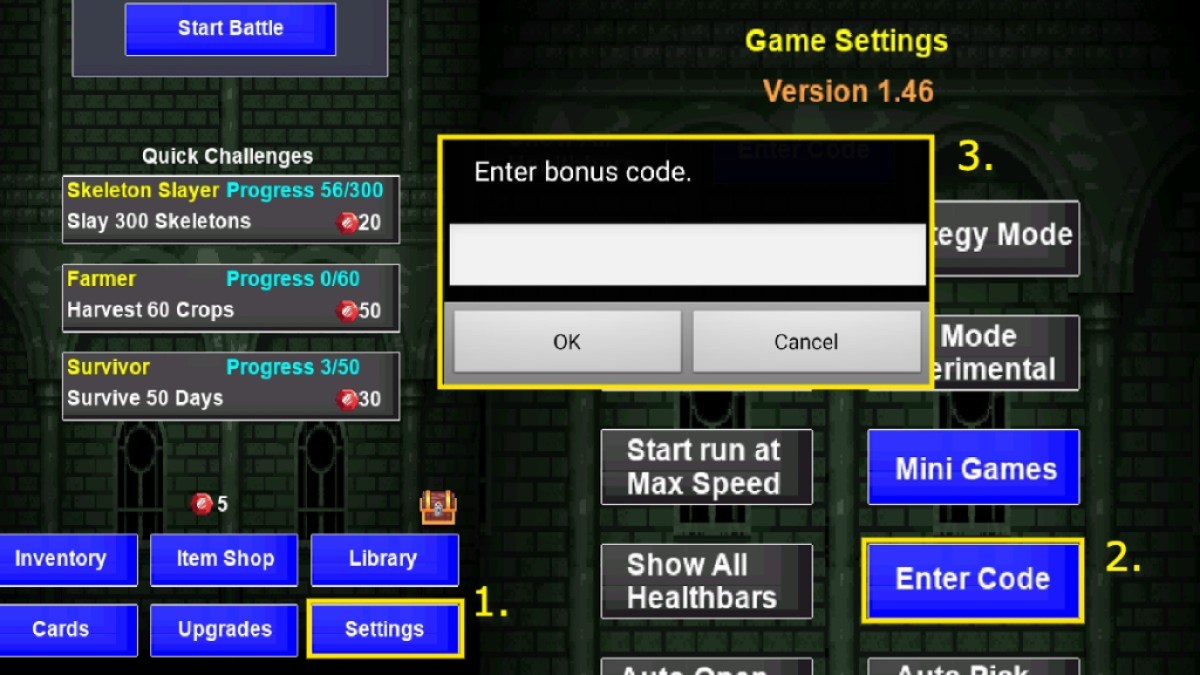 In the game, on the main menu, press the Settings button in the bottom right corner of the screen.
In the Settings menu, press the Enter Code button.
Type your codes into the text box exactly as shown in the list above.
Press the OK button to enjoy your rewards!
How can you get more Lone Tower codes?
Developers usually give out codes during an update, event, or as a goal is met, such as a specific number of likes reached. Some developers will place the codes directly in the game's image or description to notify players when they are available. I like to stay notified by following the developer's social media accounts, such as Twitter or Discord. You can follow this experience on their Genetix Games Discord Server. For your convenience, you can also bookmark this page and check back whenever to see when new codes are added.
Why aren't my Lone Tower codes working?
There are various reasons why your codes may not be working correctly. The most common reason is that the codes may have already expired. Since codes are regularly cycled in and out of the game, they can expire with little to no notice. We try to keep our lists updated, but if you notice a change before us, feel free to leave a comment below, and we will try to fix it as soon as possible.
It is also important that you double-check your spelling when entering codes. They are almost always case-sensitive, meaning the slightest typo could make them appear invalid. Ensure you are entering them exactly as shown in the list above, or if the game allows, I like to copy and paste to avoid any issues.
Other ways to get free rewards in Lone Tower
There more free rewards, the better, and thankfully, there are some other ways you can get some extra Gems and gold along with codes. Look for a small chest icon on the bottom right of your screen. This can appear on the main menu or while you are playing. This will reward you with some free Gems in exchange for you watching a quick ad. These ads are usually no longer than 5 seconds, which makes it well worth collecting a prize. You can also make some more rewards by completing the Quick Challenges located on your main menu. These will be simple tasks like slaying a certain amount of skeletons or harvesting crops, and they will give you some more Gems to spend on your upgrades.
What is Lone Tower?
Sometimes I just want a chill game that I can sit back and enjoy without putting much thought into it, and Lone Tower happened to be the perfect game for me. Lone Tower is an idle roguelike tower defense game, which means you can sit back without having to sweat over it and steadily progress. Your goal is to defend your tower from skeletons and other harmful mobs that are attacking it. With some fun RPG elements, you can choose your random backgrounds, such as being an architect or a wizard, and each gives you an added bonus stat for your tower. The longer you survive, the more Gems and gold you will collect, which allow you to purchase upgrades, items, and special stat cards that will increase your earnings and make it a lot easier to take down enemies. Witness random events and make choices that spice up your gameplay as well.
If you're looking for codes for other games, we have a ton of them on our General Games Codes page! And in the meantime, take a look at the latest news to stay up-to-date with all things entertainment.