Lost Ark lets you collect different songs that are used for a variety of different purposes. One of the songs that helps you build rapport with other NPCs is the Romantic Weapon song. This song can be found on the continent of Yorn. To reach this area in the game, your character must be at Tier 2 with a minimum Item Level of 600.
Where to find Romantic Weapon song in Lost Ark?
Related: Best foraging spots in Lost Ark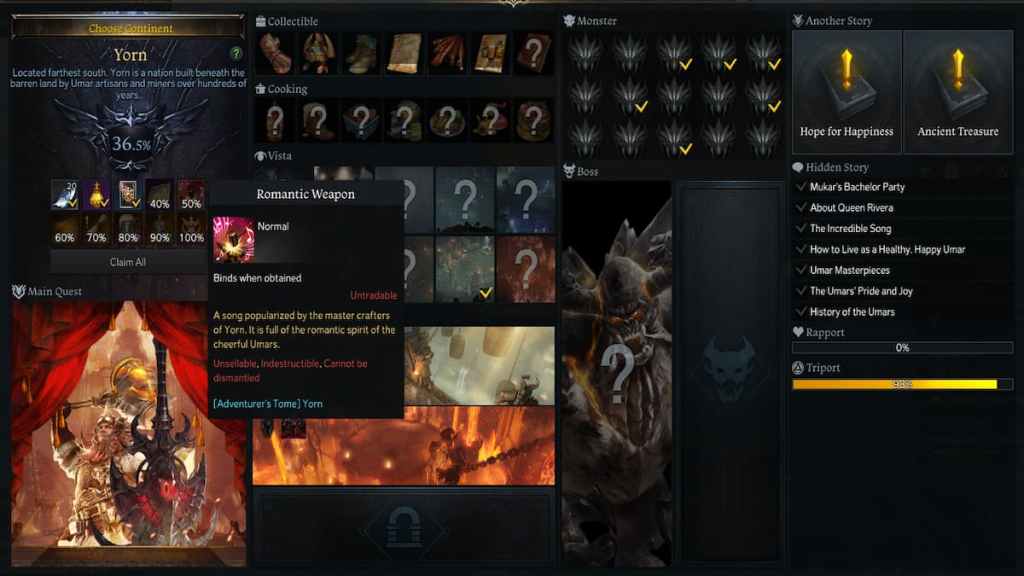 Next, you'll want to open the Adventurer's Tome by pressing N on your keyboard. When you navigate over to the Yorn section of the Tome, you'll see that you can acquire the Romantic Weapon song when you complete 50% of it. This can be completed by doing various tasks around Yorn, including searching for Mokoko seeds and fighting hidden world bosses. You can complete most of the Adventurer's Tome by simply playing through the main questline in Yorn.
Alongside helping you build rapport with NPCs, you can also use this song to find hidden Mokoko seeds within Yorn. Some seeds require you to play the song in the area directly in front of them to unveil their locations.
For more Lost Ark, check out How to unlock Tranquil Karkosa Abyssal Dungeon in Lost Ark only on Pro Game Guides.