Alteisen Island is one of the adventure islands you can find throughout Lost Ark. It is located directly south of Arthetine and is only accessible according to the Field Boss schedule of Procyon's Compass. More specifically, the Sol Grande World Boss.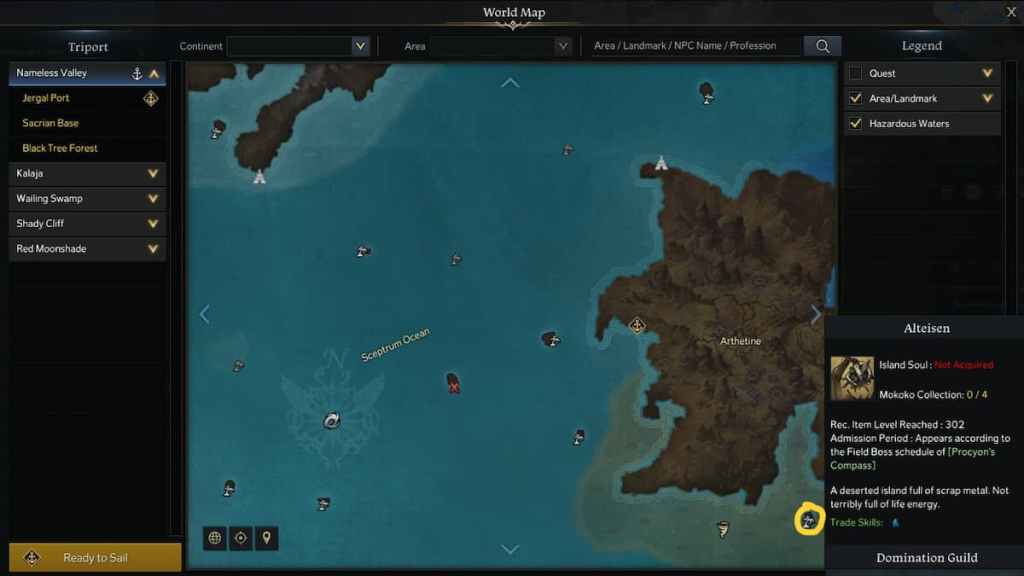 To find out when the island is accessible, you'll want to select the compass icon on the top left corner of the game's hub screen. A window will open up that shows you when different events will happen. If you select the cog wheel in the upper right corner of this window, you'll open All Alarm Settings.
Here, you'll be able to filter through different alarms, including the Sol Grande World Boss.
Alteisen Breakdown
Once you're on the island, there are several different things you can leave with. We've listed them out below:
Mokoko Seeds
Alteisen Island Token

This can be found as a random RNG drop after taking down Sol Grande.

Island Quests

Alteisen

Rewards: Seven Uncommon Battle Engraving Recipe Selection Pouches, 5,000 SIlver, and two points in Kindness.

A Language Barrier

Given by D-01
Rewards: Stat Increase Potion, three High Seas Coin Chests, and 7,000 Silver.
For more Lost Ark, check out How to get Lullaby Island Soul in Lost Ark only on Pro Game Guides.