Scouting college players is a big part of Franchise Mode in Madden 22. Much of Franchise Mode has been revamped from last year and players may notice a few changes to scouting. While some of the scouting features remain the same, EA Sports has detailed an update to scouting that is expected to be added in September according to the Madden 22 Gridiron Notes. For now though, here is how to scout players in Madden 22 Franchise Mode.
The first step to scouting players in Franchise Mode is having Player Personnel staff. When first entering Franchise Mode, players will already have a full staff, but can hire new staff if they desire. One of the new features in Franchise Mode is the Player Personnel, which handles scouting, free agency, and player trades.
Related: Best Wide Receivers in Madden 22
Players will have to wait until at least Week 3 of the regular season to start actually scouting. Once on Week 3, players can select the "Scout College Players" tab from the Franchise Mode home screen. Before scouting, the game will give you an option to auto-generate rookie, use a saved roster, or import a draft class from online.
The scouting screen will show a list of college players with their physical measurements, expected draft round, and top attributes unlocked through scouting. To scout a player, select one from the list using A (Xbox), or X (Playstation). Each player can be scouted three times to fully unlock their draft potential, combine stats, and top attributes. Without any scouting staff upgrades, it costs 30 scouting points to fully scout a player. Scouting points reset weekly and can be carried over to the next week, however, you will lose half of all unspent scouting points the next week.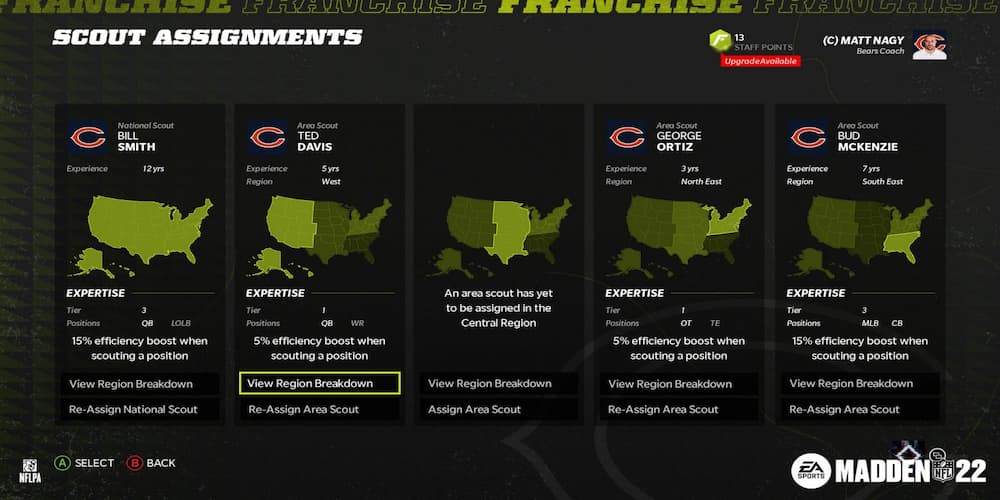 Although it is not live yet, the scouting system is expected to get an upgrade in an upcoming update that will add regional scouting, which will expand the system with a national scout and up to four regional scouts.
For more Madden 22 guides, check out Best Quarterbacks in Madden 22 on Pro Game Guides.