Developed and published by Behavior Interactive, Meet Your Maker is an FPS title where the world has fallen to a deadly disease, and your job is to restore order. Base-building and raiding different are two essential aspects of the game, and the objective is to find GenMat and other resources. The game has several achievements and trophies that you can collect, and these can be earned by completing specific challenges in the game. If you are looking to get 100% completion on Meet Your Maker, then you'll need to know how to get all the trophies and achievements. Here are all the achievements and trophies you can earn in Meet Your Maker.
All Achievements and Trophies in Meet Your Maker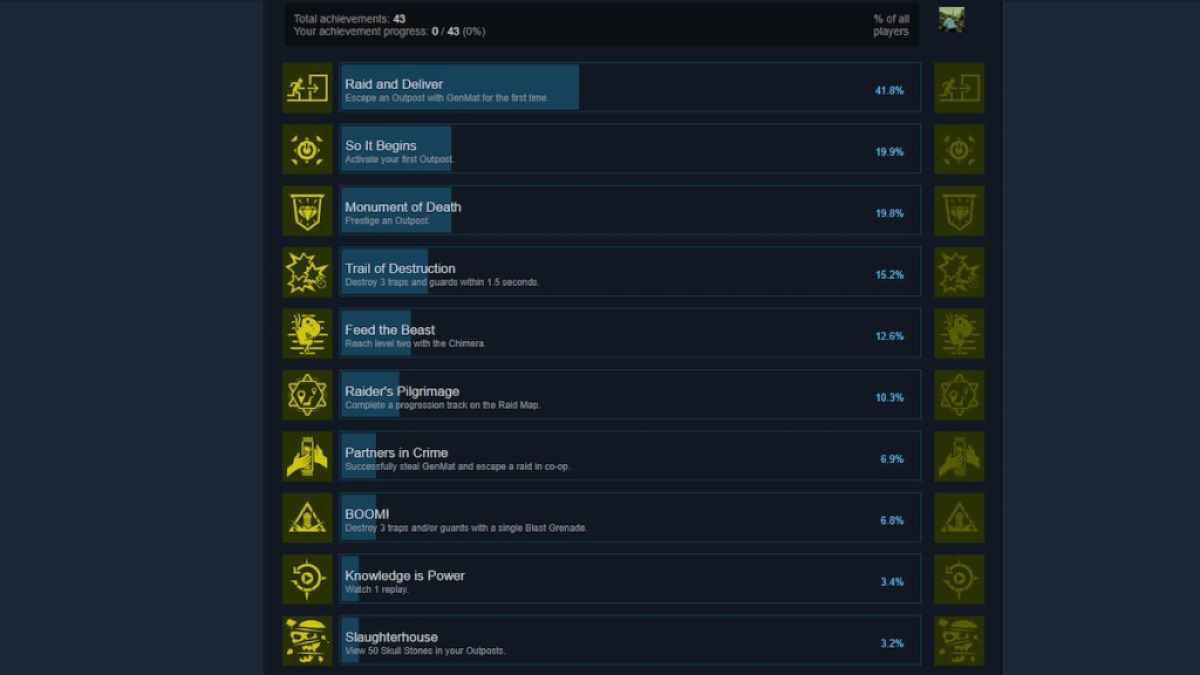 Related: What is Meet Your Maker? Release date, playtest, building, co-op, and more!
There are a total of 44 Achievements and Trophies you can unlock in Meet Your Maker. These Achievements and Trophies revolve around different activities that you have to perform in-game. Some of the Achievements are hidden and will be revealed once you complete the challenge to unlock them in the game. Here is a list of all the Achievements and how to unlock them in Meet Your Maker.
Feed the Beast - Reach Level two with the Chimera
Raid and Deliver - Escape an Outpost with GenMat for the first time
Path of the Chimera - Reach the Chimera's maximum weekly tribute level
Armed and Dangerous - Reach Level 10 with the Weapons Advisor.
Quartermaster – Reach level 10 with the Hardware Advisor.
Suit Up! – Reach level 10 with the Suits Advisor.
Creature Comforts – Reach level 10 with the Guards Advisor.

Deathtrap – Reach level 10 with the Traps Advisor.
Fully Loaded – Fully upgrade a ranged weapon.
Up Close and Personal – Fully upgrade a melee weapon.
On Guard – Fully upgrade a defensive weapon.
All the Trappings – Purchase four mods.
Genetic Engineering – Purchase seven augmentations.
Dress For Success – Fully upgrade one suit.
Boom! – Destroy 3 traps and/or guards with a single Blast Grenade.
Trail of Destruction – Destroy three traps and guards within 1.5 seconds.
Up and At'm – Revive fellow custodians five times in co-op.
Deadshot – Perform 10 headshots.
Partners in Crime – Successfully steal GenMat and escape a raid in co-op.

Raid Master – Successfully steal GenMat and escape 50 raids.
Slaughterhouse – View 50 skulls in your Outposts.
Meet Another Maker – Activate your Outpost with a co-op partner.
So It Begins – Activate your first Outpost.
GenMat Defender – Activate 10 Outposts.
Lord of the Wastes – Activate 25 Outposts.
Monument of Death – Prestige an Outpost.
Wonder of the Wasteland – Reach maximum prestige on an Outpost.
Knowledge is Power – Watch one replay.
Critical Acclaim – Grant 100 Accolades to other builders.
Excavator – Destroy 15 Ancient Vaults.
Life of the Party – Grant 20 Fun Accolades.

No Quarter – Grant 20 Brutal Accolades.
Killer Brains – Grant 20 Ingenious Accolades.
You Belong in a Museum – Grant 20 Artistic Accolades.
Raider's Pilgrimage – Complete a progression track on the wasteland map.
Transcendental – Activate a rank one Boost three times.
Overclocked – Activate a rank two Boost twice.
Higher Power – Activate a rank three Boost.
Wasteland Engineering – Craft Hardware 100 times.
The Grand Custodian - Earn all Trophies
Related: Meet Your Maker Review – Bare-boned raiding and building
All hidden Achievements and Trophies in Meet Your Maker
Here are all the hidden Achievements and Trophies you'll unlock while playing Meet Your Maker.
No Quarrel With You – Complete 20 raids with the enemy Harvester still alive.
Give it Your All – Process all five Advisors at once.
The Floor is Lava – Don't touch the ground for 60 seconds.
Unlimited Power! – Boost all five Advisors at the same time.
Wondering if you can play Meet Your Maker for free? Check out Is Meet Your Maker on PlayStation Plus? on Pro Game Guides.