Souls in Minecraft Dungeons are a new mechanic that players coming from the original Minecraft series might need some getting used to. While fighting enemies, players will notice that they occasionally collect small white spirits from the enemies they defeat. As these are collected, they fill up a small blue bar in the bottom of your screen.
The purpose of souls are to power artifacts that you find as you complete dungeons. Artifacts are items with powerful abilities that help you defeat dungeons. Souls are collected when you defeat enemies with a weapon that has a soul gathering ability of at least +1. You can increase the amount of souls you earn from enemies by equipping weapons or armor that have a higher Soul Gathering stat in your inventory (we'll go over some of the best weapons and armor for collecting souls momentarily).
Best Souls Artifacts
First we want to talk about these powerful artifacts that use souls and what they do. Not all artifacts require souls, but a lot of the best and most powerful ones do. You can only carry up to three artifacts to use at a time, so choosing which ones are right for you and fit your play style is important. Here are some of our favorite artifacts that will require the use of souls:
Corrupted Beacon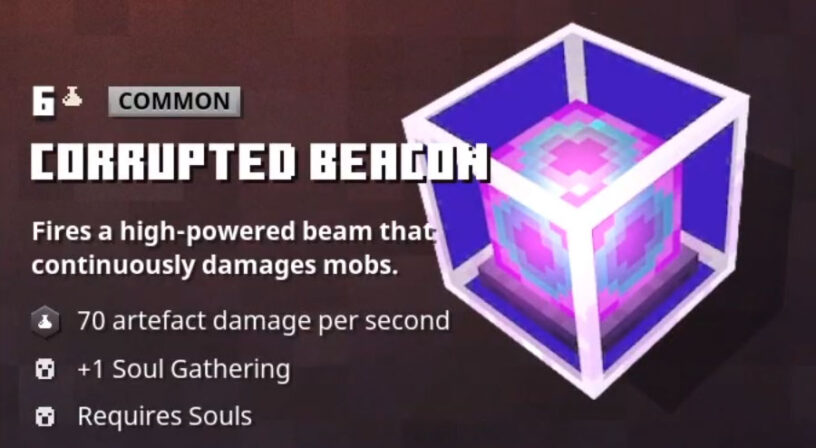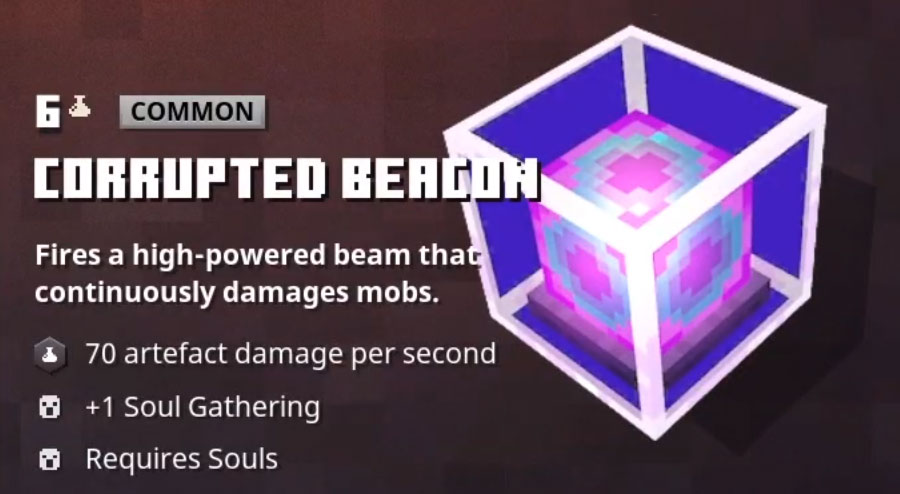 The Corrupted Beacon shoots an enormous purple laser that hits like a truck, disintegrating enemies and stopping more powerful ones in their tracks. It's a must have for it's high DPS, and it is oh so satisfying to see the mobs melt away in front of you.
Soul Healer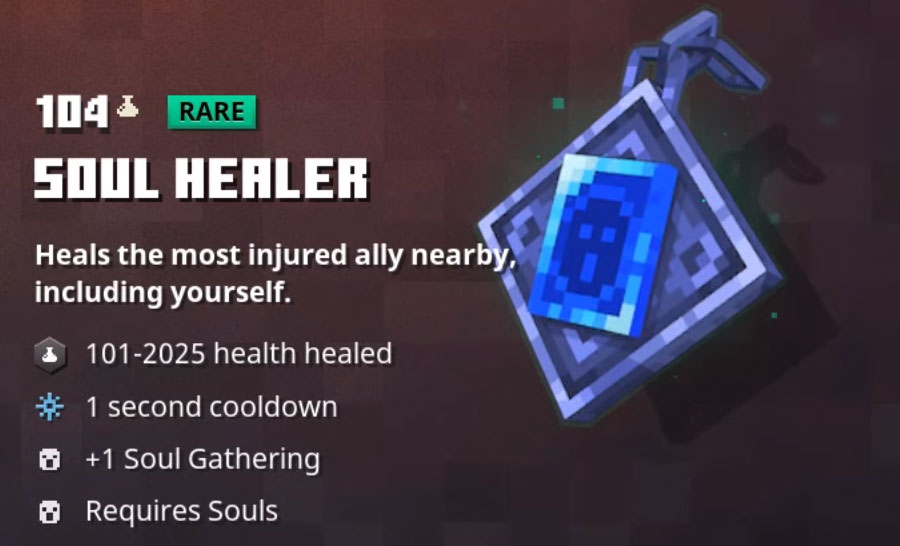 The Soul Healer makes a great companion to the Corrupted Beacon, you can use it to heal yourself instantly in battle in exchange for souls you collect. If you play aggressively and build your character to collect a lot of souls quickly, then the soul healer should help to make you almost invincible (granted you manage your souls well and don't run out).
Harvester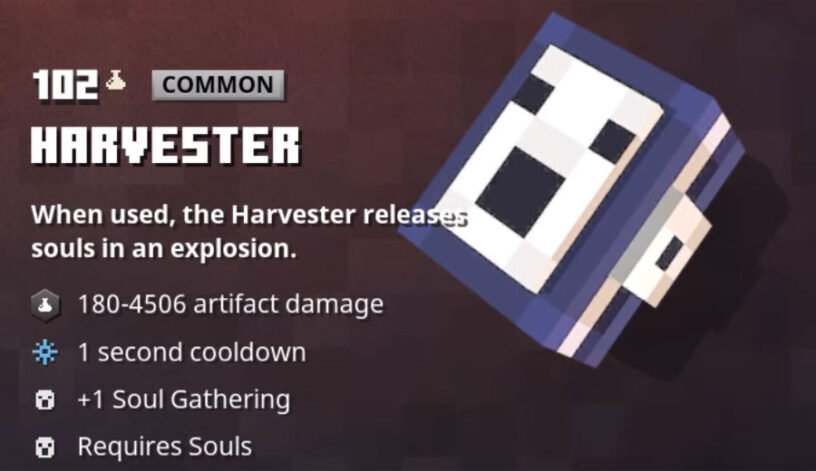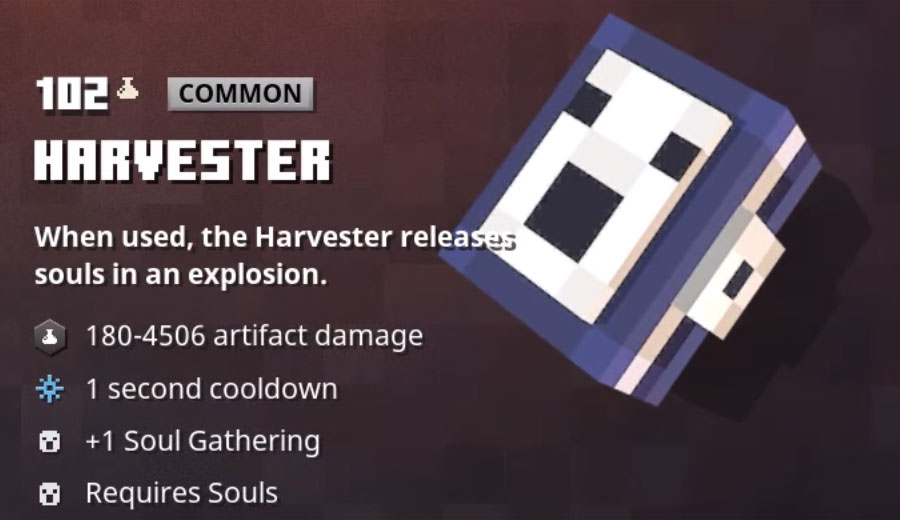 The Harvester is a fun one. It siphons souls and stores them, and then on your command, it unleashes all of it's stored power in an enormous explosion that damages enemies all around you. The power of the explosion depends on the amount of souls collected, but this is an artifact that packs an enormous punch. Just be careful when using it because after the explosion goes off, it costs a large amount of souls! Meaning you could be vulnerable for a brief time after you activate it. If you are going to focus your build around the Harvester, it might be a good idea to use other artifacts that don't require souls, that way your artifacts aren't competing with each other for your souls.
Best Souls Armor
Now that we've talked about some of the best artifacts, let's focus on what types of weapons and armor you should be looking for to collect as many souls as quickly as possible. Here are some of our best picks for armor that will have you harvesting souls faster than the Grim Reaper himself:
Soul Robe & Souldancer Robe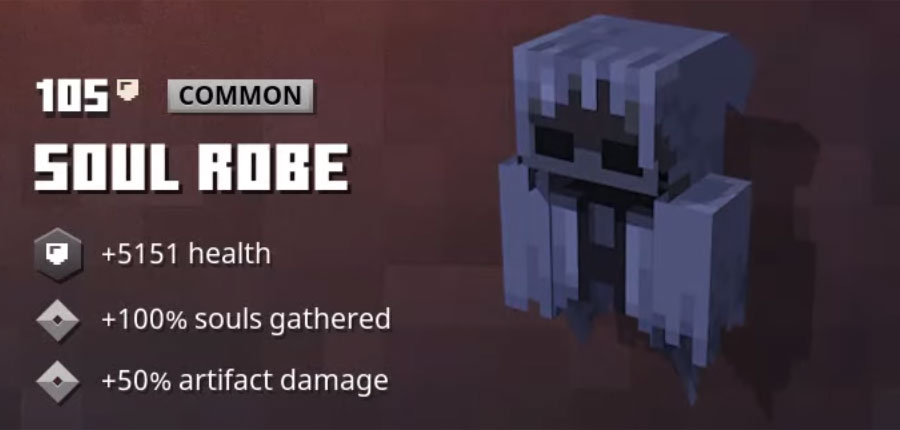 The Soul Robe and the Souldancer Robe are two of the best armors for collecting souls and using artifacts. There are a few different armors out there that give you +100% souls gathered, but the +50% artifact damage is unique to the Soul Robe and the Souldancer Robe. This is going to mean that your attacks with the artifacts get more value for your souls. The Souldancer Robe has all of the benefits of the Soul Robe, but also gives you a 30% Chance to negate hits. It is a unique item, so it might be more difficult to find for awhile. If you do get your hands on it, however, we highly recommend using it in your soul-collecting build.
If the Soul Robes aren't your style, you can try one of these other types of armor that also have the ability to increase the amount of souls gathered by 100%:
Grim Armor
Phantom Armor
Dark Armor
Frostbite Armor
Spawns a Snowy Companion
Ranged Damage +30%
Best Souls Weapons
When it comes to weapons for a soul-collecting build, we'll try to keep it simple. You're basically looking for anything with a +1 or +2 Soul Gathering stat (like in the Soul Knife pictured below). Without a weapon that has the Soul Gathering stat, you won't gather souls when killing enemies! Try to also find a weapon that has high melee damage, since this is the weapon you will be using if you run out of souls, or to collect and fill you soul gauge when just starting a fight.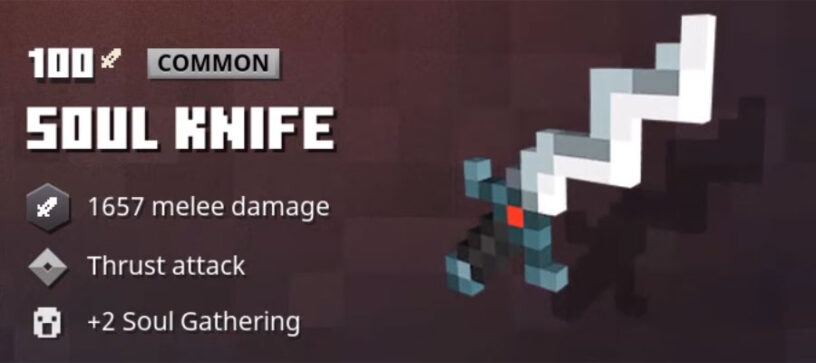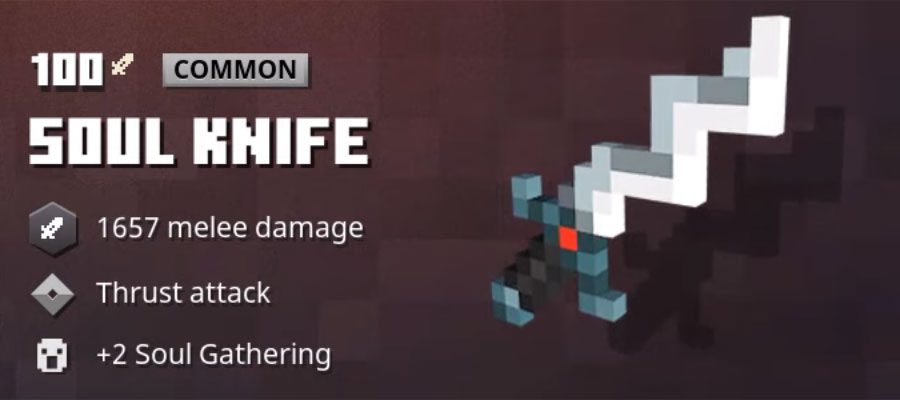 Here's a more complete list of all of the weapons in Minecraft Dungeons that have the Soul Gathering ability:
Common Soul Weapons (Soul Gathering +2)
Soul Scythe
Soul Bow
Soul Crossbow
Unique Soul Weapons (Soul Gathering +2 & Bonuses)
Eternal Knife
Chance to gain souls
Thrust Attack
Frost Scythe
Jailor's Scythe
Truth Seeker
Increased Damage to Wounded Mobs
Thrust Attack
Bow of Lost Souls
Nocturnal Bow
Feral Soul Crossbow
Voidcaller
Soul Fists
Relentless Combo
Souls Critical Boost