Minecraft 1.18 Caves and Cliffs Part 2 has given mountains a complete overhaul. Finally, it will be exciting not just to dig down, but also to build and travel up. Between new ore distributions and new biomes, mountains are more exciting than their pre-1.18 counterparts by a longshot. Here are all changes to mountains in Minecraft 1.18: Caves and Cliffs Part 2.
Biomes
Six mountain sub-biomes were added to the game in the Caves and Cliff Part 2 update. They appear at various heights and temperatures.
Frozen Peaks
Grove
Jagged Peaks
Meadow
Snowy Slopes
Stony Peaks
Related: All mountain biomes in Minecraft 1.18 Caves and Cliffs Part 2
Ore Distribution & World Height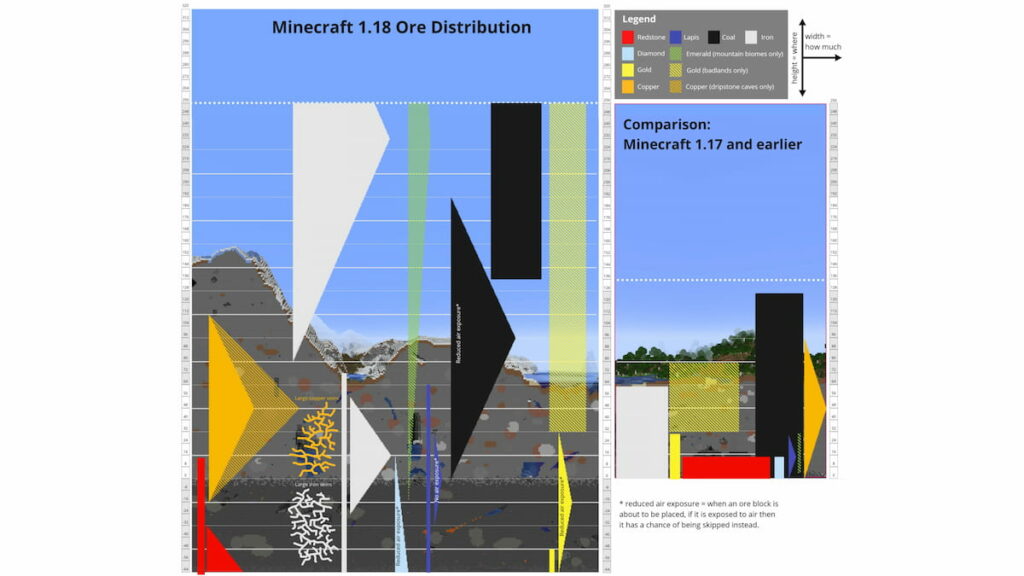 The world height increased by a lot, both on the bottom to make room for more caves, as well as on top to make room for taller and more prominent mountains. Ore distribution has been adjusted greatly in order to match and fit the new world height.
Other Changes
Goats spawn in Frozen Peaks, Jagged Peaks, and Snowy Slopes
Other various passive mobs spawn in different sub-biomes, such as Rabbits
Pillager Outposts can generate in all of the six mountain sub-biomes
Cave biomes can generate inside of mountains
Keep in mind that Goat Horns have been put on delay, and do not currently appear in the game outside of experimental features.
For more Minecraft content, check out All changes to caves in Minecraft 1.18 Caves and Cliffs Part 2 on Pro Game Guides.