Mending is a rare enchantment that can be used to make your weapons, tools, and armor in Minecraft last longer, but how does one get it?
Where to get the Mending Enchantment in Minecraft
The mending enchantment in Minecraft is rare and can only be secured with only a few locations and methods. The first of these is to purchase the enchantment book from a librarian villager.
However, if your village doesn't have a librarian, you can create one using a lectern. But to purchase the books, you will need to trade emeralds with them—the price and the number of emeralds vary. That said, you can get emeralds real easy by killing and farming vindicators and evokers with a weapon that has the looting enchantment.
Related: How to make an Anvil in Minecraft
However, of course, there are a few more ways in which you can find a mending enchantment book, one of them is via the use of a fishing pole. If you use a fishing pole on a water source, you can sometimes get an enchanting book with mending instead of fish. Along with this, you can also find the books inside chests in various dungeons.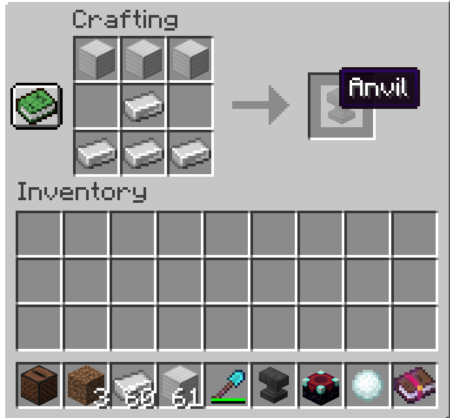 Once you get the book through whatever means, you will be able to add the meaning enchantment on your various items with XP via an anvil. You can get an anvil by making it with four iron ingots and three iron blocks in a crafting table, using the pattern shown in the image above.
When you have made the anvil, place it on the ground and then right-click it and place the book alongside the item you wish to enchant. However, be sure to have enough XP before you do it; otherwise, nothing will happen.
For more on Minecraft, we at PGG have you covered with awesome guides like How to Get Gunpowder in Minecraft and How to get music discs in Minecraft.