Enchanted weapons and tools in Minecraft give your equipment a whole new dimension. It can imbue them with a range of additional abilities to make them incredibly valuable. But without a dedicated enchanting room, you'll not have access to the highest level enchantments.
To make an enchanting room, you'll need an Enchanting Table surrounded by at least 15 bookshelf blocks in a particular configuration. Enchanting tables draw power from the books in bookshelves at a rate of two per bookshelf block. A basic enchanting table will only be able to enchant items up to level four or five. A full enchanting room will bring your enchantments to level 30.
First, gather the required materials. For example, an enchanting table requires two diamonds, four obsidian, and a single book.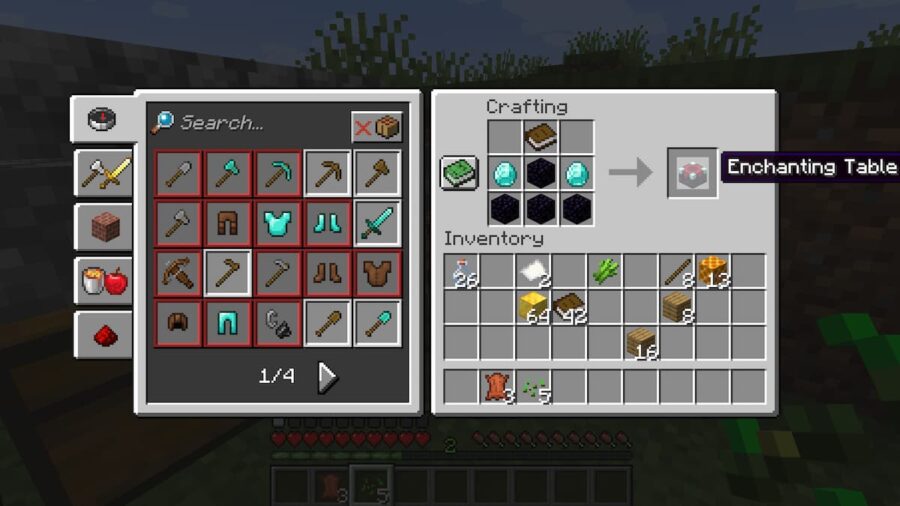 Bookshelf blocks require three books and six wood of any kind. You'll need at least 15 of these, though.
To build your enchanting room, surround your enchanting table with the bookshelf blocks, leaving a single block of space between them. Again, you'll need 15 to get max-level enchantments.
Related: What does smite do in Minecraft – How to get the Smite Enchantment?
However, this doesn't mean you can't get creative. Enchanting tables draw power from bookshelf blocks one block away in every direction, including diagonal. Additionally, they will be able to draw power from one block above them. This means you can try alternative configurations and really get interesting with your designs.
An enchanting room can be a really unique part of your Minecraft base build, so take the time to create something special!
Once you've built your perfect enchanting room, it's time to check out the Best Minecraft Axe Enchantments on Pro Game Guides