There are many awesome-looking blocks in Minecraft, but if you are a builder like me, you will always need more and more. One of the best additions to Minecraft, especially for building ancient structures and abandoned buildings are mossy blocks, and mossy stone bricks in particular.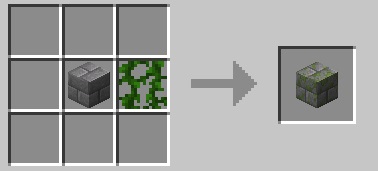 In order to craft mossy stone bricks, you will need one stone brick and one vine (see image above). It is very straightforward. In order to obtain stone brick you can either:
Find it in the world in a certain structure like Jungle Temple or Fortress
Craft it by had using four Stone. You place it in square shape in either a crafting table or your character crafting space
In addition, you will need a vine, which can be harvested with Shears. Vines can only be found in either the Jungle biome or the Swamp biome. When you collect and/or craft both materials, then you are able to create yourself mossy stone bricks. Have a great time building!
For more on Minecraft make sure to check out our other article How to update Minecraft Bedrock on PC? and How to hatch a Dragon Egg in Minecraft on Pro Game Guides.