The Future of the Franchise program in MLB: The Show 22 features young prospects in their best moments. The program rewards choice packs from each division, giving you five different players to choose from. The choice packs contain all 95 OVR players, so the decision can be a little difficult.
The best player in each choice pack depends on their stats, quirks, and position. When you are choosing, you may also consider what your lineup needs. Even if you do not need any of the players, they are sellable, so it is a way to earn stubs quickly in MLB: The Show 22. Here are all of the best Future of the Franchise cards.
Related: How to get Lou Gehrig in MLB: The Show 22 Diamond Dynasty
Best AL East Future of the Franchise Player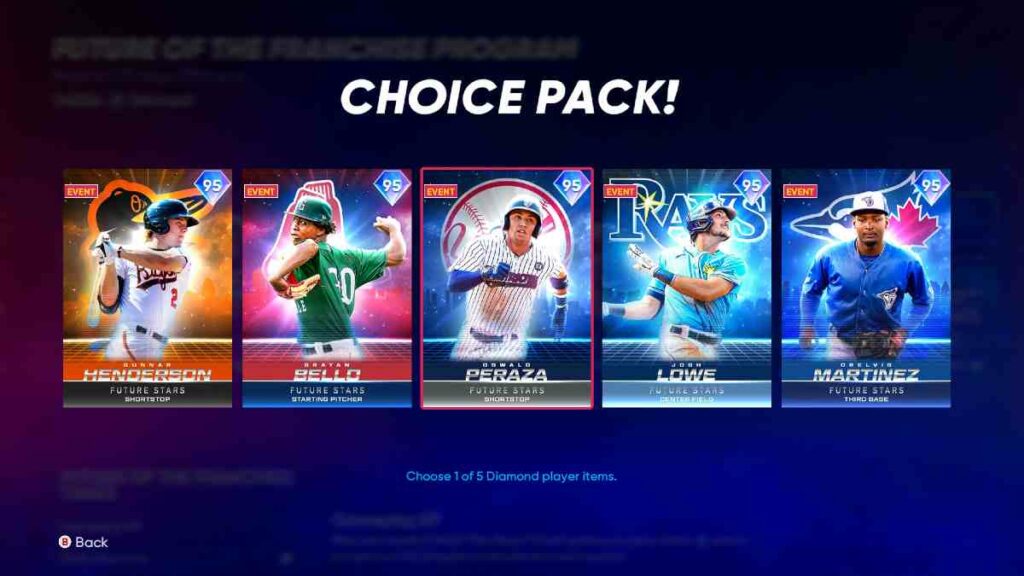 This pack's best player is SP Brayan Bello. Bello's 97 velocity and break make him a great addition to your starting rotation. His pitches include the 4-seam fastball, slider, circle change, and 2-seam fastball. His Cheesy quirk gives him a near 100 mph fastball, so Bello is definitely a good choice in the AL East pack.
Best NL East Future of the Franchise Player
3B Brett Baty is the best player in the NL East pack due to his great batting and fielding. He is a lefty batter with 108 contact right, and 100 power right, so he is a right-handed pitcher's worst nightmare. Baty's secondary position is LF, so you have some options for his placement in your lineup. Baty also makes a great bench player to put in for designated hitting.
Best AL Central Future of the Franchise Player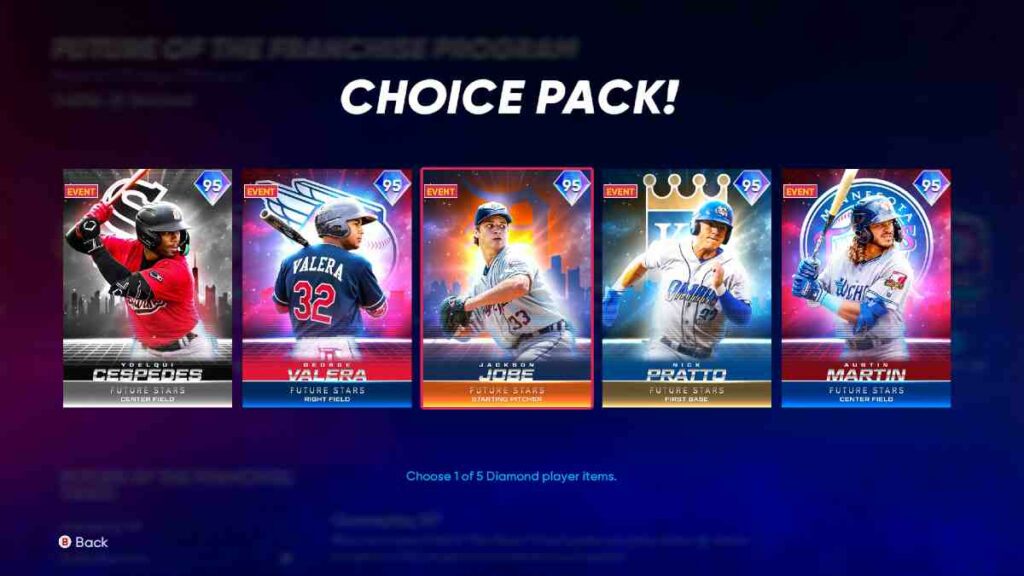 There a few good options in the AL Central pack, but if you want an all-around quality player with flexible position choices, CF Austin Martin is the best choice. Martin has over 100 contact against both right and left and pretty good vision. His 82 speed and 77 steal rating can get him stolen bases pretty often. However, Martin's biggest upside is that his secondary positions include 3B, SS, LF, and RF, so you can put him nearly anywhere on the field.
Best NL Central Future of the Franchise Player
This choice pack contains some pretty good players, but it will depend on what position and gameplay style you need for your lineup. RF Austin Hendrick is one of the best players, but also plays a common position for good hitters. His contact is lacking, but he can deliver lots of home runs with his power.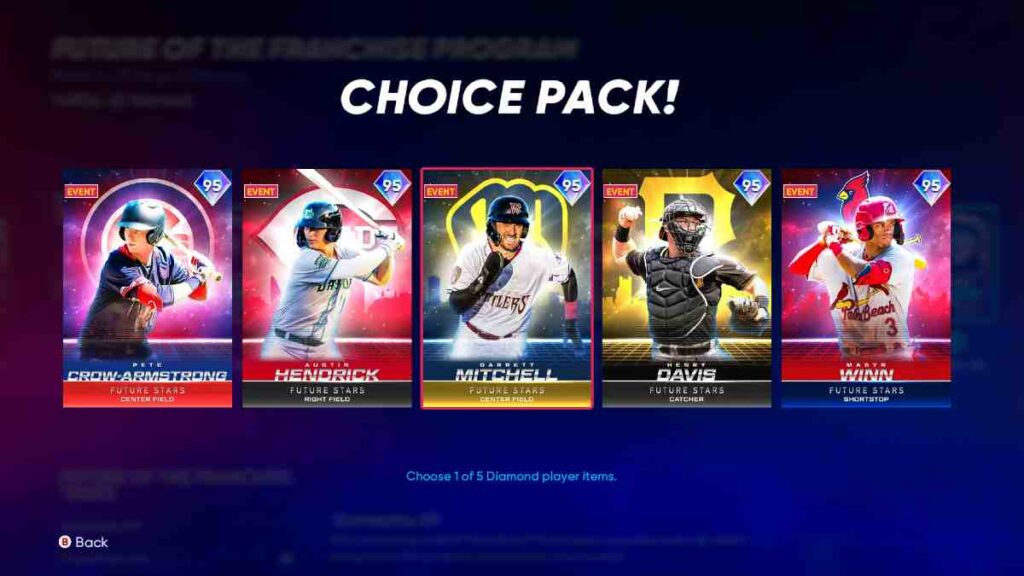 SS Masyn Winn is the other player that is a great choice in the pack. Winn has the best fielding stats in the program, highest speed, stealing, and baserunning aggression, and has very good contact. He can also play 2B and 3B so Winn may be the best option.
Best AL West Future of the Franchise Player
C Korey Lee is the best choice for the AL West pack. If you do not have a solid hitting catcher, Lee is one of the best in the game right now. He can hit well against both right and left, and has a great arm for pick-off throws. His reaction and blocking are a little low, but that does not matter too much if you have good pitchers.
Best NL West Future of the Franchise Player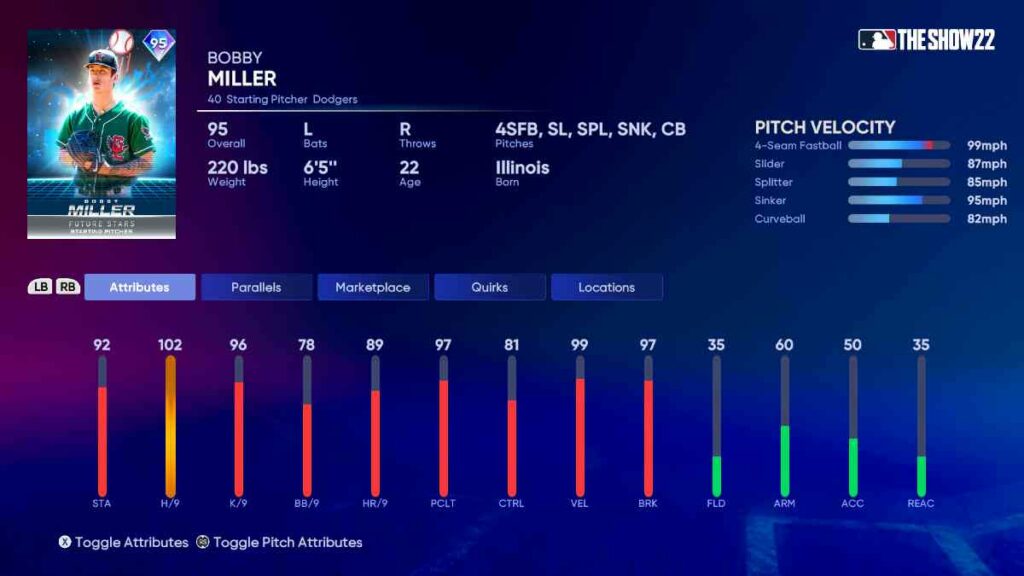 SP Bobby Miller is a no-brainer in this pack. Miller has insane pitching stats all-around, has a 99 mph fastball and 95 mph sinker, and quirks that boost both those speeds. Miller can throw over 100 mph with ease and you won't have to worry about him tiring out quickly. If there is any player to target in this program, it is Bobby Miller.
For more MLB: The Show 22 guides, check out How to complete the 'You live streaming?' Mystery Mission in MLB: The Show 22 on Pro Game Guides.