To celebrate Lou Gehrig Day on June 2, a new program has been added to MLB: The Show 22 highlighting the top moments from the Yankees Hall of Famer. The program features Lou Gehrig themed equipment, as well as a 92 OVR Diamond Lou Gehrig player card for completing the program.
How to Complete the Lou Gehrig Day Program in MLB: The Show 22
There are seven moments to complete in the program that will reward you with a total of 28 stars. To complete the moments, select the Lou Gehrig Day Program in the Diamond Dynasty menu, then scroll down to Moments. You control Lou Gehrig in his greatest moments, along with one moment controlling Salvador Perez, the 2022 Lou Gehrig Memorial award winner. Perez can also be unlocked at 30 stars in the program.
Related: How to get Lightning Jim Rice in MLB The Show 22 Diamond Dynasty
After completing the moments, you will still need 22 stars to unlock Lou Gehrig. To earn more stars, you can either exchange Yankees, Royals, and AL East players, or earn parallel XP and hit 10 HRs with Yankees players. You can also earn 10 stars by earning 500 parallel XP with Salvador Perez, so the easiest way to complete the program is exchange a few players to unlock Salvador Perez, then use him in your lineup.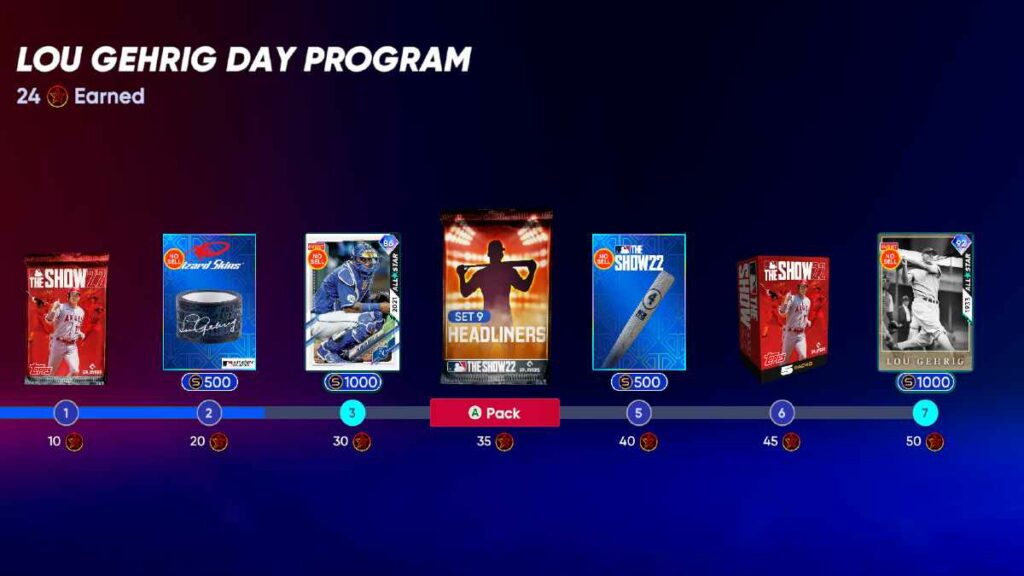 After earning 50 stars, you will earn 1000 stubs and unlock 1B Lou Gehrig, who has amazing contact and vision as a left-handed batter. Both the 92 OVR Gehrig and 86 OVR Perez cards in the program can be a great addition to your Diamond Dynasty lineup. Much like the Jackie Robinson Day Program, the Lou Gehrig program shouldn't expire. The parallel XP in both programs work across all Diamond Dynasty game modes, so you will be earning stars for both if you have certain players in your lineup.
Lou Gehrig Day brings awareness to the strides Lou Gehrig made on and off the field. The MLB has been dedicated to preserving the memory of Lou Gehrig, who passed from the rare ALS disease. Over the years, the MLB and many other organizations have raised awareness and contributed to helping cure ALS.
For more MLB: The Show guides, check out How to complete the Halladay and Friends Program in MLB: The Show 22 on Pro Game Guides.