The Halladay and Friends program is the latest main program to hit MLB: The Show 22. That means all XP earned across all game modes will contribute to the Halladay and Friends program. There are 40 Levels to unlock and lots of rewards along the way. Here's how to complete the new Halladay and Friends program.
XP can be earned in any game mode and will help you progress through the program, but to complete the program, you may have to participate in the special missions released for the program. To select missions to do, from the Diamond Dynasty main menu, select Featured Program, then scroll down to the missions.
Related: How to Fix 3v3 Not Working Error in MLB The Show 22
From there, you will see Daily Moments, Featured Program Moments, Weekly Missions, and a Conquest to complete. These special missions will reward a lot of XP and help boost you through the program.
Daily Moments
Daily Moments can be completed everyday and usually reward 1,000 XP each. Most Daily Moments are one game situations and usually are on rookie or veteran difficulty. There are three moments to complete everyday so you can earn a lot of XP toward the Halladay and Friends rewards.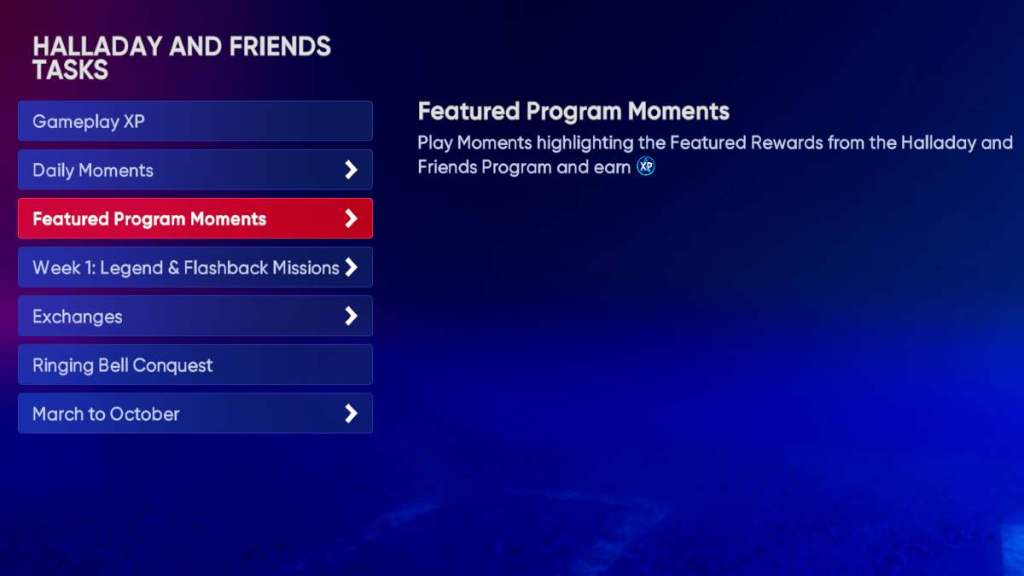 Featured Program Moments
There are 10 Featured Program Moments to complete, each rewarding 2,000 XP. The Featured Program Moments put you in control of players from the program rewards to finish a certain game situation. The Featured Program Moments are a great way to try out the players and earn up to 20,000 XP.
Weekly Missions
Weekly Missions can range from gameplay situations to earning Parallel XP for certain players. The Week 1 mission requires you to earn Parallel XP with Legend and Flashback players. To find out what players qualify, select the Week 1 mission and look at the highlighted players on each mission.
Ringing Bell Conquest
The Ringing Bell Conquest can be found in the single-player game modes and will reward 30,000 XP toward Halladay and Friends for completing all conquest goals. The Conquest goals are fairly easy and do not feature any timed goals, so eventually you can conquer the whole map. The Ringing Bell Conquest also rewards Armed Forces bat skin and socks and will expire on June 3.
The Halladay and Friends program goes up to 500,000 XP, so you will have to grind to get to the end. Even if you complete all missions, you will still have to earn more XP. Luckily, Daily Moments and new weekly missions will help you complete the program, so check back to see if there are new missions to complete. The Halladay and Friends program will end on June 3 as well, so hurry to earn those rewards.
For more MLB: The Show 22 guides, check out How to get 97 OVR Carlos Delgado in MLB: The Show 22 Diamond Dynasty on Pro Game Guides.